NBA Rumors: Kevin Durant Could Miss Warriors-Blazers Series If Golden State Rolls To 2019 NBA Finals
Kevin Durant hasn't played since he suffered a mild calf strain in Game 5 of the Golden State Warriors' second-round series. The defending champions have since won two straight games without their best player, and they might win the Western Conference Finals against the Portland Trail Blazers without any help from Durant whatsoever.
Durant will be re-evaluated before Thursday's Game 2, which he is expected to miss. The odds appear to be against the back-to-back NBA Finals MVP returning for Game 3 in Portland Saturday. Considering the nature of Durant's injury and how easily Golden State took Game 1, there might be a good chance that he doesn't return until the 2019 NBA Finals.
"I don't think Durant's anywhere close, and if they don't get behind in this series, I don't think Durant's gonna play in this series," ESPN's Brian Windhorst said on Wednesday's episode of "The Russillo Show."
Windhorst noted that Durant could probably play if the Warriors were facing a must-win situation. The series is very young, but it doesn't look like Golden State's backs will be against the wall anytime soon.
The Warriors defeated the Blazers 116-94 in Game 1 Tuesday night. Golden State is an overwhelming favorite to take care of Portland, who hasn't been viewed as a legitimate title contender this season.
Stephen Curry has raised his game in Durant's absence, scoring 69 points in the Warriors' last six quarters. Klay Thompson has gotten hot from three-point range, as well, likely giving Golden State the luxury of letting Durant rest for a few extra days.
"He hasn't even stepped on the floor yet," Warriors head coach Steve Kerr said of Durant Monday, via The San Francisco Chronicle. "He still has pain. There's time ahead of him on the rehab process."
Golden State might really need a 100 percent healthy Durant in the finals. They could be eyeing a matchup with the Milwaukee Bucks, who led the league with 60 regular-season wins and only have one playoff loss.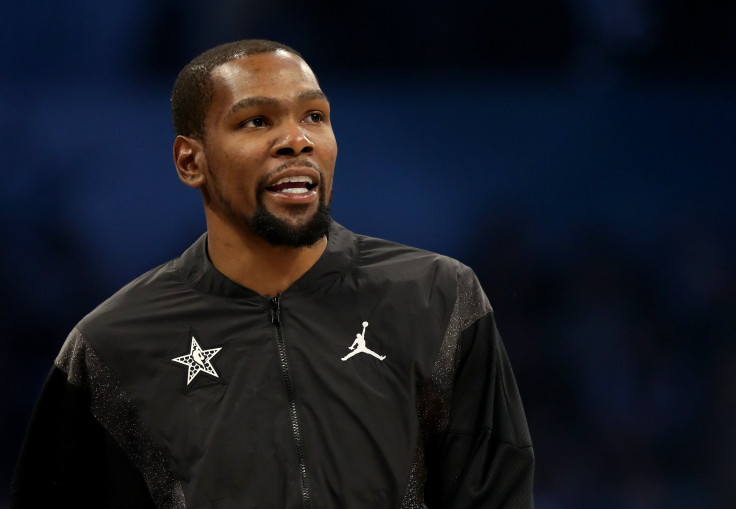 © Copyright IBTimes 2023. All rights reserved.