NBA Rumors: Kevin Durant vs. Giannis Antetokounmpo, Nets' Star Denies Jay Williams' Story
Kevin Durant vs. Giannis Antetokounmpo has become a story both on and off the court as the Brooklyn Nets take on the Milwaukee Bucks in the 2021 NBA playoffs. Whether there is actual animosity between the two superstars is a point of contention.
Less than 24 hours after the Nets routed the Bucks to take a 2-0 series lead, ESPN's Jay Williams indicated that Durant had extra motivation to beat Milwaukee. On "Get Up" Tuesday morning, the analyst recalled a story in which Durant allegedly was upset because Williams likened Antetokounmpo to a combination of the two-time NBA Finals MVP and Anthony Davis.
"Kevin Durant comes up to me says, 'Yo, don't you ever, ever compare me to Giannis. Don't you compare me to Giannis.'" Williams recalled.
When Durant heard what Williams said, he was quick to deny the story. Durant took to social media, claiming that Williams' account was a lie.
Williams is the host of "The Boardroom,"an ESPN series produced by and starring Durant. Because of their relationship, Williams is often featured on ESPN programming to offer insight into Durant's career.
It's unknown whether the story is true or not, though Durant has publicly praised Antetokounmpo in the past. Four years ago, Durant said in a Q&A video posted to his YouTube page that he believed Antetokounmpo had the potential to become the best basketball player ever.
Since Durant made that statement, Antetokounmpo has emerged as one of the league's top stars. Antetokounmpo won the NBA MVP award in both 2019 and 2020. Durant missed all of last season with a torn Achilles, and Antetokounmpo became viewed as the better player in the eyes of many.
It's hard to see how anyone could pick Antetokounmpo over Durant after watching the first two games of their second-round series. With Brooklyn dominating Milwaukee, Durant has averaged 30.5 points, 7.0 rebounds and 4.5 assists per game. Antetokounmpo is scoring 26.0 points per game as the Bucks have been overmatched.
The two superstars will face off again Thursday night in Milwaukee in Game 3 of the second-round series.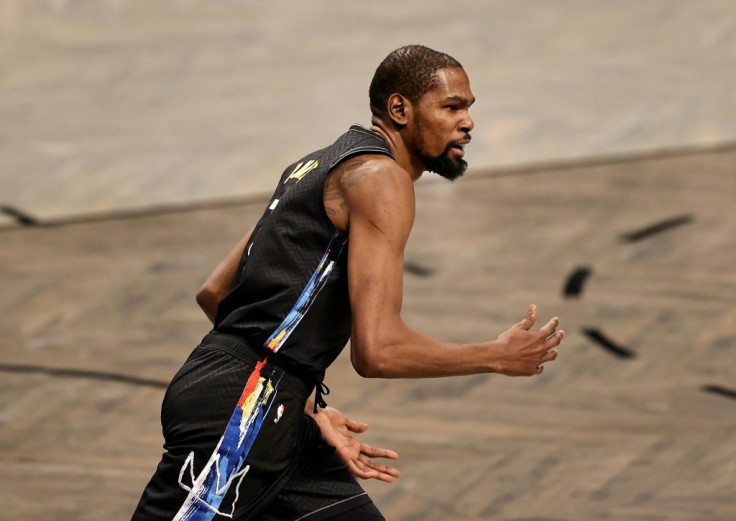 © Copyright IBTimes 2023. All rights reserved.