NBA Rumors: Kyrie Irving Is One Of Two Celtics On Knicks' Radar, Anthony Davis Trade Talks Underway
The New York Knicks' plans this offseason extend beyond simply trying to sign Kevin Durant and Kyrie Irving. While the two free agents have been linked to the Knicks in rumors for months, New York is eyeing a few other players that could also help them become contenders.
The Knicks are focused on pairing an All-Star with Durant, who might favor New York in free agency but seems unlikely to join the team without a lot of help. If Irving picks another suitor over the Knicks—the Brooklyn Nets, Boston Celtics and Los Angeles Lakers are all expected to pursue him—New York has other avenues to land a second star.
Anthony Davis is the best teammate that Durant could conceivably play alongside in the Big Apple. The Knicks can offer one of the most intriguing trade packages for Davis, and it might be one that the New Orleans Pelicans will soon entertain accepting.
The Athletic's Shams Charania has reported that Pelicans executive vice president of basketball operations David Griffin has begun listening to teams that are trying to acquire Davis. Griffin recently met with the superstar in hopes of convincing him to relinquish his trade request, but Davis is reportedly still eyeing an exit from New Orleans.
New York's flexibility under the salary cap at least makes it possible for them to acquire Durant, Davis and another max free agent. The Knicks would have to officially complete a trade for Davis in July after signing two stars.
Durant is New York's top prize. He'll consider staying with the Golden State Warriors. Brooklyn and the Los Angeles Clippers hope to be players for the reigning NBA Finals MVP, as well.
Irving's free agency might be the most unpredictable of any All-Star. Kemba Walker is a potential Plan B for the Knicks at point guard.
It isn't only stars that the Knicks will pursue. They'll need role players to fill out the roster, no matter what happens in their attempt to form a championship contender.
According to Charania, New York will have a strong interest in Marcus Morris as a second-tier free agent.
Landing Durant and another max free agent would likely take the Knicks out of the running for Morris. If it's only one star that New York signs this summer, Morris could get a competitive offer to play at Madison Square Garden.
Morris averaged 13.9 points, 6.1 rebounds and 1.5 assists per game with Boston this past season. Charania named the Clippers, Lakers, Chicago Bulls and Sacramento Kings as other teams that are expected to have interest in Morris.
The Knicks could have close to $73 million in cap space this offseason. The No.3 overall pick in the draft—likely Duke's R.J. Barrett—Kevin Knox, Mitchel Robinson and future first-rounders are their top trade chips.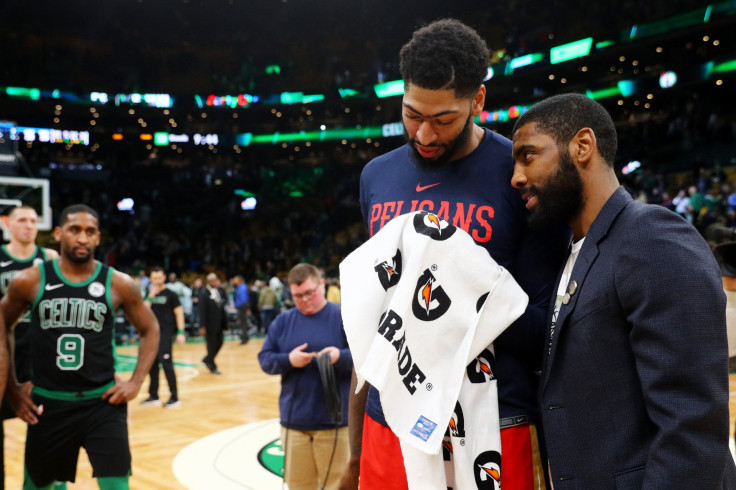 © Copyright IBTimes 2023. All rights reserved.