NBA Rumors: Kyrie Irving 'Playing Everybody', Will Return To Celtics
Kyrie Irving's future with the Boston Celtics has been in the spotlight since the team's exit in the second round of the Eastern Conference playoffs with many claiming it was the last time the point guard will be seen in the green and white of the Boston franchise. But there is a scout and an unnamed Western Conference executive claiming that Irving is playing everybody and will return to TD Garden next season.
The 26-year-old joined the Celtics in 2017 via trade from the Cleveland Cavaliers and after two seasons with the Boston franchise, he will enter free agency later in July. Irving verbally committed his long-term future to the Celtics at the start of the season but has since backtracked and is now refusing to reveal his plans until July 1.
ESPN NBA insider Stephen. A. Smith recently admitted that there is a big chance Irving will be heading to New York this summer to join the Knicks along with Golden State Warriors' Kevin Durant, who will also be an unrestricted free agent later in July. The Brooklyn Nets are also said to be in the running, but the Lakers have been ruled out despite Irving rekindling his relationship with LeBron James.
Irving is eligible for a max contract this summer and the Celtics can offer him the best deal, and if he moves to another franchise he is likely to leave around $80 million on the table. Despite claims about the point guard not caring too much about the money, an unnamed Western Conference front-office executive believes Irving does care about leading his own team and earning as much as possible.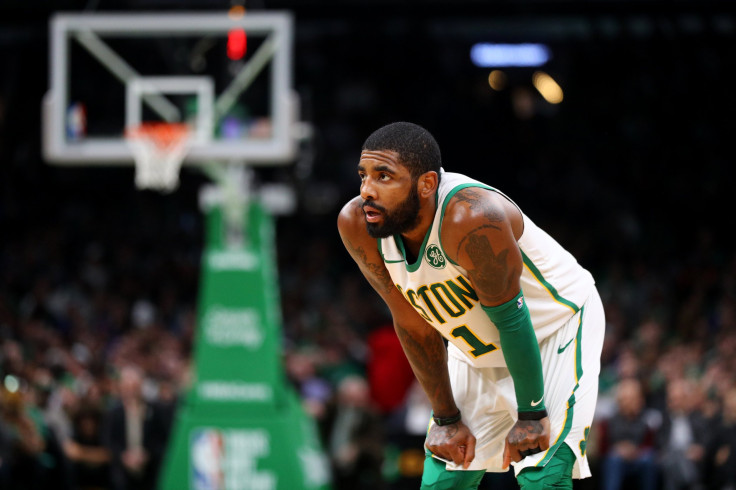 "He's playing all of you guys right now," a front-office official with a Western Conference team told NBC Sports on Thursday. "Say what you want about his leadership and all that nonsense, but the one thing we know about Kyrie is he will do what is best for Kyrie. The money, chance to win a title sooner rather than later, have his own team … all that stuff matters and when he looks at all the different options he'll have, I think he'll have one of those, 'what the hell was I thinking?' moments and go back to Boston."
A scout, who has been following Irving since his days with Duke, agreed with the front-office executive despite most jumping into the "Irving will leave Boston boat". He believes Kyrie will want to return to Boston and prove the naysayers wrong, especially the players, who claimed they had to change their style to adjust to Irving.
"I know this season didn't end the way Kyrie or the Celtics wanted," the scout said. "But when you look at what went wrong for them, it's easy to blame Kyrie because he didn't shoot the ball well. But when you hear what others are saying afterwards, Brad (Stevens) saying he did a bad job, players talking about how they sacrificed this and that."
"It's pretty obvious that they had a lot of issues going on that were bigger than just one player, even a player as good as Kyrie," the scout added, "I think he comes back and he comes back with an attitude; a little edgier with not just his words but his play."
© Copyright IBTimes 2023. All rights reserved.