NBA Rumors: Kyrie Irving Working On Return; Nets Not Banking On It
KEY POINTS
Kyrie Irving is working on returning for the Brooklyn Nets
Head coach Steve Nash won't rush Irving back into the Nets rotation
The Nets are leaving it up to Irving to explain his absence
The Brooklyn Nets looked pretty daunting against the Orlando Magic on Saturday, the same day that James Harden made his debut for his new team.
The 2018 NBA MVP was elated with the win but admits that the Nets remain incomplete until Kyrie Irving returns to the fray.
That could be addressed soon with the 28-year-old reportedly undergoing the mandatory quarantine requirement before Irving can be allowed back on the court.
He has missed six games thus far and "Uncle Drew" is expected to have gotten out of shape as a result of that, CBS Sports reported.
As far as Brooklyn Nets head coach Steve Nash is concerned, all he cares about is getting Irving back into the fold. But as far as fielding him in and giving the six-time All-Star his usual minutes, that may take time.
"We have to assess that as we go. We do want to make sure he ramps accordingly so that he's not susceptible to unnecessary injury and protect him the best we can. But hopefully, it will be a short period of time. That is to be determined, though," Nash said in a report from the New York Post.
Irving's absence has yet to be known, and the Nets are giving him the liberty to explain himself at his convenience. Nash and the rest of the team are likely aware of the true reason but prefer to let the player do the talking at the right time.
Assuming that he is in the clear, the first game where Irving could make his return could be by Monday. The Nets face the Giannis Antetokounmpo-led Milwaukee Bucks.
From there, they embark on a two-game series with the Cleveland Cavaliers on Wednesday and Friday.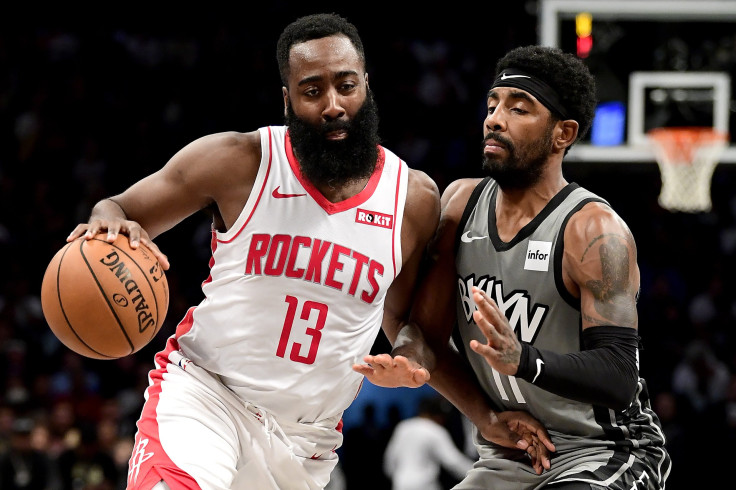 Even though Harden had a superb first game for the Nets, there is no denying that Irving remains a vital cog for Brooklyn.
Alongside Durant, the one-time NBA champion normed 27.1 points, 6.1 assists, and 5.3 rebounds and shot 42.6 percent from three-point territory.
No thanks to his mysterious holdout, Irving may need time to get himself in basketball shape. Most are also eager to see if the addition of Harden will make or break the Nets moving forward–most questioning ball-sharing duties.
© Copyright IBTimes 2022. All rights reserved.
FOLLOW MORE IBT NEWS ON THE BELOW CHANNELS