NBA Rumors: Lakers Inching Closer To Trading Westbrook After Loss To Bucks
KEY POINTS
The Lakers' season is on thin ice after a disastrous loss to the Milwaukee Bucks
The Lakers are reportedly considering moving Westbrook to gain assets for next season
A trade with the Houston Rockets for John Wall is the most likely scenario
The Los Angeles Lakers' freefall from being one of the top teams in the NBA continues, and there is a rumor that the franchise is extremely close to giving up on the season.
In a report by The Athletic's Bill Oram, the Lakers were unwilling to admit that their massive trade to acquire Russell Westbrook from the Washington Wizards was a failure, but their beating at the hands of the Milwaukee Bucks may have swayed opinions.
"Sources have indicated that the [Los Angeles Lakers] no longer believe they can win at a high level with [Russell] Westbrook alongside [LeBron] James and [Anthony] Davis, but prior to Tuesday the line of thinking was that the Lakers would be unwilling to wave the white flag and admit their summer blockbuster was a failure," Oram wrote.
"Instead, they would prefer to wait until the offseason, when they could also include a 2029 pick in a potential deal for another max-contract player looking for a new home."
The Lakers' 131-116 defeat to the Bucks also featured this video of Westbrook apparently telling both LeBron James and Anthony Davis to keep their heads up, but the pair were in no mood to do so as the weight of the situation has fully taken over them.
Oram later added that the way the Lakers lost to the Bucks suggests immediate action, with him proposing that the team's desperation to win got them in this situation.
The most consistent rumor about the Lakers moving Westbrook has them linked to the Houston Rockets in a possible one-for-one swap involving sidelined point guard John Wall.
An increasing clamor for Westbrook to be traded seems to have been confirmed by ESPN's Dave McMenamin, quoting a team source that told him that they need to "rip the band-aid off and just move forward with this season".
All of these reports confirm the sentiment that the fans had held on to since the Lakers traded for Westbrook–that he would be a shell of his former self and will negatively impact their run for a title.
The NBA trade deadline is set to close on Thursday, February 10 at 3:00 PM ET, and if the Lakers do not make a move then, the buyout market is their next best bet in the hopes of salvaging the season.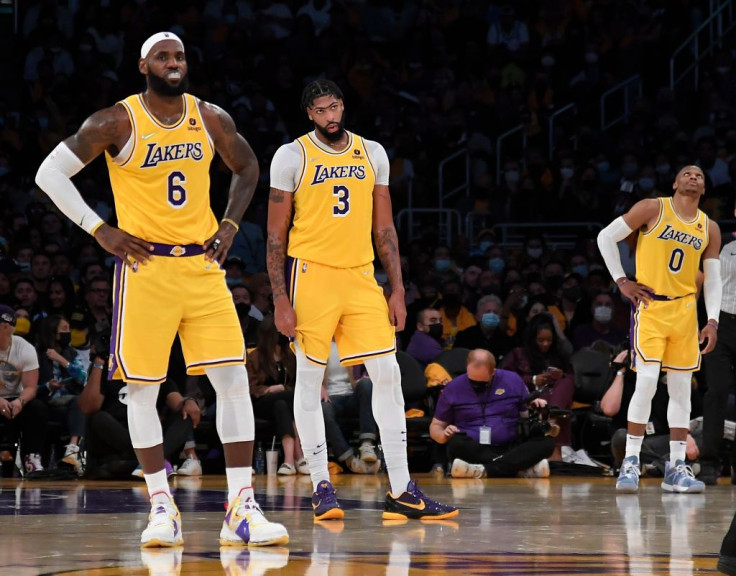 © Copyright IBTimes 2023. All rights reserved.