NBA Rumors: Lonzo Ball Could Be Moving Soon; Contract Extension With Pelicans Stalled
KEY POINTS
Lonzo Ball could leave the Pelicans after 2020-21 NBA season
The Pelicans hold off contract talks with Ball for now
The Pelicans and Ball are open to prolonging his tenure
Lonzo Ball was unable to come to terms with the New Orleans Pelicans on a contract extension although this development should not be a cause for alarm.
Ball was supposed to get a rookie extension, but it appears all that has been put on hold for now.
The 23-year-old will become a restricted free agent after the 2020-21 season. Hence, the Pelicans can still retain Ball if they match any offer dangled the former top pick's way.
The development was first reported by Adrian Wojnarowski of ESPN. However, he added that based on Klutch Sports CEO Rich Paul, this is something that should not be alarming.
Both sides remain positive about getting something done and ties remain between Ball and the Pelicans.
Although criticism on his shooting form continues, the 6-foot-6 guard remains a vital cog for the Pelicans. With talented big men in Zion Williamson and Brandon Ingram, the UCLA standout remains one of the best young point guards who can effectively quarterback any team.
Last season, Ball played in 63 games averaging 11.8 points, 7.0 assists, and 6.1 rebounds in 32.1 minutes of action per Basketball-Reference.
He is known to be one of the best perimeter defenders and someone who can make big plays on the offensive end.
No less than new head coach Stan Van Gundy is impressed with Ball, especially after he wanted his guards to be more vocal on the court, USA Today reported.
"I thought that he was more vocal, he organized his team offensively, he was our best communicator at the defensive end of the floor today, particularly in transition, getting back and pointing to other people, getting people matched up," Van Gundy said.
So far, no team has expressed heavy interest in the son of LaVar Ball. The Pelicans showed progress late last season after Williamson suited up for the team.
The Pelicans are oozing with young talent, and maturity will be in focus. Ball has been around for three seasons already and most are expecting him to be one of the leaders of the team.
He may not be shooting that much from the outside but is a proven court general with a high basketball IQ.
If he comes up with a good season, the only risk seen is that some teams may reach out and offer him a big contract. If the numbers are too high, there is a chance that Lonzo Ball may end up packing his bags and move to another team after the 2020-21 wars.
The Pelicans open their season on Dec. 23 when they face the Toronto Raptors at the Amalie Arena. Tip-off is at 7:30 p.m.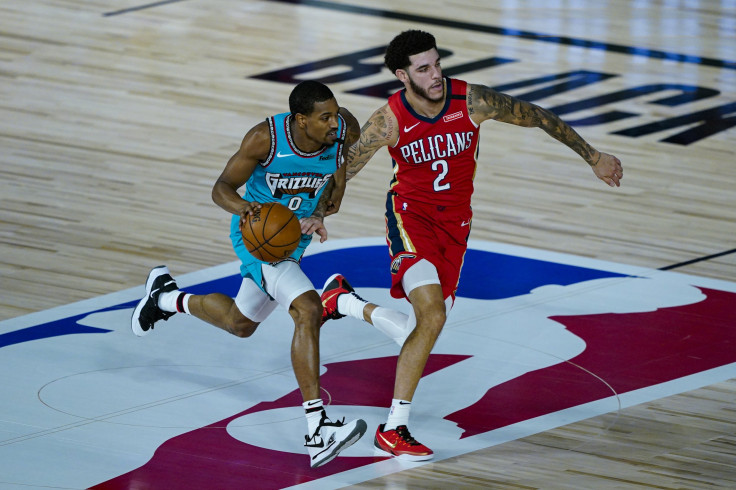 © Copyright IBTimes 2023. All rights reserved.