NBA Rumors: Randle Making Case For Potential New York Knicks Franchise Player
KEY POINTS
Julius Randle has been taking his game to another level for the benefit of the Knicks
Critics question if Randle can maintain his current level throughout the season
Randle could be the Knicks' new franchise player if he continues to shine
There is no doubt that when Julius Randle broke into the NBA in 2014, he was destined to become a certified basketball star. However, that would depend on where he is playing.
The Los Angeles Lakers appeared to be that team, but he would have had to wait. The main man was still Kobe Bryant at the time, and things got worse when he broke his leg in his first NBA season.
He returned from that horrific injury, but somehow his true potential was limited with the Lakers. He moved to the New Orleans Hornets and broke out, but critics felt that he had more to show. Now, it appears he may reach his full potential with the New York Knicks.
The 6-foot-8 cager's first season with the Knicks saw a slight dip in numbers. With New York under the radar, there were calls to have him traded for someone else. The Knicks needed a franchise player, a leader to get them out of woeful seasons. But it appears the hard-luck NBA team had one with potential all along. They just needed to get the right coach.
Randle has surprised many with his numbers this season. In nine games, he has averaged 22.6 points, 12 rebounds and 7.3 assists per game. These are notable improvements from his career-high of 16.2 points, 9.1 rebound and 2.9 assists, according to Basketball-Reference.
Through his efforts, the Knicks are rolling and are off to a good start. As of this writing, they are 5-4, but most have cautioned not to get carried away. The real question is: will the 7th overall pick of the 2014 NBA Draft be able to sustain it throughout the 2020-21 season?
There is reason to be worried. Randle is being used extensively by first-year head coach Tom Thibodeau, averaging 37.8 minutes per game. That is sixth in the league, and five more minutes than his career-high, The New York Times pointed out.
Besides, the playing time given to Randle is due to how much improvement he has shown. He has improved in defense, has been playing unselfishly and is even shooting three-pointers. Most important of all, he has evolved into the leader that the Knicks have been longing for.
Hence, the $63 million deal that the Knicks invested in Randle is paying off. His deal will expire next season, after which he will become an unrestricted free agent. If he sustains his play, he is expected to draw interest and will likely be considered for a supermax contract at some point.
For now, the only facet of Randle's game that needs addressing is his turnovers. He is averaging a high 4.6 turnovers per game, something that he and Thibodeau will likely work on.
Either way, Randle is at a different level this early in the NBA season. Aside from the errors he has per game, most are concerned about his ability to stay healthy. If all that is addressed, there is reason to believe that the Texas native could be the franchise player New York wants to build around.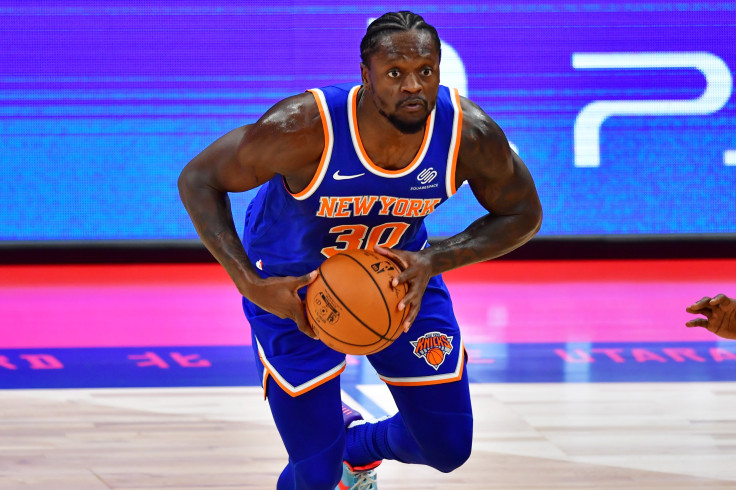 © Copyright IBTimes 2023. All rights reserved.