NBA Rumors: Rockets Mapping Out Time Management Plans For James Harden, Russell Westbrook
The Houston Rockets faltered last NBA season and this is something that general manager Daryl Morey has to address. It is a practice by most teams, sitting out their stars at certain stages of the NBA season but the Rockets have yet to reveal what they intend to do for their new dynamic duo.
Morey revealed on "The Dan Patrick Show" that they want to employ load management for Harden and Westbrook this coming NBA season. Their goal was to make sure that both players would be at their peak by April or the NBA playoffs.
As of this writing, however, the Rockets have yet to decide on when to rest (or not) Harden and Westbrook for the 2019-20 wars, NBC Sports reported. If the Rockets want to improve on last season's performance and aim for an NBA title, this is something that pundits believe should be done.
So far, Harden has played no less than 73 games in a regular-season except for the shortened 2011-12 campaign. The same holds true for Westbrook who has played in 80 games in seven of his last 11 seasons. The NBA Most Valuable Player of 2017 has had his share of injuries that have kept him from completing a full season. That happened during the 2013-14 NBA season when he was limited to only 46 games.
There is no question that the Rockets have gotten better following the acquisition of Westbrook. Houston gave up an aging Chris Paul to the Oklahoma City Thunder in what was a surprise move pundits never really expected.
Equally interesting that both Harden and Westbrook showed their full potential when they were elevated into major roles. Harden unleashed himself when he joined the Rockets while Westbrook broke out when Kevin Durant opted to jump ship and join the Golden State Warriors in 2016.
Formidable as they may look, the fact remains that the Rockets are in a highly competitive Western Conference. They need to deal with super teams like the Los Angeles Lakers and Los Angeles Clippers. There are up and rising teams as well such as the Denver Nuggets and Portland Trail Blazers. The Warriors cannot be counted out as well with Stephen Curry and Draymond Green still around.
The Rockets need to map out plans if they want to go all the way and win the NBA title. That all starts by managing the playing minutes of top stars like Harden and Westbrook for the 2019-20 wars.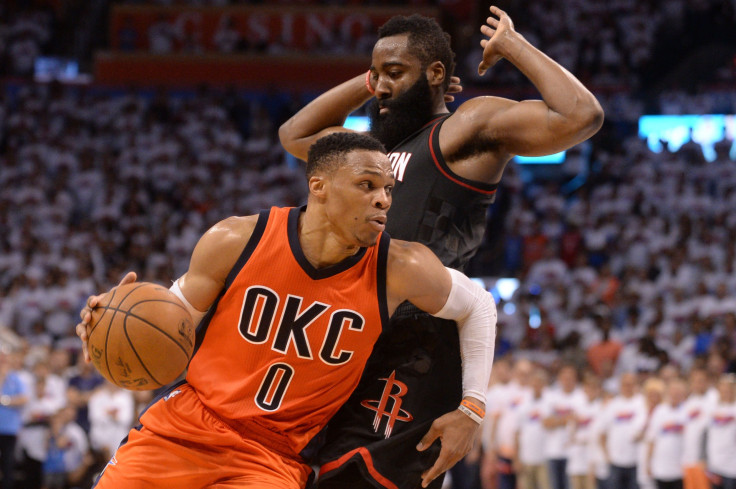 © Copyright IBTimes 2023. All rights reserved.