NBA Rumors: Rudy Gobert Can Form Euro Big-Three With Porzingis, Doncic In Dallas
KEY POINTS
Dallas Mavericks could use Rudy Gobert to anchor their defense
If done, Gobert will form a European trio with Luka Doncic and Kristaps Porzingis
He and Donovan Mitchell is reportedly not in good terms since the virus hit the NBA
We've seen a lot of success with three elite talents converge to bring their teams to basketball glory – LeBron James, Chris Bosh, and Dwyane Wade for Miami Heat, Kevin Garnett, Paul Pierce, and Ray Allen for the Boston Celtics, and the San Antonio Spurs' legendary trio of Tim Duncan, Tony Parker, and Manu Ginobili.
Reports from CBS Sports have surfaced that the Utah Jazz's first-time All-Stars Rudy Gobert and Donovan Mitchell's strained relationship will be hard to rectify due to the coronavirus issue that both had and recovered from since it will be hard for a franchise to field in players and for them to co-exist knowing that they have some disputes that appear to be hard to fix.
The possibility of trading away one of them is one of the solutions that the team will look at to avoid worse conflict happening along the way – and teams can now take their chances of acquiring the services of either star.
In that light, the Dallas Mavericks can use that opportunity to boost their defense should they make a deal to bring the French defense specialist to Texas and form a European trio with their youthful cornerstones Kristaps Porzingis and Luka Doncic. Reports from the Bleacher Report said that a deal between Dallas and Utah will benefit both squads should they start looking at this possibility.
Dallas' lone championship came in 2011 with center Tyson Chandler anchoring the team's defense and the hopes of bringing that same environment for the Mavs can be brought back in with Gobert manning the rim. Winner of two straight Defensive Player of the Year, the 7-foot-1 Gobert will be a good complement to Porzingis, who is also an elite shot-blocker to make rim attackers think twice before attempting to break the interior defense of Dallas.
Before the season was suspended due to COVID-19, the 27-year old center is good for 15.1 points, 13.7 rebounds, and two blocks per game in an impressive 69.8-percent shooting clip. His presence could force the 7-foot 3 Porzingis to slide back to the four-spot and maximize their talents to lead the Mavericks, who still have another 7-foot-3 Boban Marjanovic coming off the bench.
With those plans, Dallas could lose some youth and scoring as they might ship Dwight Powell, Tim Hardaway Jr., a 2020 second-round pick, and a 2025 first-round pick that cannot be sent to any team until 2025 to the Jazz to make them a more versatile team who can play both fast and slow.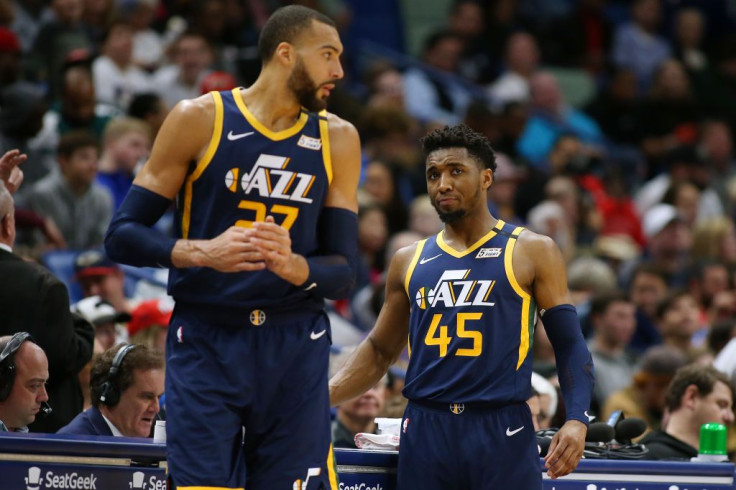 © Copyright IBTimes 2023. All rights reserved.