NBA Rumors: Sacramento Kings Combo Guard To Get Big Contract In Offseason
KEY POINTS
Bogdan Bogdanovic has been moved to the Kings' starting lineup
He has been consistent for the team on the offensive and defensive end
He is most likely due for a large contract come the offseason
The Sacramento Kings are currently in the 12th spot of the Western Conference with a 21-32 record. The team is still chasing a playoff berth, as they haven't reached the postseason in over a decade. The team is experimenting with their lineup as they put their leading scorer Buddy Hield to the second unit. In return, the Serbian combo guard Bogdan Bogdanovic has taken over the realm as the starter.
While this has caused some dissatisfaction from Hield, the Sacramento Kings have been on a good stretch of games as of late with the new rotation. Hield remains to be the team's leading scorer but the starting minutes from Bogdanovic have proven to be beneficial for the Kings. In this new setup, the Kings have already benefited from some of his crucial offense. He's noticeably scored in back-to-back 23-point games in this stretch and is averaging 15 points per outing in the last five games.
Per Sean Deveney of Forbes by way of Clutchpoints, Bogdanovic could be in line for a big offseason contract. One league executive shared that Bogdanovic could be worth $80 million total in the upcoming offseason. "That's bottom line. But he's got to find a team willing to set the market knowing the Kings want to match. And he's going to have a lot of teams that are thinking about 2021 (free agency)."
Bogdanovic brings a lot to the floor beyond his shooting abilities. Although he's known to knock down shots beyond the arc, he's considered also to be a tough defender. His starting role benefits the pace of the Kings more with the versatility he brings to the team.
The six-foot-six combo guard was involved in trade rumors earlier this month. But with everything that has happened across the league, the Kings decided to keep their former EuroLeague champion for their team. Sacramento has been performing well with Bogdanovic in the starting lineup. The Kings are 6-3 with their new rotation and might continue with this setup in the long run.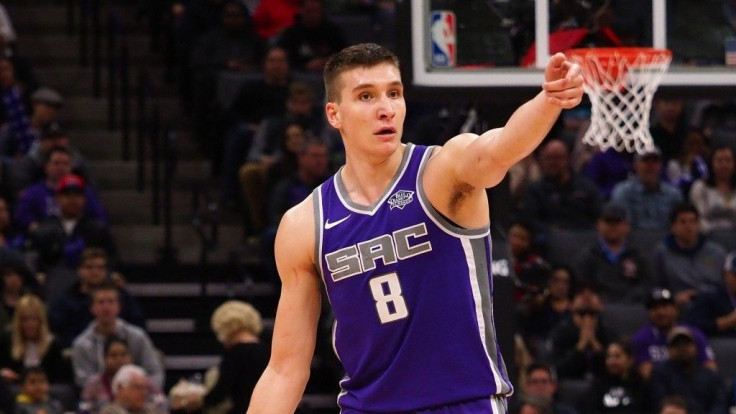 © Copyright IBTimes 2023. All rights reserved.