NBA Rumors: Will Derrick Rose Retire? Cavs Guard Addresses His Basketball Future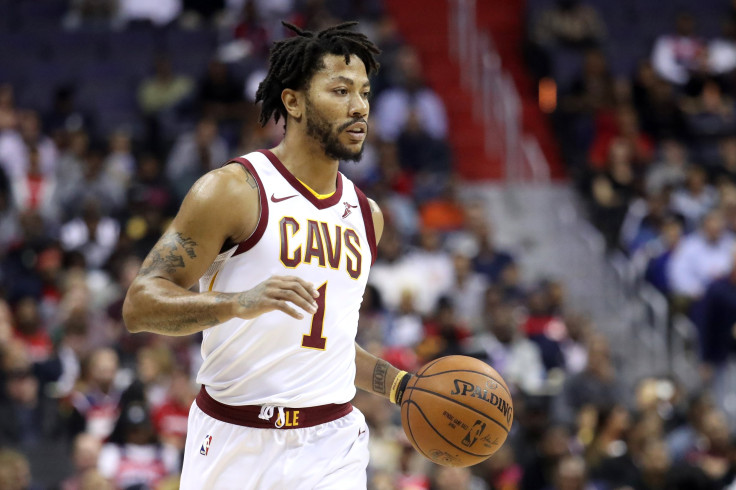 Derrick Rose has spent several seasons battling injuries, prompting many to speculate about his basketball future. In just nine NBA seasons, Rose has undergone four season-ending knee surgeries.
Frustrated by a sprained ankle he suffered during a preseason game in October, Rose's future once again appeared to be in doubt. He took a leave of absence from the Cleveland Cavaliers amid reports that he was weighing his plans with the team. He returned to the Cavs on Dec. 4, though he remains inactive.
Rumors have been swirling of late that the former MVP is contemplating retirement. There was thought that Rose might end up like Brandon Roy and Michael Redd — star guards who were forced to retire early because they simply couldn't overcome their many injuries.
In a recent interview with Marc Spears of The Undefeated, Rose strongly denied that he considered retiring.
"No. No. That's stupid. I don't want to even talk about that," Rose said.
When asked whether he missed playing, Rose strongly confirmed his commitment to the game.
"I'm here. That is why I am here. The game is in me. That is why I am here. It's a part of my life," said Rose. "I can't explain how much I dedicated and sacrificed in my life for this game. Nobody will be able to understand that. I put in too many hours. Nobody will ever understand it."
Rose's litany of injuries likely means he may not ever regain his top form, but he claims he is focused on rehab.
Rose's play declined with the Chicago Bulls since he suffered an ACL injury in his left knee in the 2012 NBA Playoffs. After surgery, Rose missed the entire 2012-13 season. He came back, but was sidelined again with a torn meniscus in his right knee, which required another season-ending surgery. Rose returned the following season but was ruled out again in February 2015.
In 2016, the Bulls traded Rose to the New York Knicks, where he averaged 18.0 points and 4.4 assists in 64 games. He missed the last five games of the season with torn cartilage in his left knee, which required orthoscopic surgery.
In the offseason, Rose signed with the Cavs. In seven games, he averaged 14.3 points per game on 47 percent shooting.
The Bulls selected Rose No. 1 overall in the 2008 NBA Draft. In 2011, Rose became the youngest player ever to win the MVP.
© Copyright IBTimes 2023. All rights reserved.