NBA Salaries 2017-2018: 10 Highest-Paid Players For The Upcoming Basketball Season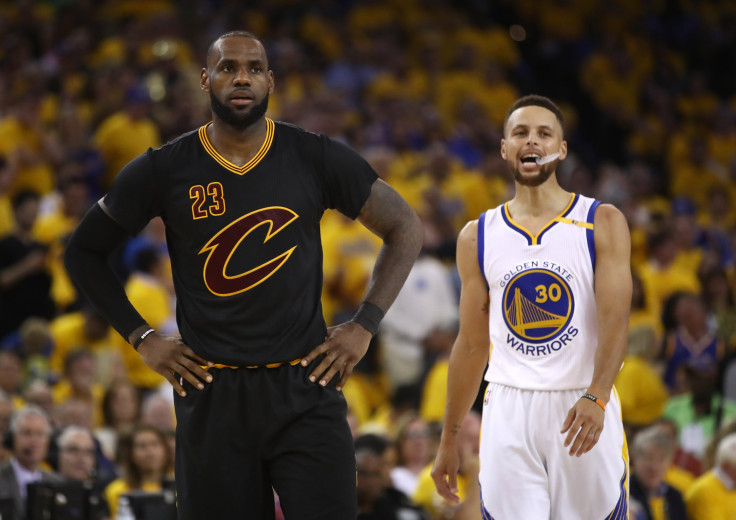 NBA players' salaries exploded, once again, this past offseason, with superstars signing record-setting contracts. Three teams gave out deals worth more than $200 million, and three players will make north of $30 million in the 2017-2018 season.
Stephen Curry is the highest-paid player in basketball, and he's the only player that will earn more money than LeBron James this year. With Kevin Durant taking less than the maximum salary, the Golden State Warriors and Cleveland Cavaliers each only have one of the NBA's 10 highest-paid players.
Here's a look at the 10 highest-paid players for the 2017-2018 NBA season and exactly how much money they'll be making:
1) Stephen Curry, Golden State Warriors ($34,382,550)
Curry signed a five-year contract worth over $201 million this past summer. He's helped Golden State win two of the last three championships, and Golden State is the odds-on favorite to win the 2018 NBA Finals.
2) LeBron James, Cleveland Cavaliers ($33,285,709)
James has two years left on his contract, but he's expected to opt out of the final year of his deal and become a free agent next summer. The Los Angeles Lakers are the biggest threat to sign James away from the Cavs in free agency.
3) Paul Millsap, Denver Nuggets ($31,269,231)
Millsap left the Atlanta Hawks to sign a three-year, $90 million deal with the Nuggets. He'll make the most money in the 2017-2018 season of any player that changed teams over the summer.
4) Gordon Hayward, Boston Celtics ($29,727,900)
Hayward left the Utah Jazz to sign a four-year, $128 million contract with the Celtics. The small forward was the most sought-after free agent that signed elsewhere in 2017.
5) Blake Griffin, Los Angeles Clippers ($29,512,900)
Griffin surprised a lot of people when he decided to stay in L.A. for a five-year, $173 million contract. He's the face of the Clippers, now that Chris Paul is on the Houston Rockets.
6) Kyle Lowry, Toronto Raptors ($28,703,704)
Lowry re-signed with the Raptors in the offseason, earning a three-year contract worth $100 million. Toronto has won at least 48 games in four straight seasons with Lowry as their starting point guard.
7) Mike Conley, Memphis Grizzlies ($28,530,608)
Conley made history in 2016 when he signed a five-year, $153 million contract to stay in Memphis. The point guard has never made an All-Star team in 10 NBA seasons.
8) Russell Westbrook, Oklahoma City Thunder ($28,530,608)
Westbrook made it clear that he wants to win a title in Oklahoma City, foregoing free agency by signing a $205 million contract extension at the end of September. With Westbrook, Paul George and Carmelo Anthony, the Thunder have a chance to be the second-best team in the West.
9) James Harden, Houston Rockets ($28,299,399)
Harden's $228 million contract extension set a record when he signed it in July. He's finished second in the MVP voting in two of the last three years.
10) DeMar DeRozan, Toronto Raptors ($27,739,975)
DeRozan got the second-biggest deal in NBA history, at the time, when he signed a five-year, $139 million contract in 2016. The 28-year-old has spent his entire career with Toronto since the Raptors drafted him in 2009.
© Copyright IBTimes 2023. All rights reserved.