NBA Three-Point Contest 2018: Participants, Prediction, Odds, Start Time For All-Star Event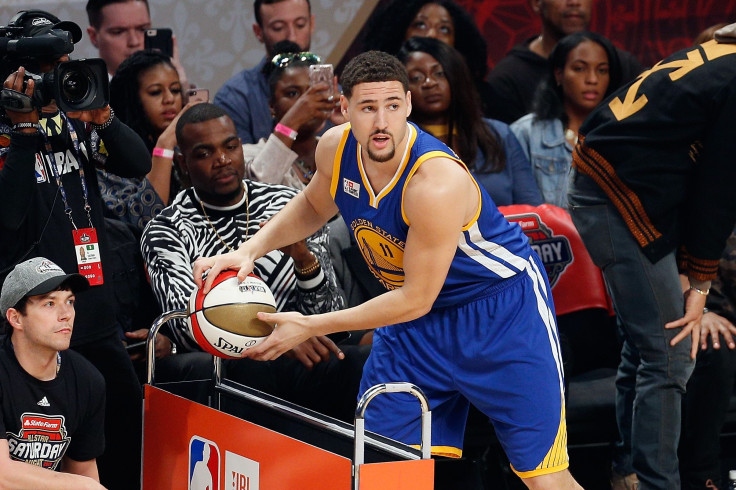 Eight participants will compete Saturday in the 2018 NBA Three-Point Contest. The night's festivities begin at 8 p.m. EST on TNT, and the three-point shootout should start at around 8:45 p.m. EST at Staples Center in Los Angeles.
Here's a closer look at the entire field, including a prediction and betting odds for each player, via Sportsbook.ag:
Klay Thompson +175
Thompson is the overwhelming favorite with good reason. Not only is he shooting better from three-point range than Stephen Curry, but the Golden State Warriors' shooting guard leads all players, making 45.4 percent of his attempts from behind the arc. He might be one of the five best shooters in NBA history, and he won the three-point contest just two years ago.
Paul George +450
George is having his best season ever from three-point range, making 43.2 percent of his shots. Only three players have attempted more threes than George, and he's more efficient than ever now that he doesn't have to be his team's No.1 scoring option. His only appearance in the contest came in 2013.
Eric Gordon +500
Gordon is the defending champion, holding off Thompson as a first-time participant in 2017. He's behind only teammate James Harden in threes attempted. The Houston Rockets' shooting guard is, however, shooting his worst percentage in five years, making just 33.4 percent of his threes.
Devin Booker +600
Booker is a prolific scorer with range, averaging 24.2 points per game on 38.3 percent shooting from three. The Phoenix Suns' guard isn't the best shooter in the field, but his ability to get red-hot makes him a candidate to win the contest. He competed in 2016.
Bradley Beal +800
Beal is actually having the worst three-point shooting season of his career, making 37 percent of his shots from behind the arc. Still, he's among the most consistent shooters in the field with a lifetime percentage of 39.4. The Washington Wizards' guard made it to the championship round in 2014 in his first and only three-point shootout appearance.
Kyle Lowry +1000
Lowry is in the three-point contest for the third straight year. He wasn't a very good shooter when he first entered the league, but the point guard has made at least 38.8 percent of his threes in each of the last three seasons.
Wayne Ellington +1000
Ellington is the worst NBA player in the field, though he is averaging a career-high 11.2 points per game for the Miami Heat. His 2.9 threes made per game are also a career high, and he's making them at a 38.7 percent clip. Ellington is a first-time participant.
Tobias Harris +1200
Harris wasn't much of a three-point shooter before this season, though he's drastically improved his outside shot. He made 2.4 threes per game at 40.2 percent with the Detroit Pistons, but his shooting has suffered since being traded to the Los Angeles Clippers. Harris has made 1.7 threes per game on 33.3 percent shooting in L.A.
Prediction: Klay Thompson
© Copyright IBTimes 2023. All rights reserved.