NBA Trade Rumors: Bradley Beal For Ben Simmons Makes Sense For Sixers, Wizards
The NBA trade deadline is fast approaching, and there are a lot of big names being mentioned. One player who has yet to move is Bradley Beal of the Washington Wizards, a young guard who can provide instant offense to any team in need of shooters.
One team in need of shooters is the Philadelphia 76ers. They managed to take in Jimmy Butler to help address that, but they could use more firepower. Beal could be a good addition to the franchise as someone who can light it up on the offensive end.
But if the Sixers are to go after Beal, the question on who they would give up remains unanswered. Ben Simmons could be of interest to the Wizards as he is someone who has been branded as the next LeBron James. While he does possess an all-around game, his ability to can it from the outside has been far from impressive.
Of course, Simmons has plenty of time to work on developing a decent shot. He is only 22 years old and has a budding NBA career ahead of him. The more important question is if the Sixers will be patient enough to wait for that to happen.
Critics believe that the Sixers should entertain calls for a Simmons trade, ESPN reported. And if Philly eventually does, a player that makes sense is Beal.
The Wizards are in rebuild mode and have made it known that all their players are available for trade. Beal, John Wall, and Otto Porter Jr. are among the big names mentioned. So far, only Kelly Oubre Jr. and Austin Rivers have been traded away. They were the players moved when the Wizards acquired NBA veteran Trevor Ariza last month, NBA.com reported.
Wall, out with an injury, is unlikely to draw trade interest. Beal has been the top name on the list of many teams, and Philly could be a stop that makes sense. But will general manager Elton Brand give up Simmons for the 25-year-old guard?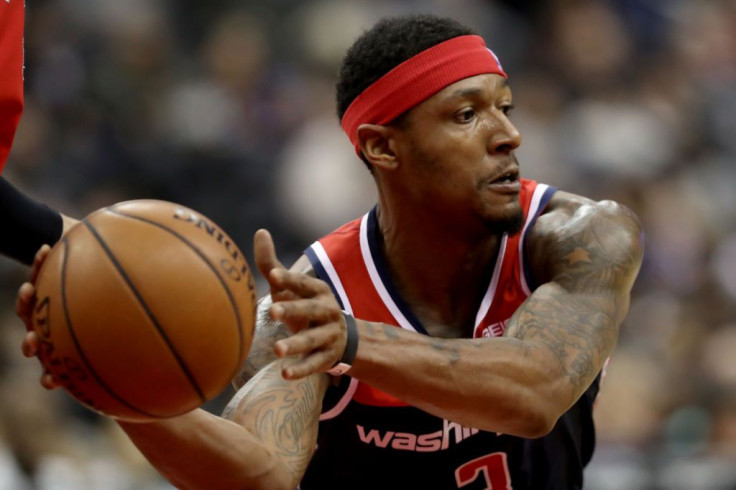 There are some who feel that it is a sensible trade. Beal is still young and he could be the answer to Philly's shooting woes. But is he worth getting over Simmons?
© Copyright IBTimes 2023. All rights reserved.