NBA Trade Rumors: Kevin Love Could Be The Next Star On The Move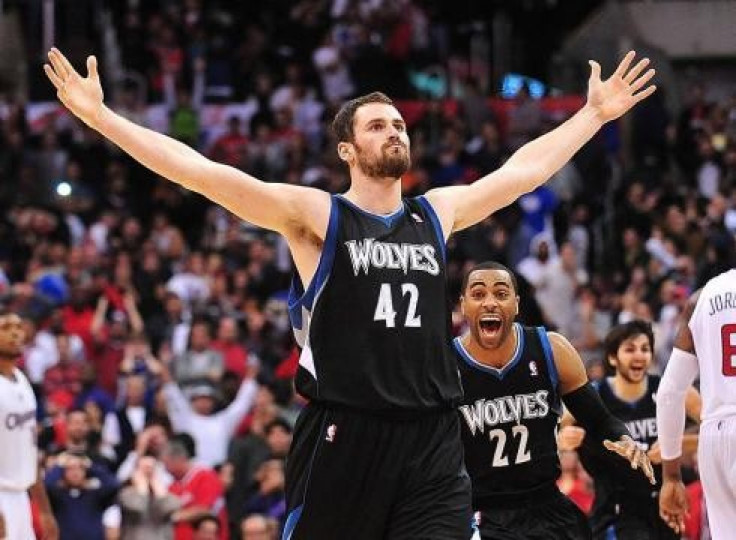 In the past couple of years, multiple NBA stars have forced their current teams to trade them to the destination of their choice.
Carmelo Anthony and Chris Paul were sent to New York and Los Angeles, respectively, and Dwight Howard seems to be on his way to Brooklyn. Now, it appears Kevin Love could be the next star to demand a trade.
The Timberwolves star hinted at the possibility of asking for a trade in the near future. Love expressed his frustration with Minnesota management in an interview with Marc Spears of Yahoo Sports.
My patience is not high, said Love. Would yours be, especially when I'm a big proponent of greatness surrounding itself with greatness? All these [Team USA] guys seem to have great players around them.
Love is among the 12 NBA players selected to represent the United States in the 2012 London Olympics. Every one of his teammates has won at least one playoff series in their careers. Love has yet to make it to the postseason in his four years in the league.
It's tough seeing all these guys that are young and older who have all played in the playoffs. When they start talking about that, I have nothing to talk about. If I don't make the playoffs next year I don't know what will happen.
Minnesota has been the worst team in the NBA since Love was drafted in 2008, winning just 82 combined games in the last four seasons. The Wolves haven't made the playoffs since 2004.
Despite his team's lack of success, Love has been one of the most productive players in the league of late. He finished the lockout-shortened season fourth in the NBA with 26 points per game and second with 13.3 rebounds per contest. Love came in sixth in MVP voting.
In January, Love signed a four-year contract extension worth $62 million. He can opt-out of the deal after three years, but could demand to be traded well before that.
I would say it's coming down to it for sure [next season]. It's no secret I was willing to commit to Minnesota for five years. I'm very happy with my contract. I'd love to be in Minnesota. But like anybody else, I want to win.
The Wolves finished the 2011-12 Season at 26-40, putting them at 12th in the Western Conference. They recently agreed to a three-year contract with Brandon Roy, as they look to make the playoffs in 2013.
According to the online betting Web site sportsbook.ag, Minnesota has the 15th best odds of winning the title next season.
© Copyright IBTimes 2023. All rights reserved.