NBA Trade Rumors: Lakers Want John Wall, Offering 3 Players
Washington Wizards All-Star point guard John Wall is seemingly the next target of the Los Angeles Lakers, according to reports.
Last month, a Twitter user claimed the Lakers were in trade talks with the Wizards over Wall and were offering three players in return — Lonzo Ball, Brandon Ingram and Kentavious Caldwell-Pope.
Of course, not much was made of the rumor at the time because the source had no credibility, but Kevin Broom of BulletsForever.com decided to ask around if there was anything to it and learned some interesting details.
"Source No. 1, a current NBA agent, surprised me by saying the story was true," Broom wrote Wednesday. "The source said it's something Rich Paul — agent to LeBron James and, as of January 2016, John Wall — was orchestrating. But, according to this source, the Wizards were saying no."
"I was still dubious, so I checked with Source No. 2, another current NBA agent who's at least as dialed in as Source No. 1. Source No. 2 said the rumor is true. This source said Ball and Caldwell-Pope were definitely in the deal, but that there was still discussion whether the third player would be Ingram, Josh Hart, or Kyle Kuzma. While the boundaries of the deal were defined, details still had to be finalized, and the whole thing could still fall apart."
Broom added this may have been agent chatter, so he decided to ask another source who worked in an unreleated industy, but with ties to James and his agent Rich Paul.
"So, I went outside the agent network, and asked Source No. 3: someone who works in an unrelated industry but has long-standing connections to Rich Paul and LeBron James," he explained. "Source No. 3 said Paul was trying to get Wall traded to the Lakers and that the Wizards would do it if Paul could get Magic Johnson and Rob Pelinka on board."
"But, Source No. 3 warned, it wouldn't be easy, because the Lakers like their youngsters. Source No. 3 added the nugget that Paul was working on trades to put talent around James because of fears that younger free agents 'don't want to play with LeBron anymore.'"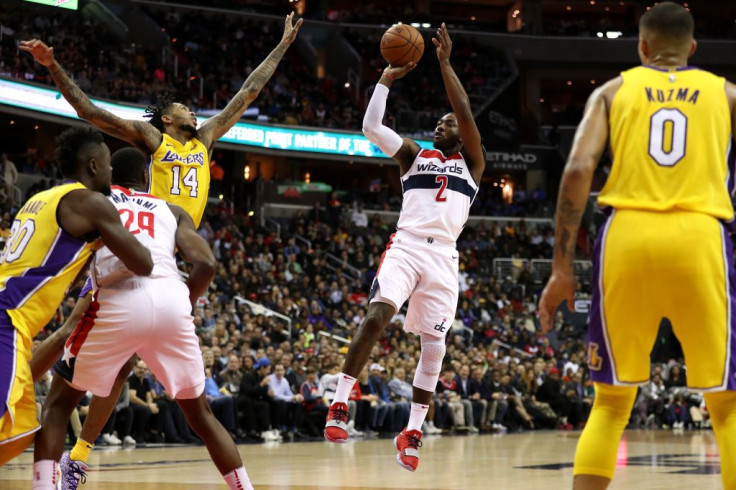 Last month, ESPN's Adrian Wojnarowski reported the Wizards were open to trade discussions over Wall, given the team's struggles in the league. And it was reported this week the New York Knicks were "stocking up" on their young assets to offer a trade package for the 28-year-old as well.
But it is hard to gauge whether the Lakers are really interested in Wall, especially with recent reports claiming they were also ready to offer a trade package for New Orleans Pelicans star Anthony Davis and then sign potential free agent Kevin Durant in the summer of 2019.
The reality is they will only get one of those players via a trade and even if it were Wall, who is earning $19.1 million this season but will have a four-year supermax contract extension from next season earning him an average of $42 million annually, the Lakers could still potentially have the cap space to sign Durant.
That is, provided Ingram and Ball are off the books and the Lakers do further shedding of their roster if they want to sign Durant on a max contract.
Regardless, Wall is the latest name to join the likes of Kawhi Leonard, Kemba Walker, Klay Thompson and Khris Middleton as reported players the Lakers want to team up with James.
© Copyright IBTimes 2023. All rights reserved.