Nepal Earthquake 2015: Death Toll Crosses 3,700; Officials Fear For Remote Areas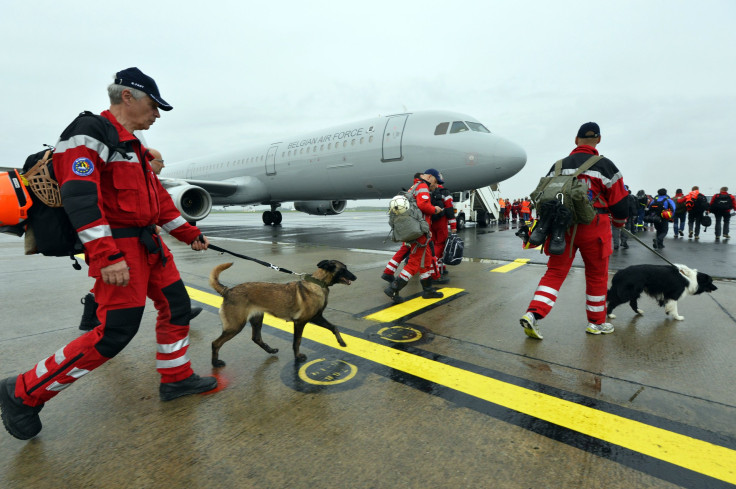 Update as of 5:39 a.m. EDT: The death toll from Saturday's earthquake in Nepal has exceeded 3,700, according to reports.
While rescue work continued in the affected areas, locals reportedly spent the night sleeping outside their homes fearing aftershocks. Meanwhile, officials and aid groups worried about the challenge of conducting rescue and relief operations in remote parts of the Himalayan country.
"These remote areas don't have any search or rescue operations assistance as of this time. In some of the remote areas staff heading out for assessments are finding both the road and the trails blocked by landslides, making access extremely difficult," World Vision said, in an email to the Associated Press.
Original story:
Nepalese government officials early Monday pushed the death toll from Saturday's 7.8-magnitude earthquake to more than 3,000, warning the number is likely to grow further, Agence France-Presse and Reuters reported. Relief groups from around the world descended on Kathmandu Sunday after the international airport reopened, hoping to provide assistance to overwhelmed hospitals and help victims trapped in the debris.
"The death toll has reached 3,218 and over 6,500 are injured," said Rameshwor Dangal, who heads the Nepal Home Ministry's National Disaster Management Division.
Among the groups rushing to the disaster area is a search-and-rescue team from California, which is to arrive Monday. The 57-member team is part of the state's Urban Search and Rescue Task Force and is bringing concrete cutters, search cameras and other equipment that will help find those still trapped. The United States also sent a military plane with a search-and-rescue team and 45 tons of cargo, the Pentagon said.
Hospitals that overflowed with patients may get some relief from aid workers from the World Health Organization and others, which can supply much-needed medical supplies. In other cases, rescue groups are simply trying to help provide access to rural hospitals and villages which have been cut off by damaged and blocked roads.
Indian Prime Minister Narendra Modi dispatched 13 military aircraft with hundreds of rescue workers and supplies, and said in his monthly radio address rescuing victims is the most important job right now.
"Even now many people buried under the rubble must be alive," Modi said. "Our effort will be to rescue as many people alive as possible."
China sent a 62-person team and sniffer dogs, also pledging $3.2 million in aid. Britain said it was putting together a $7.6 million aid package, and Switzerland put together a team of experts that included a doctor, building surveyor and water quality technician, the Associated Press reported. Other countries dispatched rescue teams as well.
© Copyright IBTimes 2022. All rights reserved.
FOLLOW MORE IBT NEWS ON THE BELOW CHANNELS