Nepal Earthquake Update: Survivors Recount Tremors, Avalanche As Aftershocks Continue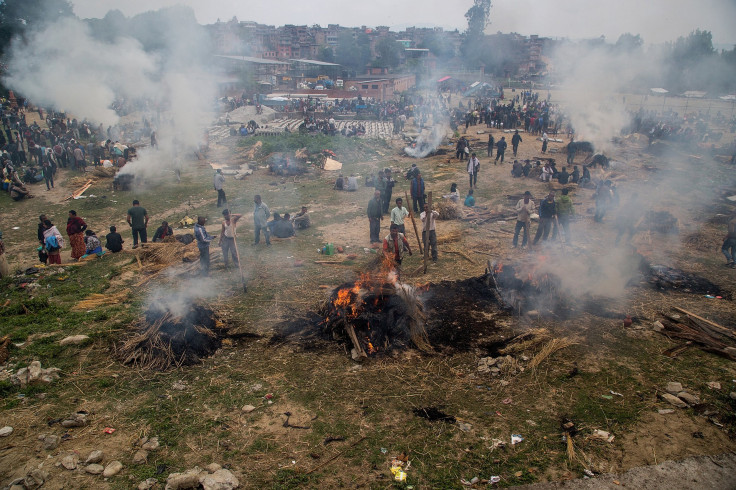 The 7.8-magnitude earthquake that ravaged Nepal Saturday killed an estimated 2,500 people and injured 6,000. But it also left thousands of residents, visitors and mountain climbers with unforgettable stories about where they were when they felt the tremors and how they survived.
Like Bindeshwor Tamang, 32, is a mother in Kathmandu who nearly lost her 6-year-old daughter Kabita in the chaos on Saturday. "Within minutes, the shops and old buildings started falling like a pack of cards," she told the Wall Street Journal. "I started screaming her name."
She spotted Kabita under some debris and, with the help of bystanders, pulled her out. Kabita suffered a broken collarbone.
Across town, ambulance driver Chandeshwor Maharjan also survived, but he told the Journal he fears his conscience will bother him forever. When the ground started shaking and he abandoned his vehicle, he saw people "pinned to the ground." Some were trapped in rubble, he said, but "I just ran away for safety and left them to die."
Saturday's earthquake was the nation's worst in 80 years. The country began recovery and rescue operations Sunday, but their efforts were complicated by frequent aftershocks. Hospitals overflowed, and food and water were scarce. Locals were afraid to enter buildings for fear they'd collapse, instead preferring to camp out under makeshift tents, the Los Angeles Times reported.
"How can we feel safe? This is never-ending and everyone is scared and worried," resident Sundar Sah told the Associated Press. "I hardly got much sleep. I was waking up every few hours and glad that I was alive."
On nearby Mount Everest, climbers were dealing with their own problems. The base camp was covered Saturday in snow from an avalanche. George Foulsham of Singapore recounted his experience to the Telegraph. "I ran, and it just flattened me," he said. "I tried to get up and it flattened me again. I couldn't breathe. I thought I was dead."
Some survivors were grateful but panicky, trying Sunday to escape the country. Tailor Assad Alam told the AP his family, which has lived in Nepal for seven years, intended to leave for India immediately. "It was a very difficult decision," he said. "But you have to think about the family, your child."
© Copyright IBTimes 2023. All rights reserved.
FOLLOW MORE IBT NEWS ON THE BELOW CHANNELS