Nepal Parliament Elects Bidhya Devi Bhandari, Women's Rights Activist, As First Female President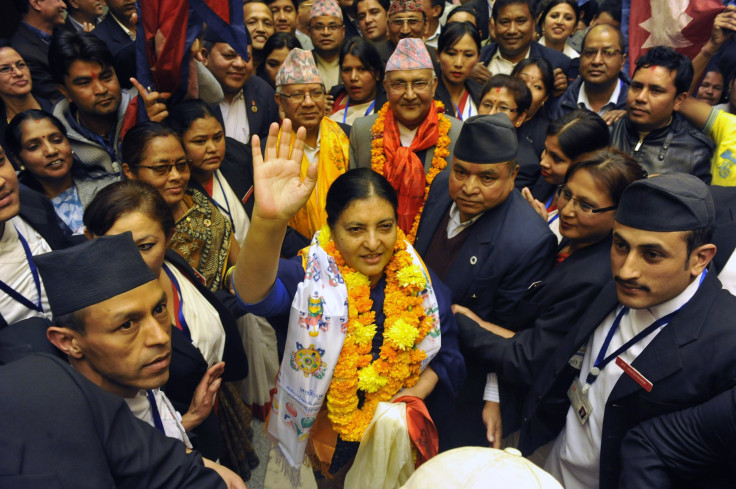 Nepal's parliament elected a 54-year-old women's rights activist as its first female president Wednesday, just weeks after the country established a new constitution in September. Bidhya Devi Bhandari was the country's defense minister from 2009 to 2011 and is currently the vice-chair of the ruling Communist Party of Nepal Unified Marxist-Leninist (CPN-UML), reports said.
Bhandari said, according to local newspaper Kathmandu Post, that she would help effectively implement the new constitution. "I have been elected as the first female President as per the inclusive and proportional principles and we implemented the constitution," she said.
The move comes just 12 days after Nepal announced Onsari Gharti as its first female speaker. Bhandari got 549 votes out of 597 -- 48 parliamentarians were not present and eight votes were named invalid, the Kathmandu Post reported. Bhandari will be replacing Ram Baran Yadav, who was the country's first elected president after it abolished monarchy in 2008.
"Few opponents may link her success towards sympathy shown by people after her husband's demise (in 1993) but that is not true. The fact that she has been elected thrice from Kathmandu in parliamentary elections defeating top leaders proves her mettle," CPN-UML leader Secretary Pradeep Gyawali said, according to Kathmandu Post.
Bhandari was among the country's politicians who pushed for women's rights under the new constitution, which now dictates a one-third quota for women in parliament. It also states that either the president or the vice president of the country should be a woman.
Her husband, Madan Bhandari, who was the leader of CPN-UML, died in a car crash in 1993, the Associated Press (AP) reported. In 2006, Bhandari led protests against former King Gyanendra, calling for democracy in the country.
"There were doubts about the implementation of new constitution," Pushpa Kamal Dahal, chairman of Unified Communist Party of Nepal (Maoist), Nepal's major ruling partner, said, according to Kathmandu Post, adding: "But the completion of elections for vital posts shows that the implementation of the constitution is moving ahead. And it has established inclusive proportional values."
© Copyright IBTimes 2023. All rights reserved.