Nepal Quake Aftermath: Transportation Problems Continue To Hinder Aid Efforts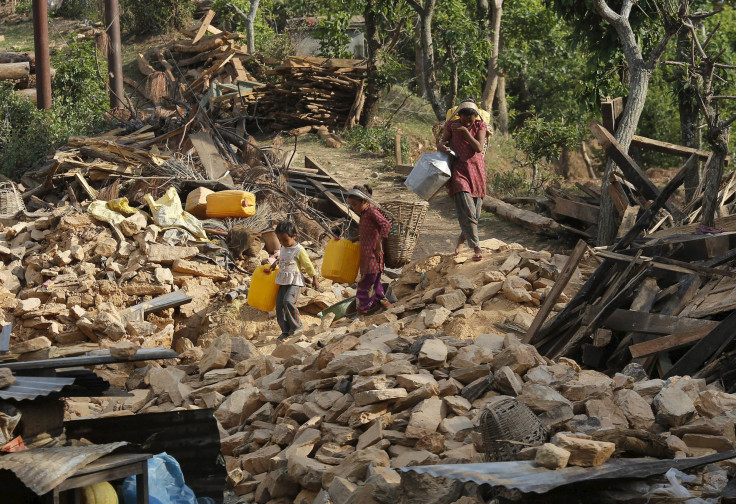 Difficult conditions and logistics problems hindered aid efforts Sunday, a week after a devastating earthquake shook Nepal, killing thousands. The U.N. said an estimated 8 million people are affected by the disaster, including in Kathmandu and Pokhara, the country's two largest cities.
Aid groups are having trouble getting supplies into the country due to customs requirements, the Wall Street Journal reported Sunday, citing a U.N. spokesperson who said the Nepali government wanted to tax the relief materials like ordinary goods. In the aftermath, many Nepalis have expressed skepticism officials would be effective in sending aid where it's most needed. Others critics said the government is more focused on rescuing foreign tourists and trekkers than on the thousands around the country in desperate need of help.
But even when organizations get their supplies in, distributing them is difficult.
"A major challenge is transportation and access," Heron Holloway, spokesperson for Habitat for Humanity's Asia-Pacific work, told International Business Times. "Many vehicles were destroyed during the earthquake and many roads were badly affected."
The 7.8-magnitude earthquake April 25 killed more than 7,000, injured more than 14,000 and displaced at least 1.2 million people the Nepal Red Cross said.
"Due to greater scope of the damage, we are yet to reach many areas in both urban and rural areas," the organization, which works in conjunction with Nepal's government, said in a Sunday statement, adding a note on the importance of local volunteers.
Many of the worst-affected areas are remote, and the few roads that connected them to transport hubs were destroyed in the quake. But critics have started to express concern authorities may be focusing too much on foreign tourists and trekkers, rather than the thousands in desperate need. Freddie Wilkinson, an American writer and climber, wrote in a Foreign Policy blog post Saturday locals are outraged government helicopters are being used to rescue climbers, rather than get desperately needed food aid to remote places.
"To many, the dichotomy between what happened on Everest in the days after the quake and what hasn't been happening everywhere else is striking -- and, to some, an outrage," Wilkinson wrote. "While private helis were airlifting mountaineers and trekkers earlier in the week, there were claims that authorities were unresponsive to requests to send whatever choppers were available to rural areas."
© Copyright IBTimes 2022. All rights reserved.
FOLLOW MORE IBT NEWS ON THE BELOW CHANNELS