Nets Have Options To Sign Forward, LeBron, Lakers Also Urged: Report
Carmelo Anthony's search for an NBA franchise continues with no end in sight at the moment. The veteran forward is desperate to play at least one more season in the NBA before hanging up his jersey but he has not been able to generate concrete interest from any franchise thus far.
A number of current and former players have come out in support of the forward while NBA insider Stephen A. Smith has urged LeBron James to help the Los Angeles Lakers sign Anthony. They are all certain that the 10-time All-Star still has what it takes to help a team given the right role.
According to SNY.tv's Ian Begley, several Brooklyn Nets players are still pushing for the franchise to sign the forward ahead of training camp getting underway in 10 days' time. The team already has 15 guaranteed contracts – the maximum allowed for a season – but they have options where they can sign Anthony if the franchise is genuinely interested.
Wilson Chandler is suspended for the first 25 games of the regular season after he violated the league's anti-drug policy. After the fifth game of Chandler's suspension, the Nets can officially move the player to the inactive list which will allow them to then sign Anthony to a traditional NBA deal.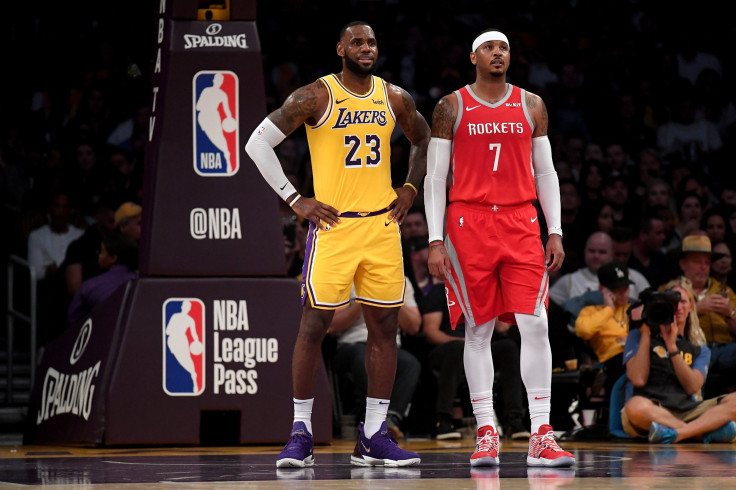 Once the suspended forward returns, the Nets will have to cut one of their players on a traditional deal in order to keep Anthony. Another option for the franchise is to sign the veteran forward on a training camp deal before waiving him prior to the start of the regular season and then sign him on a traditional deal after Chandler's fifth game suspension.
Nets general manager Sean Marks has not given any indication that the team is interested in Anthony but a recent report suggested that the team's two stars, Kyrie Irving and Kevin Durant, were pushing the team to sign Anthony. The forward has participated in informal training sessions with Nets players previously in Los Angeles with some present in the gym saying that the 35-year-old was the best player on the court.
Anthony's last NBA action came in November 2018 when he was signed with the Houston Rockets. He played 10 games for the team before he was excluded from the squad and traded to Chicago Bulls, who waived him immediately, making him an unrestricted free agent.
© Copyright IBTimes 2023. All rights reserved.