Nevada Congressional Candidate Cresent Hardy Claims Employment Non-Discrimination Act Is A 'Segregation Law'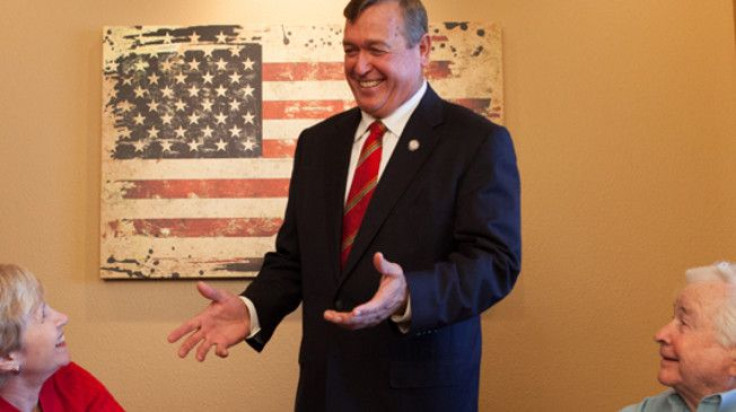 Nevada state assemblyman and U.S. House of Representatives candidate Cresent Hardy (R) said Tuesday that he opposes the Employment Non-Discrimination Act on the grounds that it is a "segregation" law.
Speaking to the Las Vegas Sun on Tuesday, Hardy said that if elected, he would not support the Employment Non-Discrimination Act, a bill that would ban workplace discrimination on the basis of sexual orientation or gender identity. The ENDA passed in the U.S. Senate in November but has yet to come up for a vote in the House.
Hardy, who is hoping to overtake Nevada's 4th Congressional District from first-term Rep. Steven Horsford (D), told the Sun that the ENDA would favor one class over another.
"When we create classes, we create that same separation that we're trying to unfold somehow," Hardy told the Sun. "By continuing to create these laws that are what I call segregation laws, it puts one class of a person over another. We are creating classes of people through these laws."
According to the Sun, Hardy voted against a similar law in Nevada in 2011. Horsford supported the Nevada non-discrimination law and currently co-sponsors the ENDA in the House.
Hardy, who is Mormon, also told the Sun that he opposes same-sex marriage.
"I will always vote against same-sex marriage because of my religious beliefs, the way I was raised," Hardy said. "For me to vote for it would be to deny the same God that I believe in."
After IBTimes reached out to Hardy for clarification, Hardy claimed that he does not support discrimination in the workplace despite his opposition to the Employment Non-Discrimination Act.
"I believe in advancement through performance," Hardy told IBTimes. "There is no room for discrimination in the workplace at any level and I strongly oppose laws to hold back, or advance, a person strictly based upon a label or grouping.
"Political spin doctors will twist that comment in ways that benefit those that fund their activities," he continued. "The truth is, I support workplace laws that reward those who do the best job regardless of who they are. Any suggestion otherwise is simply not true."
Hardy did not specifically mention the Employment Non-Discrimination Act in his response.
© Copyright IBTimes 2023. All rights reserved.