New Ebola Guidelines In US To Require Nurses Treating Affected Patients To Cover Their Bodies Fully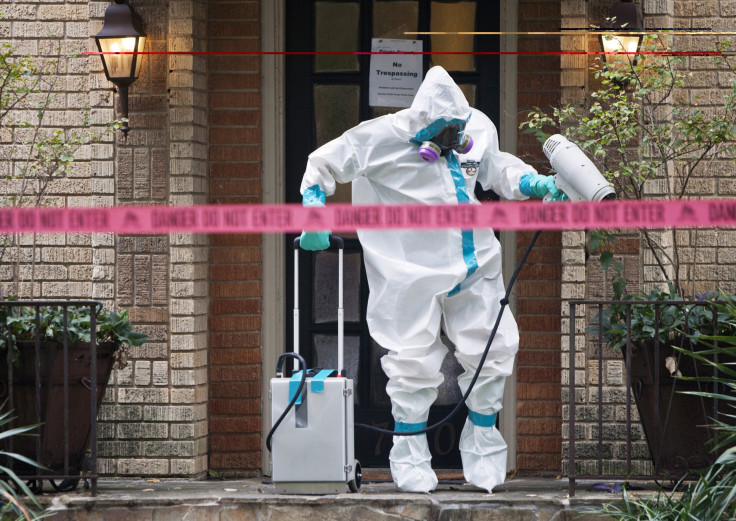 American hospitals will be subject to a stricter regimen while treating Ebola patients in the future as the U.S. Centers for Disease Control and Prevention, or CDC, is coming up with new guidelines aimed at containing the virus' outbreak. The move follows criticism that a lack of adequate safety measures led to two nurses being infected at a Dallas hospital.
The new guidelines will require nurses to be fully covered while treating patients with Ebola or those suspected of having the virus. Existing guidelines were developed based on guidance from the World Health Organization, which had earlier allowed workers in West Africa to have portions of their skin exposed, according to Anthony Fauci, director of the National Institute of Allergy and Infectious Diseases, a part of the National Institutes of Health.
"The guidelines did have some exposure of skin," Fauci said in an interview, according to the Wall Street Journal, adding: "We want to make sure everything is covered."
The CDC's latest move comes after two health care workers at the Texas Health Presbyterian Hospital in Dallas contracted the virus while treating an infected patient who eventually died from the disease. The two nurses are currently undergoing treatment at separate facilities in the U.S.
After the nurses came down with the virus, and the CDC
criticized
the hospital for not following appropriate protocol while dealing with the infected patient, the National Nurses United, a nurses' union,
claimed
last week that the
Texas hospital
did not have enough protective measures to deal with Ebola patients.
On Sunday, the Pentagon
ordered
the creation of a 30-person rapid-response medical support team to tackle the deadly virus. And, on Saturday night, President Barack Obama
held a meeting
with his national-security and public-health teams, in which the process of tracking down people who may have contracted the disease was discussed. He also said that there was no plan to implement a travel ban, to and from West Africa, which has been called for by some to contain the virus to certain geographies.
The U.S. has now assigned Emory University Hospital in Atlanta; the National Institutes of Health in Bethesda, Maryland; St. Patrick Hospital in Missoula, Montana; and Nebraska Medical Center in Omaha, to handle Ebola cases.
"We need to have more than just the four [hospitals] in which you have people who are pre-trained, so that you don't come in, and then that's the first time you start thinking about it," Fauci said, according to the Journal, adding: "It can't just be four. We may not even need any more, and we hope we don't."
The Ebola epidemic, the worst since its discovery in 1976, has so far claimed over 4,500 lives, and more than 8,000 people have been infected, mostly in West Africa.
© Copyright IBTimes 2023. All rights reserved.