'New Egypt' President Morsi Reaches Out For International Funds -- But Investors Aren't Buying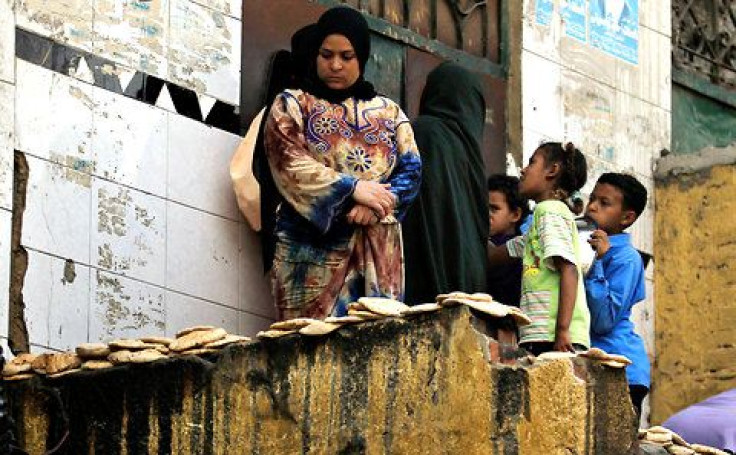 CAIRO -- One hundred days after Mohammed Morsi took office as Egypt's first democratically elected president, the country is forging ahead with a plan to sell itself to international investors as a stable, attractive place to do business.
Crippled by the aftermath of the politically successful but economically choking revolt that ended the regime of Hosni Mubarak in 2011, Egypt needs the money to ease a liquidity crunch, foster growth and help with critically low levels of foreign currency reserves. And with record-high unemployment and a growing population, the Arab world's most populous nation needs all the help it can get.
"We want to see Egypt [become a] Mecca for investors," Prime Minister Hesham Kandil told attendees on Oct. 9 at the Euromoney conference, an event that brought together public and private sectors in Cairo to discuss "restarting investment and sharing the benefits of growth."
Despite the conference's optimistic title, those two things may take some time. There have been marked improvements in political stability and a handful of economic indicators have turned positive, but foreign investors remain cautious about the economy's long-term ability to rebound following the popular uprising last year.
In a televised address on Oct. 6, Egypt's public holiday to mark the 1973 war with Israel, President Morsi noted that inflation declined to 6.3 percent, its lowest level in 10 years. That is a significant development, since many analysts say inflation was one of the biggest factors fueling the social unrest that led to the revolution.
"I think it's very good news for Egypt because of social reasons," said Sebastien Henin, vice president of asset management at The National Investor, an Abu Dhabi-based investment management firm. "If you look at the past five years, from 2005 to 2010, average inflation in Egypt was 7-8 percent, and it was too high for a country such as Egypt."
No Usury
The government is also negotiating with the International Monetary Fund for a $4.8 billion loan, which would serve as another confidence boost for investors, besides shoring up Egypt's shaky public finances. "We're inviting the IMF for official negotiations by the end of this month, hoping we will reach an agreement by that time," said Prime Minister Kandil. The Fund typically demands guarantees and budget-discpline measures from its borrower nations, and this is no exception: "We're designing a homegrown program that includes systems for intervention measures to increase our revenue, and also to control our expenditures," Kandil said.
While Egyptian officials say they have reached an understanding with the IMF, the loan presents a political challenge domestically, as the more conservative Islamist voices in the Morsi administration are critical of borrowing from abroad, and have said it is against religious Shariah principles. In his Oct. 6 address, President Morsi, a former leader of the Muslim Brotherhood, clarified that the IMF loan was in accord with Islamic religious principles. "We would prefer hunger to usury," he said, referring to the prohibition on collecting interest in Islamic jurisprudence.
While negotiating with the IMF, the new government moved swiftly to solidify political power, but the potential for unrest remains as the new constitution and parliamentary elections are still pending. In August, ratings agency Standard & Poor's removed Egypt from its negative credit watch and let it keep its B rating, citing Morsi's move to retire the head of the Supreme Council of the Armed Forces as progress toward a "working arrangement" between the Muslim Brotherhood and the senior ranks of the Egyptian military, which was the country's de facto ruler after the fall of Mubarak.
While's Egypt's economic potential remains strong, thanks to it's population -- the largest in the Middle East at 83 million -- analysts worry about the government's ability to deliver on its promises and foster growth. "The demographics in Egypt, if appropriate social and labor policies are adopted, can be a major driver of growth and a very attractive market for global investors in different industries," said Alia Moubayed, a London-based economist at Barclays Capital. "What is still lacking is a clear policy framework."
The government projects a GDP growth of 4 to 4.5 percent a year in the 2012-2013 fiscal year, which may generate 700,000 new jobs. "Over the next 5 years, the government aims to achieve a 7.5 percent growth rate," Prime Minister Kandil said. Analysts worry this growth rate, while relatively very high, may not be sufficient to tackle unemployment. "Even a short-term target of 5 or 6 percent is not enough," said Henin. "They have to be extremely ambitious to tackle the demographic challenge." Over half of Egypt's population is under 24 years old, creating a serious employment problem.
Falling Reserves
At the end of 2011, the balance of payments -- the difference between imports and exports -- showed a deficit of $18.3 billion compared with a surplus of $1.3 billion the year before, according to Egypt's central bank. Foreign currency reserves reached a critical level at $15.1 billion, or less than 3 months' worth of imports. Since January, Egypt's Central Bank has spent more than $20 billion of those foreign reserves to address the widening balance of payments gap.
The Morsi administration also faces a budget deficit of 170 billion Egyptian pounds, or 11percent of gross domestic product, which has aggravated the country's liquidity crisis and increased the need for external financing.
The unemployment rate has reached 12.6 percent in the second quarter of 2012 compared with 11.8 percent a year earlier, according to Egypt's official statistics agency CAPMAS. And, while not in a recession, the economy has slowed down enormously, going from a 5.1 percent growth rate in 2010 to just 1.8 percent last year, data from the Central Bank of Egypt show.
When it comes to foreign investment, the issue is clear-cut: Egypt needs to attract a lot more of it, even if it just wants to go back to the level it had before the revolution. Foreign direct investment inflows were at $2.07 billion in the year ended in September 2012, compared with $2.19 billion the previous year, according to Central Bank statistics. That's compared with $6.75 billion in 2009-2010, which still was half of the peak of $13.24 billion in 2007-2008, most of it oil and gas investments that were heavily subsidized by Mubarak's government.
The global recession and the euro zone crisis put a damper on global foreign direct investment (FDI) levels, but money is coming back worldwide -- and investors are looking for places to put it. This should be good news for Egypt, but the country needs to clean up its act before it can attract that vast pool of money: "Egypt is not ready yet to benefit from this bout of global liquidity that is chasing 'good fundamentals' stories," said Barclays Capital's Moubayed.
As for the question of how long it will take, the benefits should become tangible toward the end of President Morsi's four-year term, according to investment manager Henin. "We need two or three years, if things go in the right direction, if you have no political issues, if macro indicators are fine, if you have new laws to encourage investments -- at this point, yes, you will see FDI coming back in the country," Henin said. "Right now it's too early."
© Copyright IBTimes 2022. All rights reserved.
FOLLOW MORE IBT NEWS ON THE BELOW CHANNELS