New Enrique Peña Nieto Crisis? Mexico's Economic Malaise Continues Amid Peso's Fall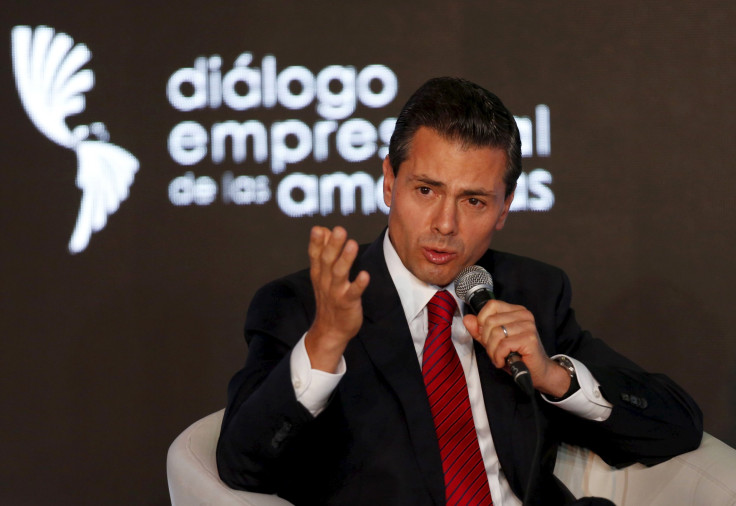 Mexico's lackluster economic performance is getting no relief this week as global market turmoil, spurred by fears over a Chinese economic slowdown, sent the peso tumbling to historic lows. For Latin America's second-largest economy, the continued slide means more dampened hopes for President Enrique Peña Nieto, who had come into office promising a dramatic economic transformation but is now battling anemic growth.
The peso sank to its lowest-ever rate against the dollar following Monday's global market rout, falling to 17.25 to the dollar. But that slide was just the latest drop in a month that has seen the peso continuously hit fresh lows, spurred on by sinking global crude oil prices and jitters over the U.S. Federal Reserve's expected hike in interest rates. Mexico's currency has fallen by 24 percent over the past year alone. Mexico was forced to revise its 2015 growth projections amid the plunge: The economy is now expected to grow between 2 percent and 2.8 percent this year, down from earlier forecasts of 2.2 to 3.2 percent.
The continuous slide has prompted Mexico's central bank to step up intervention measures in recent months. The central bank has auctioned off millions of dollars in a bid to keep liquidity in the system. Agustin Carstens, Mexico's central bank governor, has also said the bank is also preparing to raise interest rates, which are currently at record lows, to contain the currency's fall, even though that may mean more weak economic growth. "What we need to watch is precisely that this exchange rate movement does not have significant impact on inflation or over the process of price formation," he said earlier this month, Reuters reported.
The peso's decline this year has provoked some fearful memories of Mexico's 1994 financial crisis, in which a major devaluation of the peso led to skyrocketing inflation. But structural reforms in recent decades have made the country better prepared this time: Mexico's inflation rate is at a historic low of 2.64 percent, the national statistics institute says. Those figures show "that the effect on inflation from the weaker peso is limited," Carlos Capistran, chief Mexico economist at Bank of America Merrill Lynch, told Bloomberg.
Mexican Imports and Exports over Time | FindTheData
Mexican lawmakers are expected to meet Sept. 1 to field a proposal from the president to create new special economic areas in zones that are in particular need of economic development in light of the peso slump. The southern states of Chiapas, Guerrero and Oaxaca are main priorities that could receive new fiscal benefits and a "flexible regulatory framework" under the new plan, Mexican Finance Minister Luis Videgaray said last week. Those three states are among the slowest-growing states in the country, and have long been beset by high rates of violence and poverty. They all fall at the bottom of the United Nations' human development index for Mexico's states, which measures access to resources like health and education for the average resident.
Mexico's current slump is a far cry from where Peña Nieto had pledged to take the country when he came into office in 2012. He championed ambitious economic reforms in the oil, telecommunications, education and banking sectors that he said would transform Mexico into a major global competitor, but so far those reforms haven't produced all the expected benefits. A historic auction of its offshore oil assets in July was supposed to herald the opening of Mexico's oil and gas sector to private investors, but only two of the 14 shallow-water blocks up for auction received any bids.
Peña Nieto has seen persistent drops in his national approval rating as the economic malaise continues. Around 34 percent of the public showed support for Peña Nieto in July, according to a poll conducted by Mexico's Reforma newspaper, as corruption and violence remain unchanged in the country. Amid high-profile scandals, including the disappearance of 43 students last year and corruption allegations against the first lady, many critics have said the president's promises of economic reform cannot be fully realized until the government makes bold steps to strengthen the rule of law.
"We have an economy that practically has not grown in two-and-a-half years," Jonathan Heath, an economics professor at the National Autonomous University of Mexico in Mexico City, told the Washington Post. "And that has bothered a lot of people, because the government promised that we were going to grow."
© Copyright IBTimes 2022. All rights reserved.
FOLLOW MORE IBT NEWS ON THE BELOW CHANNELS