China 'Black Monday' And Latin America: Brazil, Venezuela, Mexico Among Economies Showing Anxiety After Stock Market Meltdown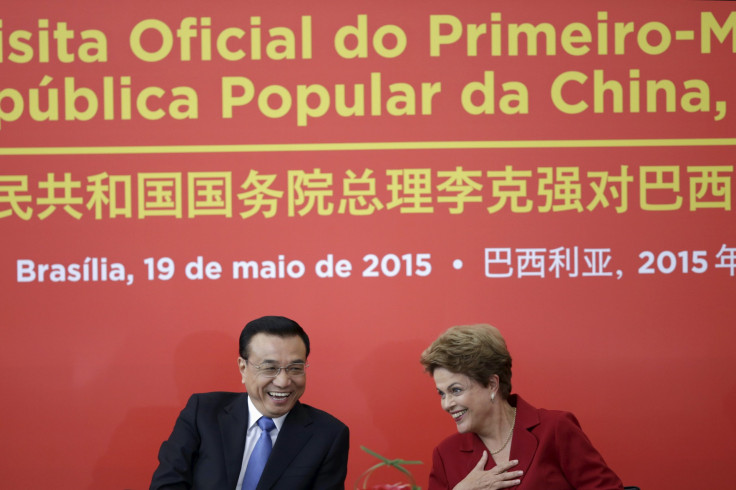 As the plunge in Chinese stocks rattles global financial markets, Beijing's economic slowdown is stoking fears of more dismal times to come for Latin America's sluggish economies, many of which have come to rely increasingly on China as a financial lifeline. If the recent tumult in global financial markets is an indicator of deeper economic problems in China, that could have serious reverberations in Latin American countries in the months to come, analysts said.
Latin American stocks were not excluded from Monday's massive selloff in financial markets that caused stocks to plunge to dramatic depths in Asia and Europe. Brazilian stocks fell Monday by more than 5 percent, with the benchmark Bovespa stock index dropping to a six-year low. Brazilian, Chilean, Colombian and Mexican currencies also have tumbled steeply in the past year amid trepidation over China's economy.
Several Latin American countries rely on China as a top trading partner. The China-Latin America relationship has been fueled for years by a commodities boom that fed raw materials like iron ore and soybeans into resource-thirsty Chinese markets. Chinese demand for commodities has been particularly important for countries like Argentina and Brazil, which supply around 75 percent of all China's soybean imports.
But that demand has fallen in recent months, and the recent financial turmoil has pushed the price of commodities down even further, stoking new anxieties for the region's already lackluster economic outlook. Total trade between China and Latin America hit a peak in 2013 of $274 billion, falling slightly to $269 billion in 2014, and it's expected to slow again in the coming year, according to the U.N. Economic Commission for Latin America and the Caribbean. The organization also projected the economy of Latin America and the Caribbean would grow around only 1 percent in 2015, with nearly zero growth for South America, based on current trends.
The repercussions of China's economic problems are especially troublesome for Brazil, the largest economy in Latin America and seventh-largest in the world. Brazil already is expected to contract by around 2 percent this year as it grapples with the aftermath of a blockbuster corruption scandal around its state-run energy company, Petrobras. Widespread dissatisfaction with President Dilma Rousseff's handling of the economy and the scandal has made her approval ratings dip into the single digits as the currency, the real, has fallen by 27 percent this year.
Brazil is already a prime example of how falling Chinese demand affects Latin American countries, said Brian Winter, vice president of public policy for the Americas Society/Council of the Americas, a think tank based in New York City. "Demand from China started to slow down two or three years ago, and that has been a backdrop to all the problems we've seen in Brazil," he said. "If this market turmoil is telling us that China's about to slow down even more, then I think you can realistically expect commensurate consequences in places like Brazil, Peru, Colombia and elsewhere."
The recent stock plunge also has exacerbated a drop in the global price of oil, which has particularly serious consequences for Venezuela and Ecuador, countries that have relied heavily on oil exports to fund social programs. The oil-price drop has already hit Venezuela hard as President Nicolas Maduro grapples with increasing scarcity of basic goods and rising inflation rates. Ecuador has also seen a growth in street protests against President Rafael Correa as the government has turned to tax hikes and other measures to make up for the budget shortfall.
The recent financial turmoil comes at a time when China is making strategic moves to deepen its relationship with Latin America. Beijing has poured funds into ambitious infrastructure projects, loans and a range of other investments in the past year, and high-profile visits from Chinese President Xi Jinping last summer and Premier Li Keqiang in the spring resulted in a slew of new economic agreements. Analysts have painted China's moves in Latin America as pragmatic decisions borne out of Beijing's desire to diversify its investments around the world. But some observers have also speculated Latin America could be a battleground for influence between China and the United States, particularly as the U.S. seeks to renew its relationship with the region in light of its historic diplomatic thaw with Cuba.
The ambitious infrastructure projects China has backed in the region, including a transcontinental rail link between Brazil and Peru, have been hailed as a smart, strategic move on Beijing's part and an opportunity for Latin America to boost economic activity through much needed infrastructure investment. Those projects could be at risk, as well, if the recent financial tumult is an indicator of deeper problems in China's economy. But there's no way of knowing just yet if that is the case, Winter said.
"This is the question that every investor in the world is asking today: What is the real-world cause of what's going on in China right now?" he asked. "We don't know. But if there's a real macroeconomic cause for this, it's going to be bad for the region."
© Copyright IBTimes 2022. All rights reserved.
FOLLOW MORE IBT NEWS ON THE BELOW CHANNELS