New Faces On The FOMC: Significantly More Hawkish In 2014?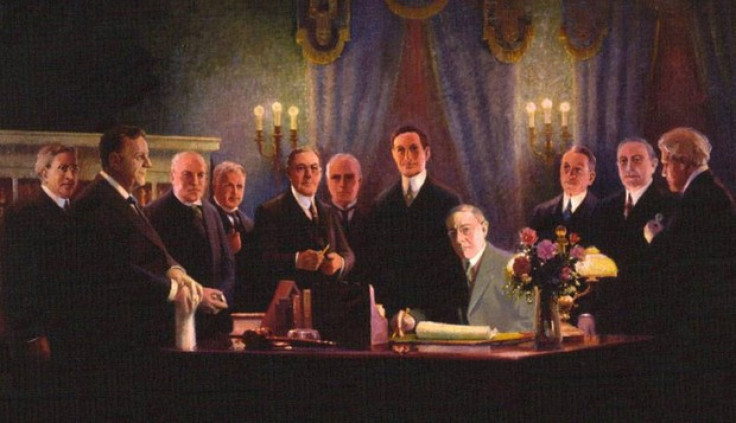 While much attention has been given to who will succeed Federal Reserve Chairman Ben Bernanke when his term ends on Jan. 31, 2014, he won't be the only person potentially leaving the Federal Open Market Committee soon.
By the end of next year, there are likely to be three to five new Federal Reserve board governors and at least one new regional Fed president.
"Uncertainty about these new participants' policy views could compound market volatility and concern about the Fed's exit strategy," Bank of America Merrill Lynch's Michael Hanson said in a note to clients. "We see a high chance that the board will be short-staffed for a time, but a low chance of a significantly more hawkish FOMC in 2014."
But this situation is not all that unusual, particularly for a two-term president.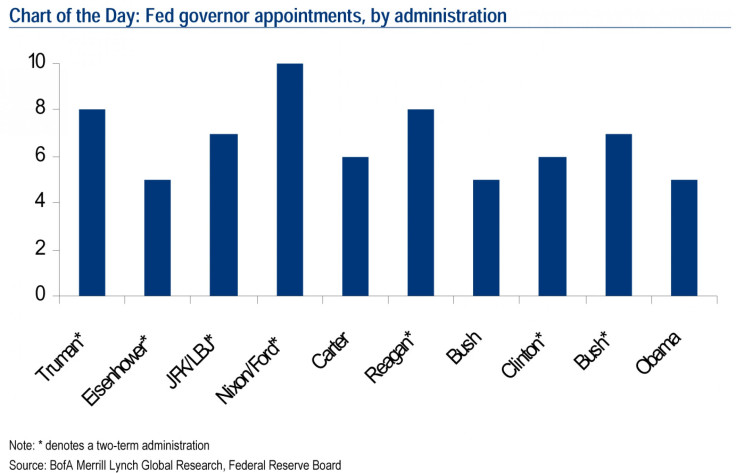 The chart above shows that since 1945, every administration has appointed at least five Fed governors while in office.
Cleveland Fed President Sandra Pianalto, who has positioned herself as a centrist within the Fed system, announced on Aug. 8 that she will step down early next year after more than a decade leading the bank.
Pianalto, 59 years old, said in a statement that she has no immediate plans. A search committee of the bank's board plans to hire an executive search firm to identify potential candidates, with an eye toward a final decision in early 2014.
Her departure next year comes at a critical time for the central bank, when it is expected to be winding down its quantitative easing program. The Cleveland Fed president in 2014 holds a voting slot on the FOMC – 11 of the 12 regional bank presidents rotate as voters on monetary policy decisions. Dallas Fed President Richard Fisher, who is also scheduled to vote next year, reaches the mandatory retirement age of 65 in 2014. The only Federal Reserve Bank president who will vote both this year and next is New York Fed President William Dudley, a permanent FOMC member.
At the same time, a number of officials on the seven-member Federal Reserve board in Washington are expected to retire over the next year or so.
- Elizabeth Duke, the last former President George W. Bush appointee (other than Bernanke). She has announced her retirement effective the end of this month, so she will not vote at the September FOMC meeting.
- Sarah Bloom Raskin, who has been nominated by President Obama for Deputy Treasury Secretary. She will remain on the board pending Senate confirmation to Treasury.
- Chairman Bernanke, who is widely expected to depart once his second four-year term as chairman ends next Jan. 31.
- Vice Chair Janet Yellen is considered a leading candidate to replace Bernanke. However, if she is not selected as chairman she could decide to leave the board by October 2014, when her term as vice chair ends.
- Governor Jerome Powell filled a term that expires at the end of 2014. If he steps down or is not re-appointed, another position would be open.

There are two primary risks with so many new faces at the Fed, Hanson said.
First, there will naturally be some uncertainty about the policy preferences of new members. Second, the partisanship in the Senate may result in the Board of Governors working at less than full capacity for a time. This will mean a larger share of FOMC voters will be hawkish regional Fed presidents — with proportionately more time in the headlines — but they still are unlikely to constitute a voting majority. Nonetheless, markets will have to deal with additional uncertainty layered on top of what will already be an uncertain process for the eventual exit strategy.
"The main risk we foresee is a drawn-out and divisive nomination process in the Senate for new Fed governors," Hanson said. "Already the battle over who should be the next chairman has split Democrats, and Republicans have blocked previous Fed nominations from the Obama Administration."
This could result in the board operating with less than a full complement of seven governors for some time. This in turn means greater policy, regulatory and administrative burdens on each remaining board member.
"Multiple board vacancies also would mean that dissenting voices could have greater relative weight, both in the vote count and in the press coverage, which could confuse markets about the direction of Fed policy," Hanson added.
© Copyright IBTimes 2023. All rights reserved.
FOLLOW MORE IBT NEWS ON THE BELOW CHANNELS