New Hampshire Primary: Five Crucial Questions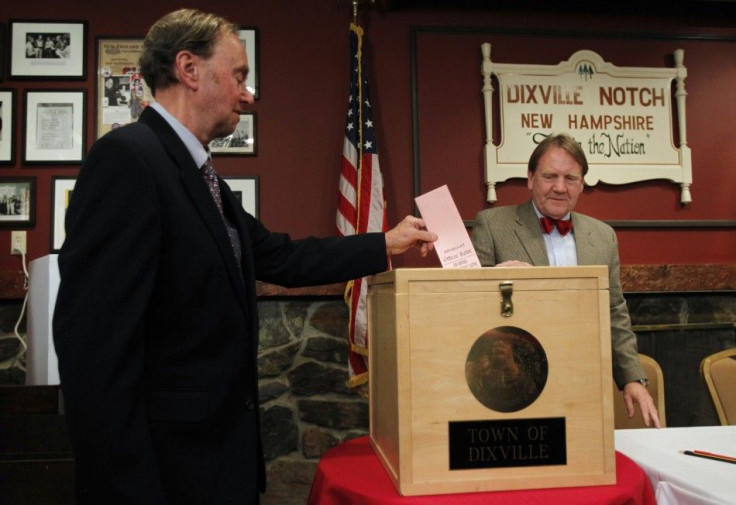 After months of campaigning and enough debates to enervate even the most fanatic political junkies, the New Hampshire primaries are upon us. Here are the essential questions facing the horses remaining in this race -- (Rick Perry, the Texas governor who has given up on New Hampshire and declared South Carolina his Alamo, is exempt):
How Big Will Mitt Romney Win? The polling profession will suffer a mass crisis of faith if the former Massachusetts governor does not come out on top -- Romney has come out on top in every poll conducted over the last two years, and the latest numbers from Suffolk University give Romney the support of 37 percent of voters, good for a comfortable 20 point lead over the next closest candidate. But Romney's campaign has struggled all year to generate a sense of excitment or momentum to accompany the candidate's steady poll numbers, and a less than decisive finish in New Hampshire could undermine Romney's claim to be the clear favorite heading into a crucial South Carolina contest.
Is the Santorum Surge Sustainable? Former Pennsylvania senator Rick Santorum's surprise finish in Iowa, where he registered a virtual tie with Romney, has earned the candidate a fresh look from wavering voters (not to mention some long-absent media scrutiny of his adeptness with the ways of Washington). But Santorum appeared in part to be the last recipient of the anyone-but-Romney roulette, ther other options having been exhausted, and it is unclear how is social values oriented message will play in economically oriented New Hampshire.
Is This Huntsman's Last Stand? Former Utah governor Jon Huntsman has pinned his entire election strategy on New Hampshire, forsaking Iowa to focus on the Granite State. While John McCain employed the same tactic to great effect in 2008 -- and also in 2000, with less auspicious results -- Huntsman has been unable to close the gap on Romney. Still, a strong showing could finally give Huntsman the attention he has so far failed to garner.
Will Ron Paul's Hard Work Pay Off? Paul is widely believed to have one of the most effective New Hampshire ground operations of any candidate, and the latest Suffolk poll had the Texas libertarian coming in second. The chances of Paul securing the Republican nomination are still remote, but a successful finish could bolster support for a third-party run.
Whither Newt? Newt Gingrich traveled his non-Romney arc swiftly, spending December vaulting into to the top of the polls before quickly cooling off. The former House Speaker has abandoned his moratorium on attacking other candidates, calling Romney a liar, savaging Bain Capital, the investment firm that Romney founded, and pouring a last minute influx of cash into attack ads. Gingrich is playing for South Carolina, but he is clearly hoping to wound Romney beforehand.
--
© Copyright IBTimes 2023. All rights reserved.