New ISIS Video Released Showing French Jihadists Burning Passports, Calling For Terror In France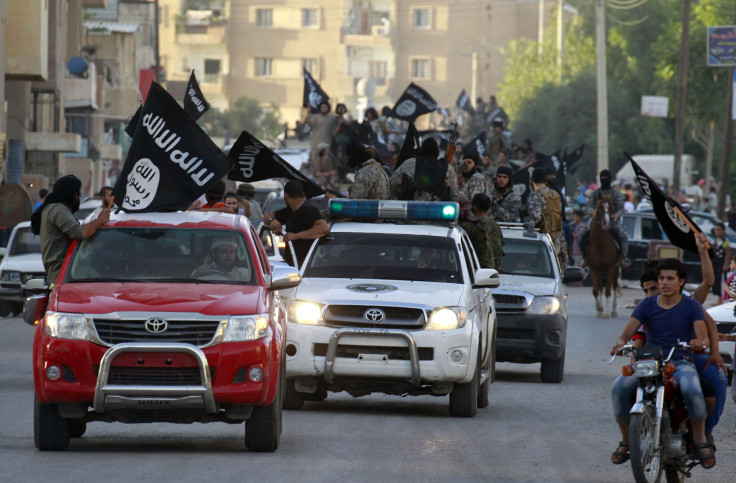 A new video released by the Islamic State group shows four foreign fighters, purportedly from France, burning French passports and urging fellow citizens to inflict terror at home. Earlier in the week, France identified two of its citizens featured in a video showing the execution of U.S. aid worker Peter Kassig and several Syrian soldiers.
The latest video, released by one of ISIS' main media outlets, Al Hayat, shows four ISIS militants burning French passports at a campfire, and three of them delivering messages in French to the camera. One of the jihadists exhorts French Muslims to fight unbelievers in France if they are unable to travel to Iraq or Syria, while another states that the messages in the video are aimed at "the enemies of Islam and specifically France."
"What are you waiting for? Why do you not perform Hijra?" an unmasked militant, who is described as Abu Osama al-Faranci, says in the video. "How do you accept to work in the land of Kufr (disbelievers) when Allah has opened a door for you to perform the best of deeds?"
The burning of a passport is considered to be a rite of passage and a show of loyalty to the group among new foreign fighters who have left their countries and travelled to Iraq and Syria to join ISIS, the Daily Mail reported.
The video, which has both Arabic and English subtitles, begins with a masked fighter speaking in fluent French, stating: "You have oppressed us, fought our religion and insulted our Prophet (peace be upon him.) And today, we disbelieve in you and your passports, and if you come here we will fight you."
Holding a serrated short sword, another fighter identified as Abu Maryam al-Faranci, says that ISIS fighters will not hesitate to chop off the heads of the enemies of Islam if the French government continues bombing Iraq and Syria. French nationals "will even fear travelling to the market," he says.
France is part of a U.S.-led coalition conducting airstrikes against the group in Iraq.
A third French fighter, identified as Abu Salman al-Faranci, says that he has pledged to be loyal to ISIS leader Abu Bakr al-Baghdadi, and urges other French Muslims to "operate within France," if they cannot join ISIS in Syria or Iraq.
"Terrorise them and do not allow them to sleep due to fear and horror. There are weapons and cars available and targets ready to be hit. Even poison is available, so poison the water and food of at least one of the enemies of Allah," he says, in the video.
The video follows France's disclosure of the identity of two of its nationals in a mass beheading video of Syrian government soldiers and Kassig. On Monday, French government officials identified 22-year-old Maxime Hauchard from Normandy among the ISIS militants announcing the death of Kassig, along with 12 Syrian military personnel.
Prosecutors also identified a second French national named Michaël Dos Santos, also 22, in the beheading video. Santos, who belongs to a Paris suburb, converted to Islam and took the name of Abu Othman, Sputnik reported, adding that he left France for Syria to join ISIS in 2013.
Romain Caillet, an expert on radical Islamist groups, told The New York Times that the stories of both Hauchard and Santos suggest how everyday French citizens, who have nothing to lose, are prone to radicalism.
"Those who leave are often the most determined ones, or those who have nothing to lose," Caillet told the Times. "Many are single, unemployed and have broken ties with their families… The big fishes are often Muslims of North-African descent. But converts play an important role."
More than 1,000 French nationals are reportedly fighting for extremist groups in Syria and Iraq, while nearly 3,000 Europeans have joined jihadists in the Middle East, the Agence France-Presse reported.
© Copyright IBTimes 2023. All rights reserved.