New Island Emerges In Pacific Ocean Following Volcanic Eruption, But May Vanish Soon [Photo]
KEY POINTS
A submarine volcano erupted on Sept. 10, which led to the formation of a new island
The island rose above water merely 11 hours after the volcano erupted
The new island is located on the Home Reef seamount in the Central Tonga Islands
The central Tonga islands witnessed the birth of a new island when one of its many submarine volcanoes erupted.
On Sept. 10, a submarine volcano erupted, which led to the formation of a new baby island in the southwest Pacific Ocean.
The new island has grown dramatically in size since its inception. It increased in size from 4,000 square meters on Sept 14 to 24,000 square meters by Sept. 20, according to researchers at the Tonga Geological Service. The expansion was equivalent to an increase of five acres.
The island rose above water merely 11 hours after the volcano erupted. NASA Earth Observatory captured the image of the island with the help of Operational Land Imager 2 (OLI-2) on Landsat 9 on Sept. 14.
The new island is located on the Home Reef seamount in the Central Tonga Islands, southwest of the Late Island, northeast of Hunga-Tonga Hunga Ha'apai, and northwest of Mo'unga'one.
"The volcano poses low risks to the aviation community and the residents of Vava'u and Ha'apai," the Tonga Geological Service said on Sept. 20 in an update. Vava'u and Ha'apai are two island groups that live in central tonga.
"All mariners are, however, advised to sail beyond 4 kilometers away from Home Reef until further notice," it further said.
Tonga Geological Service said in a statement the home reef volcano was still erupting as of Friday.
In all likelihood, the new island will disappear soon, as is the case with most oceanic islands. However, sometimes these islands can persist for years, NASA said.
The Home Reef has a record of four previous eruptions. Nascent islands were formed in both 1852 and 1857. Eruptions caused islands with cliffs as high as 50-70 meters to form in 1984 and 2006.
Another island was formed in 2020 following the 12-day eruption of the nearby Late'iki Volcano, only to wash away after two months. However, an island formed in 1995 from the same volcano lasted for 25 years.
The Home Reef is located in a geologically active area called the Tonga-Kermadec subduction zone. It has the fastest converging boundary in the world, with three tectonic plates colliding with each other.
Here, the pacific plate is sinking below two other, smaller plates, forming one of Earth's deepest trenches with the most active volcanic arcs.
Also, the seafloor ridge in the southwest Pacific Ocean that covers New Zealand to Tonga, has the highest density of submerged volcanoes.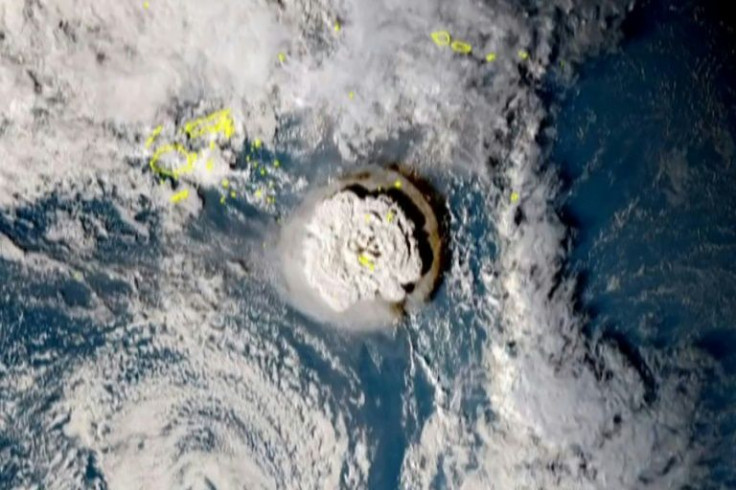 © Copyright IBTimes 2022. All rights reserved.
FOLLOW MORE IBT NEWS ON THE BELOW CHANNELS