New NSA Chief Vows More Transparency For Embattled Agency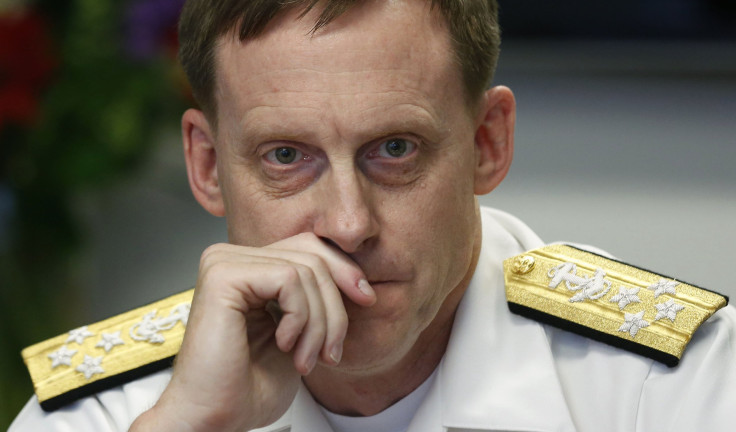 (Reuters) - The new head of the National Security Agency vowed on Monday to lead the embattled spy agency with greater transparency as it balances individual rights against the rising risk of a destructive cyber attack against the United States.
In his first interview since taking the helm of both the NSA and U.S. Cyber Command in April, Admiral Mike Rogers said he would be more candid with the public about much of the NSA's work after nearly a year of damaging revelations by former contractor Edward Snowden.
But he also staunchly defended the NSA's controversial electronic surveillance programs, emphasizing that they were legal and needed better explanation rather than an overhaul.
"It is by design that I have tried to start a series of engagements with a broader and perhaps more different groups than we have traditionally done," Rogers told the Reuters Cybersecurity Summit in Washington.
"The dialogue to date that we have had for much of the last nine months or so from my perspective, I wish was a little bit broader, had a little more context to it, and was a little bit more balanced."
Last year, Snowden leaked details of numerous top-secret NSA surveillance programs to media, damaging U.S. ties with key allies such as Germany and triggering a worldwide debate about whether the agency had trampled over privacy rights in the name of national security.
Rogers said some NSA staff were "confused" by the onslaught of criticism because a series of official reviews found that the agency had for the most part abided by U.S. law.
But he acknowledged that the NSA's internal security, which allowed Snowden to remove thousands of secret documents, had been too lax.
"Clearly we should not have allowed this to happen," Rogers said.
A longtime Navy intelligence officer, Rogers succeeded U.S. Army General Keith Alexander last month and avoided faulting his predecessor in the interview.
Rogers said he had told the rank and file at the NSA that they should keep on as before, but come forward internally with anything they felt to be improper.
Rogers said he would handle relations with the outside world and make it a point to spend time with foreign partners and private industry, where some companies have bridled at being exposed as cooperative.
The debate about privacy and spying, he said, was a worthy one that echoed concerns at the founding of the country about the rights of individuals versus the powers of the government.
ACCOUNTABILITY AND RESPONSIBILITY
The NSA is charged with eavesdropping to collect foreign intelligence as well as protecting military communication networks. Cyber Command defends against and conducts offensive operations that aim to disrupt or destroy assets.
"The idea of accountability and responsibility is very important to me," Rogers said. "We must ensure that we do not in any way abuse this capability."
Noting increased destructive cyber attacks elsewhere, including one that wiped data from thousands of computers at Saudi Arabia's oil giant, Aramco, Rogers said he anticipated that such destructive electronic assaults will hit the United States during his leadership.
"I fully expect that during my tenure as commander of the U.S. Cyber Command there will be offensive activity directed against critical infrastructure of the United States designed to damage, destroy, or manipulate" data or equipment, he said.
Rogers declined to say how long he might serve atop the NSA and Cyber Command.
Rogers said the financial industry, which has been hit by attacks on banking websites, was doing a good job in gearing up to face threats sponsored by other nations, while some other critical sectors lag.
"There are segments out there that are much stronger than others," Rogers said. He said sharing of information about threats between private companies and the government had been hindered by distrust following the Snowden leaks, and that he would work to rebuild bridges with the commercial world as well as overseas.
"I want to understand what drives their thought process, what concerns them," he said of the big technology companies.
Rogers said he had made sure to include Germany on his first trip abroad as NSA director, partly because of the historically close relationship and partly because that country has strongly objected to NSA spying on its leaders and others.
"I wanted to see my German counterpart and have a discussion with them and make sure that as a new individual, I understood exactly what their thinking was," Rogers said, adding that Germany history gave it good reason to be especially worried about privacy intrusions.
"I don't want the events of the last nine months to result in a situation where bridges are burned to the point where we can no longer dialogue, collaborate - I would hope at a minimum, certainly understand each other."
FOR FREE to continue reading
✔️ Unlock the full content of International Business Times UK for free
offer available for a limited time only
✔️ Easily manage your Newsletters subscriptions and save your favourite articles
✔️ No payment method required
Already have an account? Log in
© Copyright IBTimes 2023. All rights reserved.