New US Sanctions A Headache For Companies Linked To North Korean Gold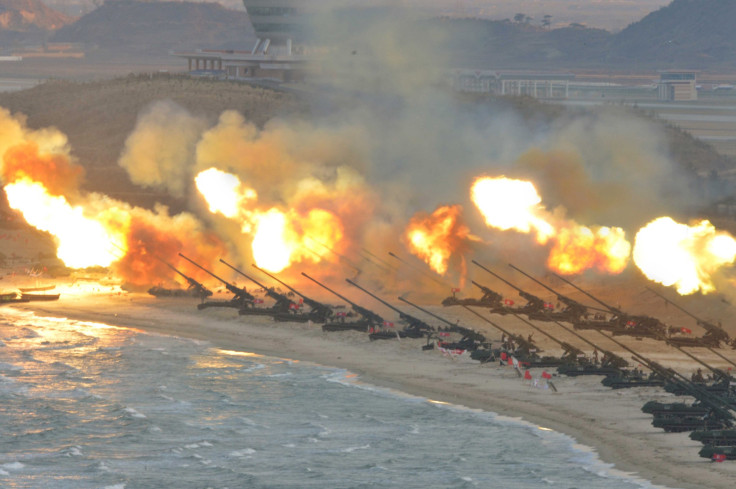 More than two dozen U.S.-listed companies have links to North Korean gold in their supply chains, according to regulatory disclosures reviewed by Reuters, potentially putting them at risk of penalties under tough new U.S. sanctions against Pyongyang's mining sector.
A March 16 executive order by President Barack Obama allows the United States to blacklist anyone found to be operating in North Korea's mining sector or to have purchased metal from its government - even indirectly through a third-country supplier.
The use of North Korean gold or other metals could open a company to millions of dollars in U.S. fines, criminal prosecutions and costly investigations.
The United States imposed the sanctions to punish Pyongyang after it carried out nuclear and missile tests this year. The mining sector is a key part of North Korea's economy, which is already largely cut off from the rest of the world. Experts believe revenue from the sector helps underwrite North Korea's military expenditures.
U.S. Securities and Exchange Commission (SEC) filings show 25 companies, including Pitney Bowes Inc (PBI.N), Winnebago Industries Inc (WGO.N) and Iridium Communications Inc (IRDM.O), disclosed in 2015 that their suppliers had used a gold smelter operated by North Korea's central bank.
Gold is widely used in electronics, valued for its ability to conduct electricity efficiently. Reuters did not find links between firms and any other North Korea-sourced metals based on SEC filings.
The filings were in response to an unrelated requirement for companies to be transparent about whether their products contained minerals from the war-torn Congo region starting in 2013. Companies have disclosed dozens of refineries used by their suppliers, including the one located in North Korea.
A spokeswoman for Pitney Bowes said its supplier that used the North Korean smelter had cut its ties with the plant "more than 18 months" ago, declining to comment further.
While Winnebago had listed the North Korean smelter as part of its supply chain, a company spokesman said gold from the smelter never made its way into Winnebago's products.
A spokeswoman for Iridium said the issue is "so far in the weeds" and declined to comment further.
A spokeswoman for the U.S. Treasury's Office of Foreign Assets Control, the agency tasked with enforcing sanctions, declined to comment on the implications of the SEC filings.
While importing goods and material into the United States from North Korea has long been illegal, the sweeping new sanctions implemented this month mean the U.S. government will enforce the law much more strictly, said Peter Harrell, a sanctions compliance consultant and former State Department official.
Among other changes, U.S. regulators could blacklist foreign suppliers using North Korean metals, making it illegal for other companies to buy from them.
That could disrupt the supply chain and raise costs for U.S. companies that rely heavily on foreign minerals, since they would have to vet dozens of suppliers, middlemen, refiners, and distributors to make sure they cut off anyone using North Korean metals.
Pyongyang's Gold Bars
Another company that listed North Korean gold in its supply chain was Oregon technology company Radisys Corp (RSYS.O). A spokesman said he was unsure of the company's ties to the North Korean refinery. The company uses gold to make electronics and would switch to another supplier if required by law, he said.
A spokesman for Taiwan-based Siliconware Precision Industries (2325.TW) [SPIL.O] which also disclosed the North Korean link, said the North Korean smelter was in the company's supply chain in 2013 and 2014 but was removed as of 2015.
Of the 20 other companies who disclosed a possible North Korea link, 11 did not respond or declined to comment. Others told Reuters that North Korean gold had been removed from their supply chains, or had never made it into their products.
The refinery operated by North Korea's central bank is the only known gold smelter in North Korea and produces gold bars, said Bruce Calder, vice president of Claigan Environmental, which consults companies on compliance issues.
The smelter appears to have become inactive in the past few years but gold from there could still be showing up in company supply chains, because the refiner may still be selling gold bars it has stockpiled, according to the Conflict-Free Sourcing Initiative (CFSI), which helps companies audit supply chains.
Hong Kong buyers purchased 294 kilograms (650 pounds) of gold bars from North Korea for $11.1 million last year, up from 91 kilograms in 2014, United Nations data shows.
Compliance experts say many of the companies were likely unaware that the "Central Bank of the DPR of Korea" was located in North Korea. The disclosures made by the companies all incorrectly list the Central Bank of the DPR of Korea -- short for Democratic People's Republic of Korea -- as being located in South Korea.
© Copyright Thomson Reuters 2023. All rights reserved.