New War In Congo? Protests, Violence Raise Fears Of Fresh Conflict In Sub-Saharan Africa's Largest Country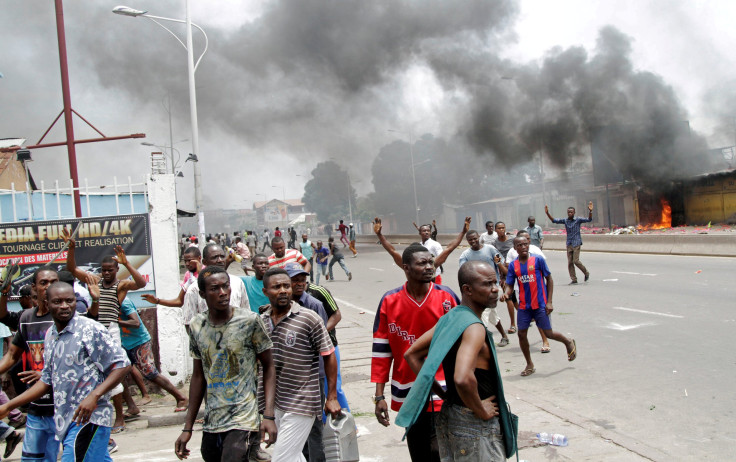 Demonstrations erupted Monday in cities across the Democratic Republic of Congo as authorities attempted to contain public resistance toward President Joseph Kabila's refusal to step down from office after his term expires at midnight.
Security forces reportedly responded by deploying in large numbers, arresting scores of activists and suspending the country's internet service. Protests struck the eastern city of Guma and the capital, where authorities faced off with crowds waving red cards against Kabila at Kinshasa University. In the northeastern city of Butembo, armed militias raided a jail in an attempt to free prisoners.
The resulting clashes killed a police officer, five attackers and a South African U.N. peacekeeper, sparking fears that the country's political crisis could devolve into renewed violence in the Congo. Sub-Sahara's largest country experienced wars between 1993 and 2006 that killed millions and destabilized the region in the world's deadliest conflict since World War II.
Exiled former politician Moise Katumbi urged Kabila to heed the calls of protesters and abdicate. Katumbi was governor of the southern Katanga province before fleeing from a fraud conviction in 2015. He remained popular with opposition supporters, who believed his charge to be politically motivated, and criticized Kabila's extension of power as he toured Western capitals to gather support.
"If I want to go back I can go today or tomorrow, but I am a man of peace. I do not want my people to die. We want peace to be our priority. [Kabila] can shoot me, jail me, kill me and create more chaos. I don't want that. I want a peaceful transfer of power," Katumbi said, according to the Guardian.
Kabila came to power following his father's assassination in 2001 and became the country's first democratically elected president after decades of violence in 2006. After two successful elections, both of which were disputed by the opposition, Kabila's government delayed this year's scheduled runoff to 2018, citing financial and "logistical challenges." The decision caused widespread protests by opposition supporters, who accused Kabila of seeking an illegal third consecutive term, and clashes with security forces killed at least 17.
Foreign organizations and governments including the Congo's former colonist Belgium have expressed concern toward the recent unrest. The International Criminal Court sent a team of representatives to the country in order to campaign for dialogue and restraint among its political parties.
© Copyright IBTimes 2023. All rights reserved.