New Year's Eve Terrorist Threat: In New York, Times Square Tourists Won't Let Fear Stop Them From Watching Ball Drop
Alessandra Cimino of Calabria, Italy, had spent weeks planning a trip with her friend to New York City when terrorists gunned down hundreds of people in Paris in November. Her family urged her to cancel the vacation, certain that the visit would put her life in danger. But Cimino, who had long dreamed of visiting the city during the bustle of its New Year's Eve festivities, was unconvinced.
"My mom has called me at least 20 times a day saying 'be careful,' " said Cimino, 25, as she toured Times Square Wednesday afternoon, a day before the ball drop was poised to ring in 2016. "I said, 'I'm not scared, if something happens I'll die here.'"
The New Year's Eve celebration at Times Square is famous worldwide, not only for its iconic countdown that ushers in the new year for people across the globe, but also for the million revelers who squeeze themselves into the small shopping and theater district every Dec. 31. After terror attacks this year in Paris and San Bernardino, California, New York officials have ramped up security for the event. But despite the heightened awareness surrounding the festivities, tourists visiting New York City this week said they weren't letting fear or concerned loved ones keep them from ringing in the new year in style in the city.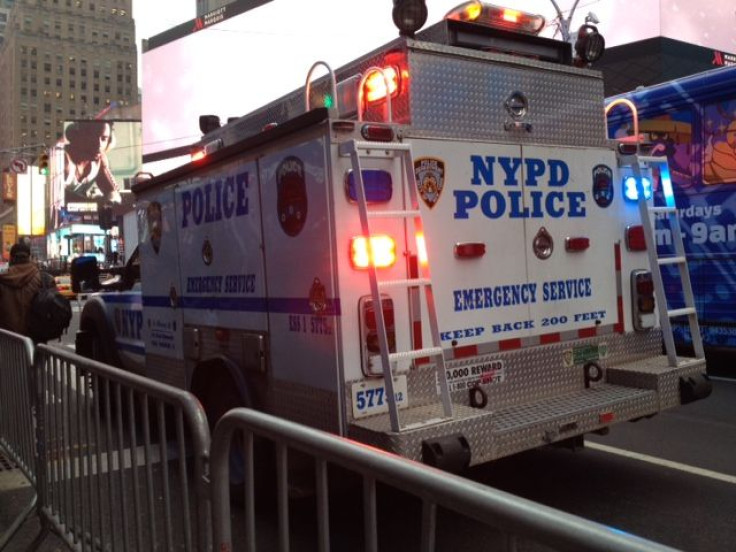 About 1 million people pack into Times Square every year to watch the famous ball drop at midnight, a New York City tradition dating back more than 100 years, and security this year is expected to be as tight as ever. Weeks after the Nov. 13 Paris terror attacks — which left 130 dead and for which the Islamic State group, also known as ISIS, claimed responsibility — a terror threat targeting Times Square was purportedly released by ISIS. The video, released just before the Macy's Thanksgiving Day Parade, was downplayed by the New York Police Department. Days after the parade, 14 people were gunned down at a holiday party in San Bernardino, California, adding to international fear over security.
As the ball drops and confetti engulfs Times Square on Thursday night, some 6,000 NYPD officers are expected to be on hand, about 500 more than last year, Reuters reported. This number will include about 1,200 probationary officers who graduated from the police academy Tuesday, officials said.
"We are the best prepared city in the country, the best prepared city to prevent terrorism and to deal with any event that could occur," Mayor Bill de Blasio said Tuesday.
Authorities will start filling up spectator pens at about 9:15 a.m., and officers will check everyone going into the pens, NYPD Chief of Department James O'Neill said in a news conference Tuesday. While the number of police officers on patrol this year is high, it pales in comparison to the 7,000 officers dispatched during the first New Year's Eve celebration after the 9/11 terrorist attacks in lower Manhattan, CNN reported.
"While there are no specific, credible threats to any New Year's event here, or to New York City itself, we will employ a robust counterterrorism presence — as we have done with all major public events since 9/11," O'Neill said. "There will be much that the public will see, and much that the public will not see."
What the public will see are officers on the streets, in the subways, in the air in helicopters and on the water in boats, as well as radiation detectors and bomb-sniffing dogs, O'Neill said. The NYPD's Critical Response Command, the counterterrorism unit deployed three days after the Nov. 13 terror Paris attacks, will also be on hand.
"Leave the worrying to us," O'Neill said. "People should feel safe this New Year's Eve because we're there."
Authorities in cities across the globe have also been put on high alert for New Year's Eve. London police are expected to increase their visibility for New Year's Eve, and Turkish officials have said they detained two suspected suicide bombers who may have been planning an attack in Ankara on New Year's Eve.
On a dreary, slightly cold day the Wednesday before New Year's Eve, Times Square was as busy as usual. The line at the TKTS booth, a discount theater ticket provider, wrapped around dividers so many times it looked like a massive crowd. TV crews hustled cameras and equipment through throngs of people and the NYPD could be seen at corners around Times Square.
Conor O'Rourke and his girlfriend Sarah Gribben, 19-year-old students at Queen's University Belfast, stood looking at the crowds and the massive neon signs in Times Square, waiting for the next day when they would file into the area to wait for the ball to drop. The couple had been planning the trip since Halloween, with the intention of staying with friends in New York, but after the Paris attacks, O'Rourke wondered if he would be safe in New York.
"The thought crossed my mind; I thought that maybe it wasn't a good time to travel," O'Rourke, who has never been to New York before, said. "My friends said, 'Look it's safe over here, there is NYPD everywhere.' "
This New Year's holiday marks the first time Victoria Simpson has seen New York City, a place she had long wanted to visit after seeing it on TV. Simpson, a 21-year-old student from Manchester, England, came to watch the ball drop in Times Square — something she considers the United States' equivalent to London's Big Ben fireworks — but after the Paris attacks, she experienced some doubts over the safety of her trip.
"It crossed my mind because I'm coming to Times Square," Simpson, who was in New York for a week. "I thought it's a busy place with a large number of people, so they might think about it for an attack."
Simpson said she eventually came to the realization that an attack could happen anywhere, and she wouldn't let the possibility of one stop her from being in the crowd on New Year's Eve. "If I went to the fireworks in London, it could happen there. Even if I went in the subway, it could happen there," she said.
For Dan Slark, a 29-year-old Royal Marine, and his girlfriend Leah Evans, 24, a possible terrorist attack never factored in their decision to visit New York around New Year's Eve, their first time in the city. The couple from Hampshire, England, have always wanted to visit New York around the holiday season to feel the festive mood they saw in movies, and are set to be at a party downtown New Year's Eve instead of Times Square.
"If you show them fear and change your plans they win. If you don't travel you're letting them win," Slark said of terrorists. "I've got to carry on with my life as normal."
Some New York City tour groups said this week that visitors expressed concerns after the Paris attacks, but business had been steady throughout the holiday season. For about a week after the Paris attacks, Seth Kamil said he saw a slight drop in business for the tour company he started about 25 years ago, Big Onion Walking Tours.
But he said he has been steadily busy between Christmas and New Year's, a stark contrast to after 9/11, in which he saw a marked decrease in business when few people were traveling to the city.
"A lot of people are making a point in saying what's happening in the world will not stop them from their plans," Kamil said.
After the Paris attacks, Robin London said she had families almost cancel their trips to New York to take part in one of her NYC Gangster Mob Tours because of a possible attack in the city.
"I had people email me saying their families told them 'don't go to New York, it's dangerous,' and they asked me what I thought about it," said London, a 63-year-old Brooklyn native who now calls Long Island home. "I said, 'Don't even think about it, we're safe here; if you do that, [the terrorists] won,' and they said I was right and came."
London hasn't seen any loss of business, and has been pretty busy through the holiday season, she said. Being in New York, one is always alert to what's going on, she said.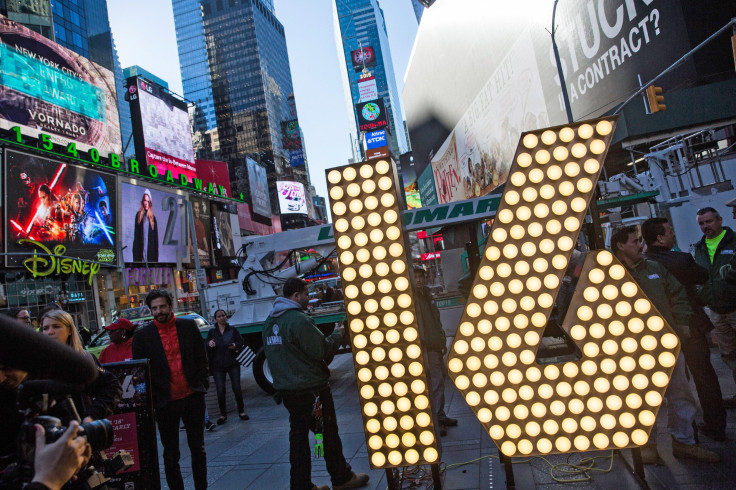 "It's in the back of everybody's mind. In our subconscious we probably are thinking about [a terrorist attack]. But we cannot let them take over our life," London said of terrorists.
For Cimino, who traveled to New York with her friend, Retiele Kintschmer, originally from Rio Granda do Sul, Brazil, both au pairs in Atlanta, New York was a dream they saw in movies growing up. Kintschmer's friends in Brazil told her news outlets in her home country reported after the Paris attacks that another attack could happen in New York, and urged her to cancel her trip.
"I don't think I had any doubts about coming here, to see all of this," Kintschmer, 20, said as she stood in a crowd in Times Square.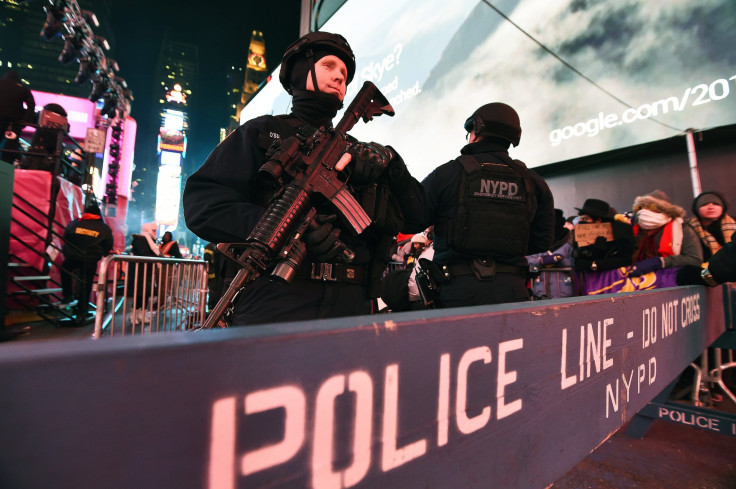 © Copyright IBTimes 2023. All rights reserved.