New York Giants-Dallas Cowboys: Betting Odds, Prediction, and Preview for Sunday Night Football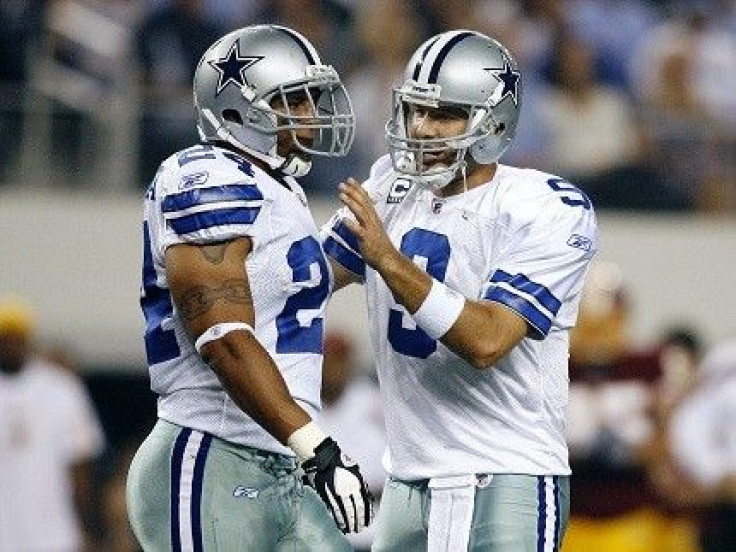 There is a lot on the line when the New York Giants (8-7) host the Dallas Cowboys (8-7) at MetLife Stadium in East Rutherford, N.J., on Sunday night.
The winner takes the National Football Conference East division title, and the loser is denied a berth in postseason competition. If the last meeting between the two teams is any indication of how things might transpire on Sunday, this one could go down as the most dramatic NFL game of the season.
Dallas hosted New York on Dec. 11 in a Sunday night game, and the home team lost a heartbreaker. The Giants rallied from 12 points down in the fourth quarter to score 15 unanswered points, and capped the win with defensive end Jason Pierre-Paul blocking a 49-yard field goal attempt by kicker Dan Bailey to hold off the Cowboys.
The big question surrounding this game is Tony Romo. The Cowboys' starting quarterback hasn't taken a snap from center since suffering a bruised hand in the first quarter of Sunday's 20-7 loss to the Philadelphia Eagles, and he wore a wrap on his hand during Thursday's practice despite not using one on Wednesday. Romo has been adamant that he will play on Sunday.
Injury aside, Romo remains a major story line. The 31-year-old has had a very strong second half of the season after some inconsistent performances in the first half. In the first seven games of the season, Romo threw seven interceptions, but since then has thrown only two.
Getting to the playoffs is important to Dallas, but the Cowboys desperately want to go deep in postseason for the first time in several years. Romo is trying to shed the perception that he is not a big-game quarterback by leading the Cowboys to more than one playoff victory for the first time since 1995.
It will be interesting to see how Jason Witten performs. The five-time Pro Bowl tight end amassed more than 100 yards in each of the first two games of the season, but hasn't been able to reach the century mark since then. Witten had just three receptions for 12 yards in the last meeting with the Giants.
Another player to watch is Felix Jones. The 24-year-old running back has been effective over the past few games, but was limited in practice on Wednesday with a tight hamstring. Jones rushed for 106 yards on 16 carries against the Giants, who have struggled against the run this season.
In fact, the Giants' rush defense might be the difference in the game, as head coach Tom Coughlin's job security may hinge on whether New York can slow down the Cowboys' offense. Dallas might favor the run as a way to take pressure off Romo's hand and, perhaps, Romo in general.
Coughlin has been with the Giants since 2004, but a loss on Sunday might mean the end of his time with the organization. He has only one year left on his contract, and a weak finish at home against the loathed Cowboys won't sit well in the Big Apple.
Eli Manning has been a strong supporter of Coughlin, and it might well be up to the quarterback to secure his coach's future with the Giants. Manning has struggled when under pressure, but if he can find his receivers a little quicker, the Giants can have a big offensive day against a pass defense that gives up an average of 238.3 yards per game.
Victor Cruz might be in for a big night. The wide receiver was denied a regular spot in the Pro Bowl, and could be out to prove he deserved to be chosen. Cruz had six receptions for 74 yards against the Cowboys in the teams' last meeting, and he leads the Giants in receptions (76) and yards (1,358). Hakeem Nicks, who has also put together a fine season, caught eight passes for 163 yards against Dallas, but has been nursing a hamstring lately.
The Giants' running game may hinge on whether Brandon Jacobs can have another big game against Dallas. Jacobs rushed for 109 yards on 19 carries against the Cowboys, which was his best game of the year. Ahmad Bradshaw, who has been limited in practice with a foot injury, managed only 12 yards on eight carries against the Cowboys.
Defensive end Osi Umenyiora, who hasn't played in three straight games, is questionable for Sunday, as is tight end Jake Ballard.
Cowboys' inside linebacker Sean Lee has been limited in practice due to illness, but is expected to play.
LINE: Giants are favored by 3
OVER/UNDER: 46
PREDICTION: This will be another tight one. Expect the Giants' offensive line to hold off the Cowboys' defense, creating time for Manning to complete passes to Cruz, Nicks, and perhaps even seldom-used tight end Bear Pascoe. Romo's injury won't be much of a factor, as the Cowboys will run the ball often and Romo's passes won't be risky. However, it will be the Giants' running game that should be a difference-maker. Expect a big game from either Jacobs or Bradshaw, and a major reason New York pulls off the tight victory.
PREDICTED SCORE: Giants over Cowboys, 30-28
© Copyright IBTimes 2023. All rights reserved.