New York Giants vs. Dallas Cowboys 2018: Prediction, Betting Odds For Week 2 Sunday Night Football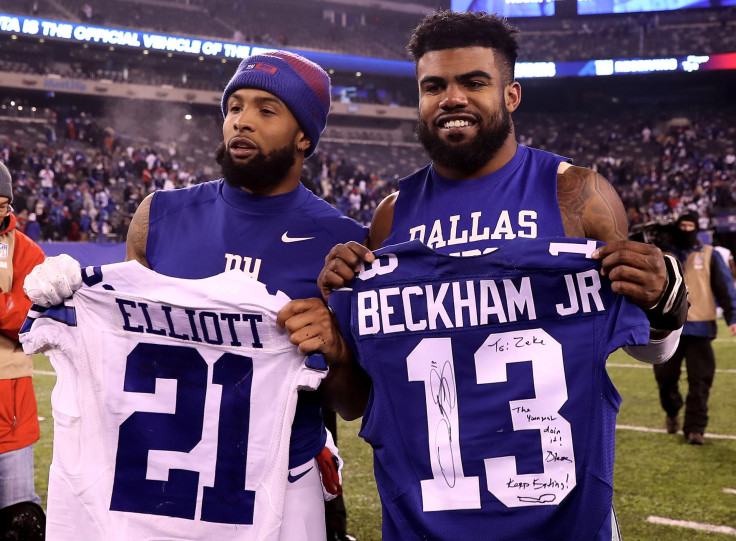 The New York Giants and Dallas Cowboys are tied in last place of the NFC East after the first weekend of the 2018 NFL season. Barring a tie, one of the two teams will occupy the division's basement alone following their Week 2 meeting on "Sunday Night Football."
The two rivals had similar lackluster performances in their respective season openers. Points were difficult to come by for New York, who lost at home to the Jacksonville Jaguars 20-15. Dallas faced a potential shut out on the road against the Carolina Panthers before scoring a fourth-quarter touchdown in an eventual 16-8 defeat.
For the Giants, their inability to score stems largely from the offensive line. Eli Manning was under constant pressure in 2017, and that continued in Week 1 in spite of multiple changes made by the organization in the offseason. Left tackle Nate Solder struggled in his first game with the team, and right tackle Ereck Flowers still looks like he doesn't belong in the starting lineup.
Dallas had their own issues up front. Without Pro Bowl center Travis Frederick, Dak Prescott was sacked six times. It didn't help that his array of wide receivers had trouble getting open, an issue that many saw coming with Cole Beasley starting the year as Prescott's top target.
Fifteen teams scored at least as many points Sunday as the Giants and Cowboys did combined. The over/under is 43.5 for the Week 2 matchup at AT&T Stadium, according to the latest betting odds at OddsShark. Dallas is favored by 3.5 points.
There are reasons to believe the two offenses will look better next week. The Giants won't have to deal with the AFC's best defense, and the Cowboys get a break from one of the best front-sevens in the NFL.
New York has playmakers that can quickly turn around a sluggish offensive start. They got a taste of that when Saquon Barkley ran for a 68-yard touchdown against Jacksonville and breathed new life into what had been a very quiet MetLife Stadium. The running back was limited to short gains for much of the contest.
Odell Beckham Jr. ended the season opener with 111 yards, and the Cowboys know all too well about what the receiver can do. Beckham's incredible one-handed grab that helped turn him into a household name came against Dallas in a 10-catch, 146-yard performance four years ago. New York handed Dallas two of their three losses in 2016, including in Week 14 when Beckham took a slant pass 61 yards to the end zone for what turned out to be the game-winning score.
The Cowboys have a chance to move the ball with consistency if their offensive line can bounce back. Unlike New York, Dallas has multiple Pro Bowl players up front, even without one of their key starters. The line was dominant against the Giants in last year's season opener when the Cowboys won 19-3 and Prescott was sacked just once. Prescott wasn't sacked at all later in the season when Dallas won 30-10 in New Jersey.
Ezekiel Elliott ran the ball 24 times for 104 yards in his only game against the Giants last season. New York surrendered 95 yards to Jacksonville running backs on 24 attempts in Week 1. Leonard Fournette missed most of the game with a hamstring injury.
The Jaguars' offense was responsible for just 13 points in the season opener—Myles Jack returned a Manning interception for a touchdown—and didn't score at all in the second half. Can the Giants replicate that kind of defensive performance in Dallas?
Prescott looked like Blake Bortles against a suffocating Carolina defense. That should change when he takes on New York and a mostly nonexistent pass rush. The Cowboys are too good on the offensive line to have that same kind of performance against a Giants' defense that still has a lot to prove.
New York's secondary has the edge against the likes of Beasley, Allen Hurns and Terrance Williams, but the unit can only do so much if Prescott is sitting comfortably in the pocket for most of the game.
Dallas' defensive front should also perform better at home in Week 2. DeMarcus Lawrence had a big game with seven tackles and a sack against the Panthers. He could perform even better when the Cowboys take on the Giants.
Maybe Barkley and Beckham Jr. will make enough big plays for the Giants to win. That might be too much to ask in a hostile environment when Manning won't be comfortable for a good portion of his dropbacks.
In their last five games on the road against Dallas, the Giants have defeated the Cowboys and covered the spread just once, per OddsShark. This would be an easier pick if the betting line was only a field goal, but there wasn't enough evidence in their first game to think New York will break the trend.
Prediction: Dallas over New York, 27-20
© Copyright IBTimes 2023. All rights reserved.