New York Jets vs. New York Giants: Watch Live Stream Online, Preview, Prediction for Tim Tebow?s Second 2012 Preseason Game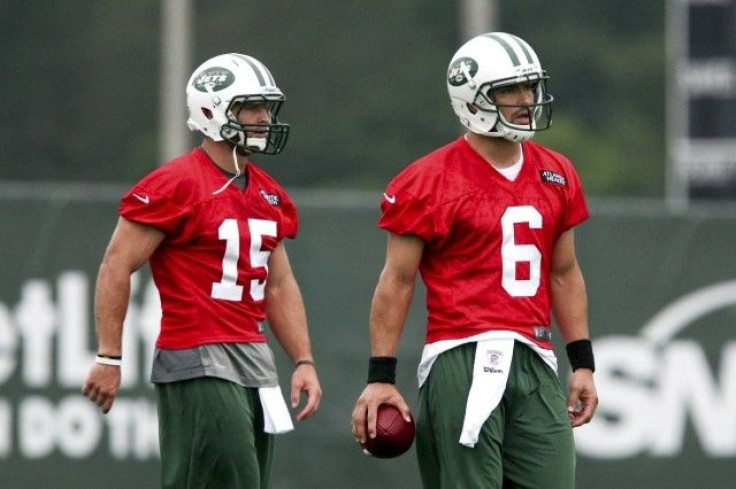 The Giants and Jets renew their rivalry as both teams look to win their first game of the 2012 NFL preseason. The New York teams last faced off in Week 16 of 2011, when the Giants effectively ended the Jets season.
The game will be broadcast nationally on the NFL Network at 7 p.m. ET at Met Life Stadium. If you can't get to a television, you can watch a free live stream online by clicking here.
All eyes will, once again, be on Tim Tebow, as he makes his debut in front of his home crowd. The quarterback took a lot of the snaps in the Jets 17-6 loss to the Bengals last week. He completed four out of his eight pass attempts for 27 yards. Tebow ran for 34 yards, but also threw an interception.
Mark Sanchez will get more playing time in the team's second preseason game, and could play the entire first half. While most of the Jets starters will play the first two quarters, Sanchez will be without some of his top targets.
The Jets will enter the contest without their two best wide receivers. Santonio Holmes could be sidelined for the rest of the preseason with a rib injury. Jeremy Kerley is out with a hamstring injury.
Wayne Hunter is expected to return after missing last week's game against Cincinnati. The much maligned left tackle is recovering from a sore back.
The Giants enter the exhibition, perhaps, even more beat up then the Jets.
Defensive starters Michael Boley, Jacquian Williams, Terrell Thomas and Chris Canty will all sit this one out. On the offensive side of the ball, Hakeem Nicks and Travis Beckum will be sidelined.
Despite their 32-31 loss to Jacksonville last week, New York's starters played well, jumping out to a 24-7 lead in the second quarter. Eli Manning went 4-8 for 60 yards in his first action since beating the Patriots in the Super Bowl.
David Wilson, the Giants number one draft pick, will look to continue the success he had in his debut against the Jaguars. The running back accumulated 43 yards on seven attempts. New York hopes he can replace Brandon Jacobs, who signed with San Francisco in the offseason.
Prediction: Without Holmes or Kerley, the Jets are very limited offensively. The Giants recorded six sacks last week, and dominated the line of scrimmage in the teams' 2011 matchup. The Jets will have a tough time putting up points, and the Giants should be able to get into the end zone enough to take home the victory.
Predicted Score: Giants 20, Jets 10
© Copyright IBTimes 2023. All rights reserved.