New York Knicks Rumors: Carmelo Anthony Trade On Horizon? Marcus Smart, Rajon Rondo Are PG Options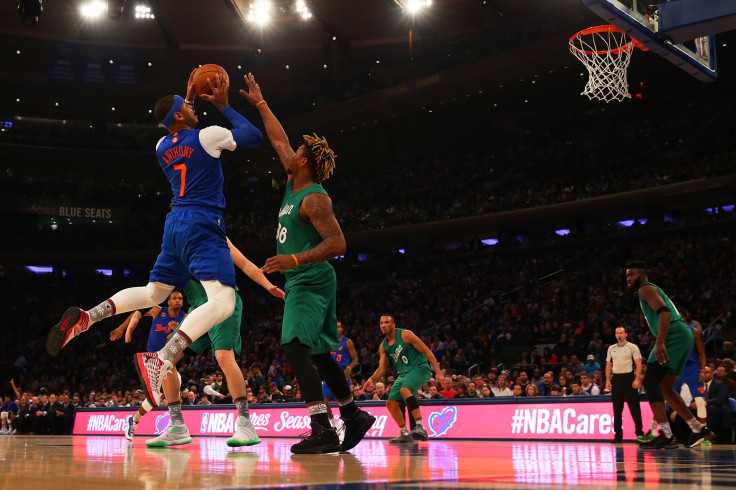 The New York Knicks haven't been good in four years, but they've somehow managed to dominate the headlines during the 2017 offseason as much as contenders like the Golden State Warriors, Cleveland Cavaliers and Boston Celtics. After parting ways with team president Phil Jackson and failing to acquire any of the league's best available players, New York is at the center of a few trade rumors.
The team has been trying to trade Carmelo Anthony for a few months, and that hasn't changed now that Jackson is gone. The All-Star is willing to be dealt to the Cavs or Houston Rockets, and New York has discussed deals with other teams, as well. Boston has reportedly reached out to the Knicks about a trade involving Marcus Smart, just as New York is considering signing former Celtics' point guard Rajon Rondo, via ESPN.
READ: Does Gordon Hayward Make The Boston Celtics Contenders?
Anthony's no-trade clause has made it difficult for the Knicks to execute a deal, considering he only wants to leave the Big Apple if he can play with Chris Paul or LeBron James. Both Houston and Cleveland have exhausted most of their desirable assets by putting together their current rosters, and it might take a third team getting involved in order to get a trade done.
There was some speculation Thursday morning that Anthony could soon be headed to the Rockets when rumors began to spread on social media that the forward was in Houston. No reports, however, have confirmed that he was in the city in connection with any sort of imminent deal.
Even though the Rockets and Cavs don't have much to offer, the Knicks seem determined to find a desirable trade for Anthony. The team realizes that they won't contend for a championship during Anthony's current contract, which lasts two more years.
With the team failing to throw big money at any free agent of significance, it appears that, at least for the moment, they are committed to rebuilding. That means only acquiring young players or veterans on short-term deals.
Both Smart and Rondo would fit in with that line of thinking, as the Knicks look to add point guard depth to their roster. Smart is 23 years old, and he has one more year left on his contract before becoming a restricted free agent. Rondo has played for four different teams in the last three seasons, and he won't be getting a long-term contract from anyone.
Smart was a key part of Boston's bench during last year's 53-win season, but the Celtics appear open to trading him as they try to clear salary cap space in order to give Gordon Hayward a max contract. The Celtics have reportedly contacted the Knicks about a possible deal, and New York has interest in Boston's backup point guard, according to Marc Berman of the New York Post.
READ: Gordon Hayward's Contract Could Force Celtics To Trade Multiple Starters
New York drafted who they believe to be their point guard of the future in Frank Ntilikina with the No.8 overall pick in the 2017 NBA Draft. Smart has a chance to be with the Knicks when they can finally compete in the Eastern Conference, while Rondo's stay with the team would likely be brief. The veteran could, however, help mentor the rookie as he adjusts to the NBA.
Rondo averaged 7.8 points, 6.7 rebounds and 5.1 assists per game in the 2016-2017 season, and he nearly averaged a triple-double in two playoff games. Smart put up career highs last year with averages of 10.6 points, 4.6 assists and 1.6 steals.
© Copyright IBTimes 2023. All rights reserved.