New York Prison Escape: Convicts David Sweat And Richard Matt Possibly Sighted, Police Investigate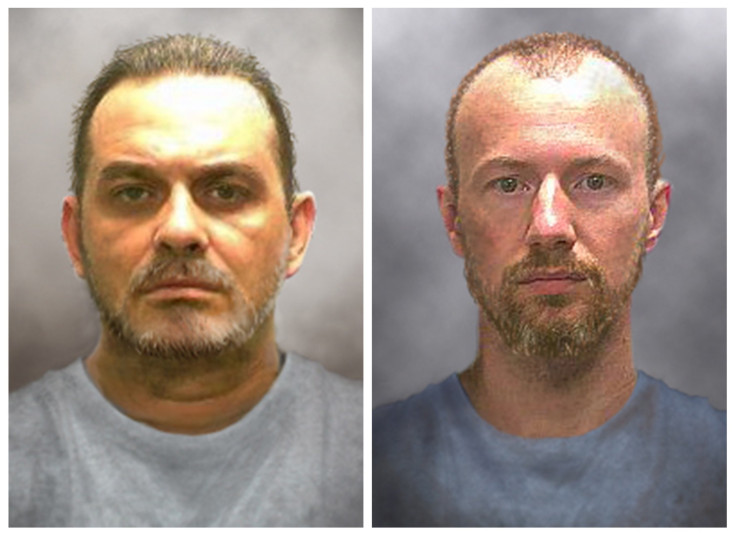 New York State Police officers are investigating a possible sighting of two convicted murderers -- who escaped an upstate New York prison two weeks ago -- about 300 miles from the prison. Two men who fit the description of inmates David Sweat and Richard Matt were seen in Steuben County, New York, according to a state police news release on Friday.
The two were seen walking in a rail yard in the town of Erwin on June 13, and then again the next day in the town of Lindley, walking toward the Pennsylvania border.
Sweat and Matt escaped from the Clinton Correctional Facility, a maximum security prison, on June 6 using power tools to cut their way out. The escape of the convicted killers led to a major manhunt, with hundreds of police officers being deployed for the search operation.
Also on Friday, state authorities, who are investigating how the two men were allowed to break out, announced that they had put a corrections officer on administrative leave, but did not provide any further details.
Joyce Mitchell, another corrections officer, has been already charged in the case after she allegedly helped the prisoners escape after engaging in an affair with the two men. She allegedly gave the two men hacksaw blades and was set to drive their getaway car, but reportedly backed out at the last minute.
Police officers have so far followed over 1,200 leads, covering 16 square miles, in their efforts to recapture the fugitives.
The U.S. Marshals Service has placed Sweat and Matt on its 15 Most Wanted Fugitives list as the manhunt stretches on.
© Copyright IBTimes 2023. All rights reserved.