New York Rangers vs. New Jersey Devils Live Stream: Preview, Prediction and Where to Watch for Friday's NHL Playoff Game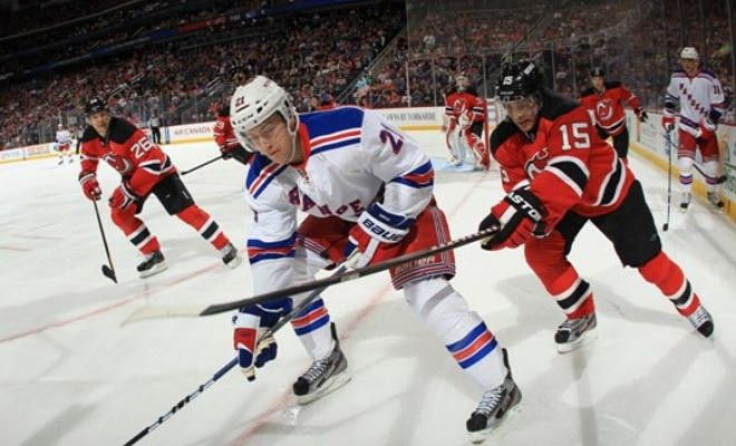 On May 25, 1994 the Rangers had just lost game five of the Eastern Conference Finals 4-1 to the New Jersey Devils at Madison Square Garden. The Rangers trailed three games to two in the series and things looked bleak.
Rangers captain Mark Messier guaranteed victory in game six then backed it up with a hat trick in one of the most dominant and impressive performances in playoff history. The guarantee game propelled the Rangers past the Devils in seven and then onto their first Stanley Cup title in 54 years.
Friday night, the Rangers find themselves in a similar position. They dropped game five in New York and now have to travel to the home of their most hated rival to keep the story going.
But this is a different game. The Rangers of 2012 hardly have the star power of the 1994 team which featured Mike Richter, Brian Leetch, Adam Graves, Mark Messier, Craig MacTavish and Alexi Kovalev.
The Devils have proven to be every bit the Rangers equal through the first five games, and deserve their lead. The only player from either team in the 1994 series that is still playing is Devils goaltender Martin Brodeur, and he has been the key to this series for New Jersey.
The other key has been the Devils ability to solve New York's defense. After scoring just three times in the first three games of the series, the Devils have put up nine over the last two. New York allowed the fewest goals of any Eastern Conference team during the regular season and they will need to get back to being that team if they are to win tonight.
No matter what happens this evening, it is sure to be a classic. One of the best rivalries in hockey will be held up on one of the sport's grandest stages. The game tonight should not be missed.
Where to watch: The game can be viewed online at www.firstrowsports.eu/sport/ice-hockey.html. It will also be broadcast nationally on the NBC Sports Network at 8 p.m. ET.
Prediction: The Rangers will duplicate the miracles of their past and at least force this to seven games. They are too good and too proud not to draw this out all the way to the bitter end.
Predicted Score: New York over New Jersey 2-1 in overtime.
© Copyright IBTimes 2023. All rights reserved.