News of the World's Last Edition Says, 'Thank You and Goodbye'
With a headline 'Thank You and Goodbye', Britain's best-selling newspaper News of the World ended its 168-year-old history when it hit the newsstands for the last time on Saturday.
Underneath the headline, there was a smaller print that read: After 168 years, we finally say a sad but very proud farewell to our 7.5 million loyal readers.
The front page was full of some of the paper's most famous front pages. In addition to the usual fare of celebrity gossip, showbiz and other news, the inside pages contained several nostalgic editorials telling about its successes over the years. The only adverts the last issue carried were for charities, Reuters reported.
It was on Thursday, when the owners of News of the World decided to close the title due to mounting criticism of its newsgathering techniques. The parent company, headed by Rupert Murdoch, was hit by claims of illegal hacking into the voicemails of stars, royals, families of soldiers killed in combat and a kidnapped girl later found murdered.
Murdoch headed to London this weekend in a bid to control the fallout, fearing that the scandal could harm his bid to buy British broadcaster BSkyB.
Meanwhile, the staff members, who are losing their jobs, have voiced anger saying that the owners sacrificed them to save the BSkyB deal.
Check out the pictures of the last edition of News of the World: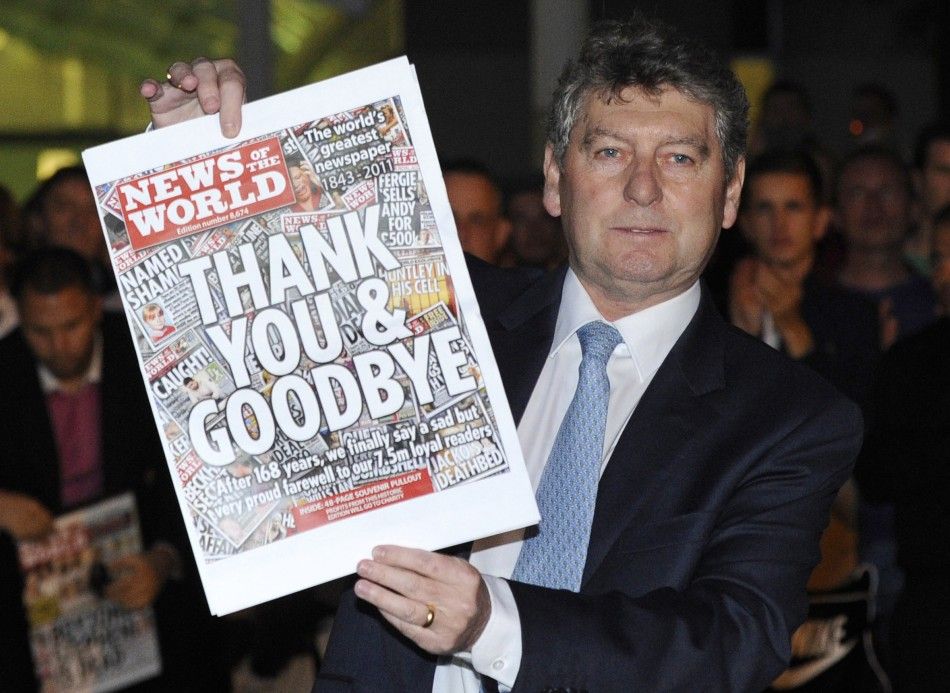 FOLLOW MORE IBT NEWS ON THE BELOW CHANNELS