NFL Combine Training Programs Give 2015 Draft Prospects A Shot At Stardom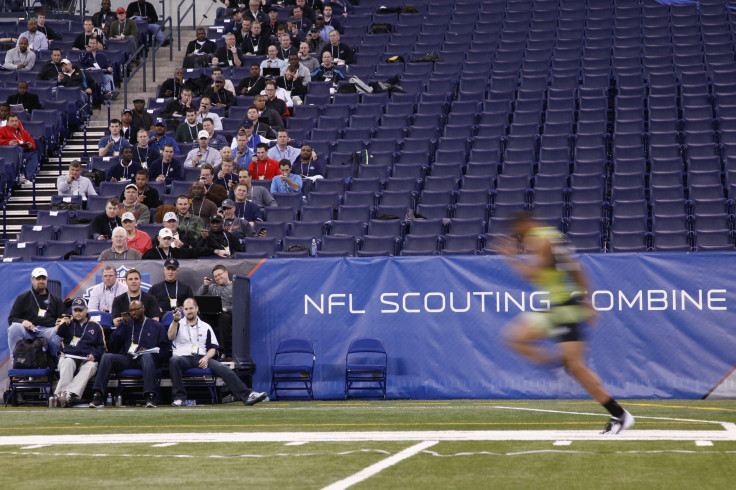 Baltimore Ravens quarterback Joe Flacco was a virtual unknown in the weeks and months before the 2008 NFL Scouting Combine. He had the size and arm strength of an NFL quarterback, but a college career with the Delaware Blue Hens of the NCAA's less-prolific Football Championship Subdivision meant Flacco lacked the name recognition reserved for players from powerhouse schools.
As the Combine approached, Flacco linked up with Brian Martin, a renowned personal trainer from New Jersey who specializes in preparation for the annual showcase event. Martin was also slated that year to work with Ray Rice, a dominant running back out of Rutgers University in New Jersey. "I get a call from a producer at ESPN and he says, 'Hey, we want to do a story on Ray Rice.' I said, 'Well, Ray's not here right now, but you may want to take a look at a quarterback we have,'" Martin said. "The producer said, 'Who the eff is Joe Flacco?'"
Martin sent the producer some film of Flacco's exploits and the buzz began. Flacco showed up to the Combine and dominated, with a strong shuttle time and a virtuosic display of arm strength. Two months later, the Ravens made him the 18th overall selection in the 2008 NFL Draft. "Joe Flacco had the most mercurial rise of anyone on my watch," Martin said. "If that call doesn't happen, he doesn't go in the first round, period."
Flacco's story underscores the NFL Combine's power to alter a career trajectory. The event began humbly in the 1970s as a way for NFL teams to medically evaluate would-be entrants. Decades later, it's a major media event, divided over seven days of interviews, medical exams, psychological tests and on-field demonstrations. Players' performance can affect their draft position, earning potential and media following for years to come.
This year, more than 300 prospects will converge on Indianapolis' Lucas Oil Stadium through Monday to participate in the six drills that compose the core of physical evaluation – the 40-yard dash, the 225-pound bench press test, the 3 cone drill, the shuttle run or "5-10-5," the broad jump and the vertical jump. Team executives, scouts and doctors poke and prod the year's crop of prospects to learn everything that can be learned about them from both a physical and mental perspective, all to determine if the player is worth an investment in the year's draft. On-field talent and personal character are given equal weight during the evaluation process, particularly in light of the NFL's ongoing struggle against substance abuse and violence away from the field.
"This has become a risk-avoidance industry. Teams are trying to improve their rosters, they're trying to maximize their draft in terms of the talent they procure, but they're also trying to mitigate risk," said Ken Landphere, Director of Football Operations at Octagon, a player representation agency headquartered in McLean, Virginia and San Francisco, California. "Risk can come in the form of injuries, but it's also important for them to really dig deep in terms of a player's character and work ethic."
The NFL Combine has become a major television event since the NFL Network first broadcast the showcase in 2004. Every sports league holds pre-draft workouts, but none have the public following or the gravitas of the NFL Combine. Viewership has increased each year since 2007 and peaked at more than 12 million viewers in 2014, according to the NFL. That means greater exposure for players like Flacco to improve their draft stock – or a bigger stage on which to fail.
As they begin to prepare for the Combine, NFL prospects turn to their agents, who run through a sort of "checklist" to ensure their clients are ready to perform when the time comes. The selection of a training facility, while important, is just one aspect of the process. Agents order physical exams to determine the state of their client's bodies after several years of high-level college football, including a full work-up of injury history and areas with potential for flare-ups. Players are often set up with dieticians or sports scientists who help their bodies make the transition from the amateur to the professional level. Even minutiae, like transportation to and from training facilities and necessary workout gear, are given their due.
It's a process that's remained relatively unchanged for decades. But the rise of social media and the 24-hour news cycle have added a new wrinkle in recent years. Before, after and during the Combine, players are scrutinized more than ever before, with countless bloggers and Internet critics ready to pounce on any semblance of misconduct.
Character issues were at least partially responsible for former Texas A&M quarterback and Heisman Trophy winner Johnny Manziel's slide to the 22nd overall selection in the 2014 NFL Draft despite a drool-worthy skill set. Franchises were hesitant to make a first-round commitment to a player with a documented history of off-field problems, including a 2012 arrest for disorderly conduct and a reputation as a partier.
The Cleveland Browns chose to ignore the red flags and tapped Manziel as their future franchise quarterback. Less than a year later, the Browns organization has reportedly soured on Manziel. Teammates openly questioned his work ethic and commitment to football, while off-field issues led the quarterback to enter rehab in February.
Manziel's struggles were a prime example of why league executives interview players and conduct mental evaluations during the Combine, and why player agents go to such lengths to prepare them for the onslaught. Agents ensure their clients receive media training, practice the NFL-used Wonderlic Cognitive Ability Test and sit through mock interviews with former NFL general managers. Players learn about the power of Twitter and how even a single tweet can permanently damage their draft stock.
Perhaps most importantly, players are told to speak frankly about their personal lives and about any character concerns, said CJ LaBoy, a player agent at Relativity Sports in California. There's nothing to be gained and plenty to be lost if a player pretends to be someone he isn't.
"Let's say you had a guy, for example, who has some character issues and they're documented. So if you've now changed this young man completely, the teams are going to think, 'he's a phony, he's a fake, he's a con,' Laboy said. "You don't want to change anybody, you just want to prepare them to have the ability to communicate their message, their personality to the teams in a clear way."
As the NFL Combine's popularity has grown, so has the prevalence of high-intensity training facilities and programs. Dozens, if not hundreds, now exist throughout the nation, with programs like the IMG Academy in Bradenton, Florida, and EXOS in Phoenix, Arizona considered the "cream of the crop" in terms of elite draft preparation services.
These training regimens do not just consist of free weights, some prearranged cones and a stopwatch – they're exhaustive in every sense of the word. For a period that typically extends for six to 10 weeks directly ahead of the NFL Combine, individuals who hope to become NFL players are subject to countless measures of physical, medical and mental rightness.
Regardless of the facility, the trainee's journey begins with a top-to-bottom physical evaluation. Medical professionals perform complex assessments of the player's overall health, their biomechanical state and potential injury concerns. Each draft prep center brings its own approach to this testing.
Martin currently leads NFL Combine prep at Parabolic Performance and Rehabilitation in New Jersey, whose medical team conducts a functional movement screening on athletes to determine how their muscles operate and to identify any potential stability issues. The facility's performance coaches then recommend corrective exercises tailored to the player's individual needs and football position. Quarterbacks are treated differently than linebackers, who are treated differently than wide receivers.
EXOS, which has trained the likes of Washington Redskins quarterback Robert Griffin III, Houston Texans defensive end JJ Watt and New York Giants wide receiver Odell Beckham in recent years, goes as far as to monitor its players' sleep patterns and to test their urine to assess hydration levels. Players perform the drills on which they will be tested at the Combine, receive a breakdown of the average score in that drill based on their position, and are told how much they can expect to improve their times based on EXOS' expansive track record. The prospects willingly become lab rats for eight weeks.
After pre-program evaluation, physical preparation begins in earnest. The players have a limited window to train at the facilities, so every moment counts. Nutritionists, physical therapists, sports psychologists, public relations specialists, chiropractors, weigh coaches, speed coaches and countless others all work round-the-clock to prepare these men for the Combine's rigors. Training occurs multiple times a day, five or six days a week, with constant medical evaluation, nutritional supplementation and recovery sessions in between.
The 40-yard dash is the NFL's raw test of a player's speed and is a major source of worry for the would-be professional. A poor 40-time can determine whether a wide receiver lands in the first round or the fourth round of the draft. It's also a point of pride for many athletes when they arrive at IMG Academy, only to learn that they aren't nearly as fast as they thought.
"The autotimers we use, they really don't give a flip about your ego," said Loren Seagrave, Director of Speed & Movement at IMG. "Everyone runs a 4.4 – unless they run 4.3 – in their own mind. It's a bit of a reality check."
Overall, the single biggest source of anxiety for trainees is simply the uncertainty of the NFL Combine. Players – especially those who lack a devoted following from their college days – face the very real possibility that they won't perform to the level that they had hoped.
Draft prep facilities take a two-pronged approach to combat that fear. Trainers provide clients with a realistic portrayal of what to expect during their time in Indianapolis, right down to where to walk when they arrive at the stadium. And they try to explain that the Combine is just one aspect of pre-draft evaluation. Trust in the training, show up ready to work hard every day and you will succeed.
"We have to look at the work we do each day leading to the outcome that we want. We cannot become so fixated on this outcome that probably scares that person to death," said Nick Winkelman, director of performance education at EXOS.
Kansas City Chiefs defensive tackle Dontari Poe is a prime example of what dedication to pre-Combine training can yield. Poe played his college football at the University of Memphis, hardly a powerhouse program, and showed up to EXOS ranked as a mid-level prospect at the NFL level. But the soft-spoken 350-pounder dedicated himself utterly to the program and never missed a training session.
At the 2012 NFL Combine, Poe turned in one of the most physically-impressive performances in the event's history. He repped 225-pounds 44 times, more than any other player. But Poe saved his jaw-dropping feat for the 40-yard dash.
"You hear [NFL Network analyst] Mike Mayock, the breath gets taken out of the announcer booth when he runs. The number pops up, the unofficial number is 4.89 seconds. [The announcers] are like, 'that is scary,' just freaking out like you've never heard announcers freaking out for a 40," said Winkelman.
The performance allowed Poe to jump to the head of the 2012 NFL Draft's defensive tackle class. The Chiefs chose him with the 11th overall pick, and he has since rewarded them in 2013 and 2014 with back-to-back Pro Bowl appearances.
Poe is a celebrated instance of an NFL Combine "Workout Warrior" made good, but a dominant performance at the event does not necessary correlate to on-field success. Plenty of players have put up gaudy numbers in the drills, only to falter when it came time to perform on the field.
Former Boston College defensive end Mike Mamula was one such underperformer. Originally considered a likely third-round selection, Mamula trained specifically for each drill he knew he'd have to perform at the Combine, according to the Rochester Democrat & Chronicle. He ran the 40-yard in 4.58 seconds and recorded a 38.5-inch vertical leap. Wowed by his athleticism, the Philadelphia Eagles took Mamula with the seventh pick in the 1995 Draft, ahead of future Hall of Fame lineman Warren Sapp.
By 2001, a variety of injuries had forced Mamula to retire. He recorded a respectable 31.5 sacks in five NFL seasons, but never lived up to the top-10 billing he earned at the 1995 Combine. "He's kind of the poster child for over-evaluating the Combine itself," said Landphere.
Ultimately, talent evaluation at the NFL Combine is an inexact science, and one that most team executives view as a supplement to a player's college game tape, Pro Day workout and other showcases. The vast majority of participants will perform in a way that won't have a major effect, either positively or negatively, on their draft stock, agents said.
But every year, there are at least a few players who separate themselves from the heap and give themselves a shot at stardom. Just ask Joe Flacco.
© Copyright IBTimes 2023. All rights reserved.