NFL Concussion Lawsuit Settlement: What 'Frontline' CTE Data Means For The Appeal Process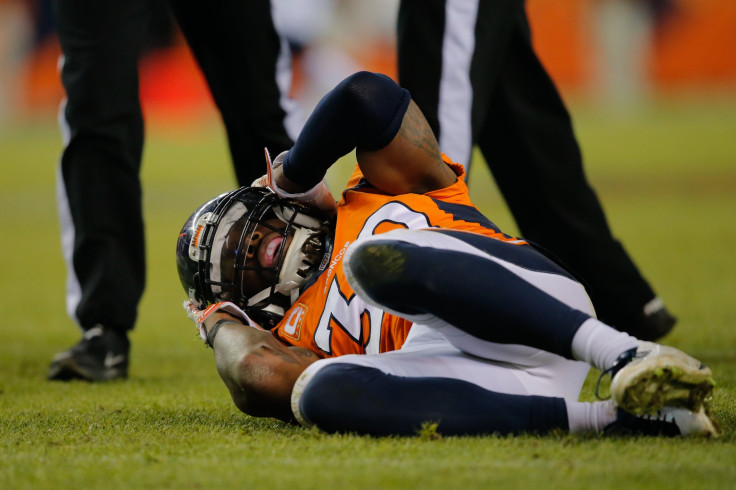 As a federal appeals court mulls the fairness of the NFL's $1 billion concussion settlement with thousands of former players, the release of new research Friday could provide dissenters with crucial ammunition in their fight for a better deal. The study, conducted by PBS' "Frontline" in conjunction with Boston University and the U.S. Department of Veterans Affairs, shows the brain condition known as chronic traumatic encephalopathy (CTE) may be even more prevalent among football players than previously thought.
Of 91 former NFL players who donated their brains for research after death, 87 tested positive for CTE, a debilitating condition that can cause depression, aggression and loss of memory and motor skills. Of those 87 players, 35 were former offensive or defensive linemen, which researchers say suggests repeated minor head trauma, not just major concussions, can cause CTE.
Federal Judge Anita B. Brody issued final approval in April of a $1 billion settlement that would allow for payments of up to $5 million to former players who suffered from neurological disorders during retirement. For critics, the settlement, which only provided medical coverage to CTE victims who died from 2006 to 2014, was woefully inadequate. Some opted out of the initial settlement to pursue their cases against the NFL individually, while others filed in August to appeal the settlement's terms in the U.S. 3rd Circuit Court of Appeals. For those former players, the new data obtained by "Frontline" could be a powerful tool.
"The case is not over until it's over," said Michael Kaplen, an outspoken critic of the $1 billion settlement and partner at DeCaro & Kaplen, which represents the Brain Injury Association of America. "Any new information, medical evidence, any other evidence that's relevant to the issues is certainly something that can and should be brought to the attention of the appellate court when they hear oral arguments in the case."
Concussion-related litigation against the NFL began in early 2013, as hundreds of former players banded together for a class-action lawsuit that alleged league officials failed to properly educate them on the dangers of professional football. Player safety concerns have yet to affect the NFL's profitability, as its 32 teams split more than $7 billion in revenue 2014.
But the CTE-related deaths of prominent former players, such as Pittsburgh Steelers center Mike Webster and San Diego Chargers linebacker Junior Seau, galvanized the public to demand reform. Even Hollywood has gotten involved – actor Will Smith will star this year as Dr. Bennet Omalu, the neurologist who first shed light on football-related brain trauma. Smith's film, "Concussion," is slated for release in December.
An NFL statement on the "Frontline" CTE data touted the league's progress on treating and preventing head injuries.
"We are dedicated to making football safer and continue to take steps to protect players, including rule changes, advanced sideline technology, and expanded medical resources," the NFL said in a statement responding to the "Frontline" report. "We continue to make significant investments in independent research through our gifts to Boston University, the [National Institutes of Health] and other efforts to accelerate the science and understanding of these issues."
When Judge Brody approved the final terms of the $1 billion settlement in April, its supporters, including Chris Seeger, co-lead counsel for the former players, hailed it as a victory. The deal may not have explicitly addressed CTE cases, they said, but it provided much-needed medical coverage for those in desperate need of immediate care. Appeals, they said, were unnecessary and potentially harmful, as no money will be paid until all appeals were processed. Research on CTE, however extensive, was inconclusive.
"It's a hard position to be in. Many of these families need the money two years ago," said Nellie Drew, a sports law expert and adjunct professor at the University of Buffalo Law School in New York. "As long as this is under appeal, the money is not available to them. It's not just a question of setting themselves up for the future, it's for medical coverage that they're not currently getting at the levels that they need."
But for many, the $1 billion settlement, and its concessions on CTE in particular, was woefully inadequate. Aside from the eight-year window in which deceased former players diagnosed with CTE would receive money, critics took umbrage with the settlement's pay scale, which doles out money based on age at the time of diagnosis and time spent in the league, the New York Times reported.
Former players who dissented against the settlement's terms had until Aug. 15 to file their appellate briefs with the appeals court, while the NFL's response to the filings were due by mid-September. Currently, there is no timetable for the court's final ruling on the case.
The ruling will play out in one of two ways, according to Paul Anderson, an associate at the Klamann Law Firm in Kansas City, Missouri, and a leading expert on concussion litigation. The appellate court can rule in favor of one or more of the dissenting appeals and send the settlement back to Brody's district court, along with its recommendations on how to make the deal fairer for former players. Brody would have final say over the revised terms, and all former players who received the initial settlement, not just those who dissented, would be eligible for the new deal's benefits.
The appeals court also can chose to confirm the initial $1 billion settlement. In that case, the dissenters would be out of luck.
"Everybody would be stuck in the deal as is, whether you objected, or didn't object, or didn't appeal, everyone's stuck to the terms as they are right now," Anderson said.
Regardless of how the settlement ultimately plays out, "Frontline's" new data will serve as an eye-opener to current NFL players and the future they could one day face.
"If this is accurate, your odds of getting CTE, it's almost inevitable," Drew said.
© Copyright IBTimes 2023. All rights reserved.