NFL Concussion Cover-Up: Hall of Famer Junior Seau's Family Can't Speak At Induction Amid Athlete Brain Damage Controversy Connected To His Suicide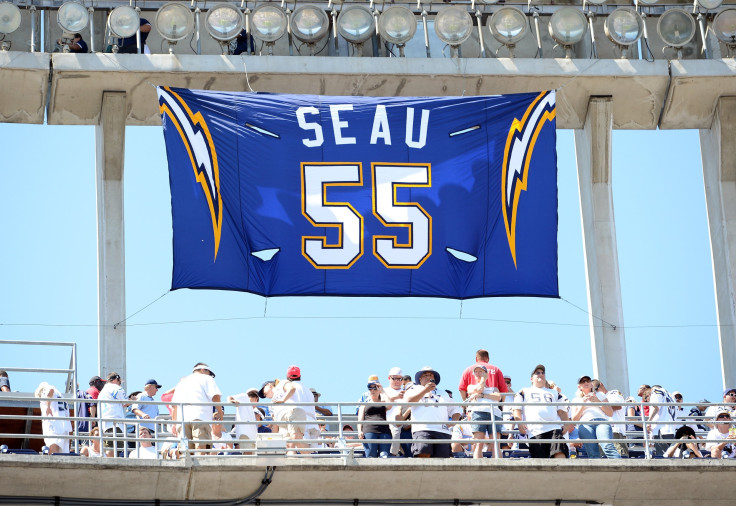 The family of Junior Seau won't be given a chance to speak at his induction ceremony into the Pro Football Hall of Fame, a policy that Hall of Fame officials say has been around for several years, according to the New York Times. Seau, one of football's best linebackers, committed suicide in 2012 and an autopsy revealed that he had a brain condition caused from multiple head hits that could lead to higher suicidal tendencies.
The decision to exclude Seau's family from speaking came as a surprise to his ex-wife and daughter. It follows a high-profile legal battle between the family and the NFL, and as the league looks to repair its image after years of denying a link between head hits sustained in football and brain diseases and conditions.
"It's frustrating because the induction is for my father and for the other players, but then to not be able to speak, it's painful," Sydney Seau told the New York Times. "I just want to give the speech he would have given," she said. "It wasn't going to be about this mess. My speech was solely about him."
A Hall of Fame spokesman indicated that it was recently decided that speeches for deceased players would no longer be made in the ceremony, as they were already long affairs. The last deceased member to be inducted was in 2011, and his family did not speak.
Seau had told his family that if he was ever inducted into the hall, he wanted Sydney to introduce him. Instead, Seau will have a five-minute video played in his honor, which is two minutes longer than what is played for living inductees. The other hall of famers will get to make their own speeches.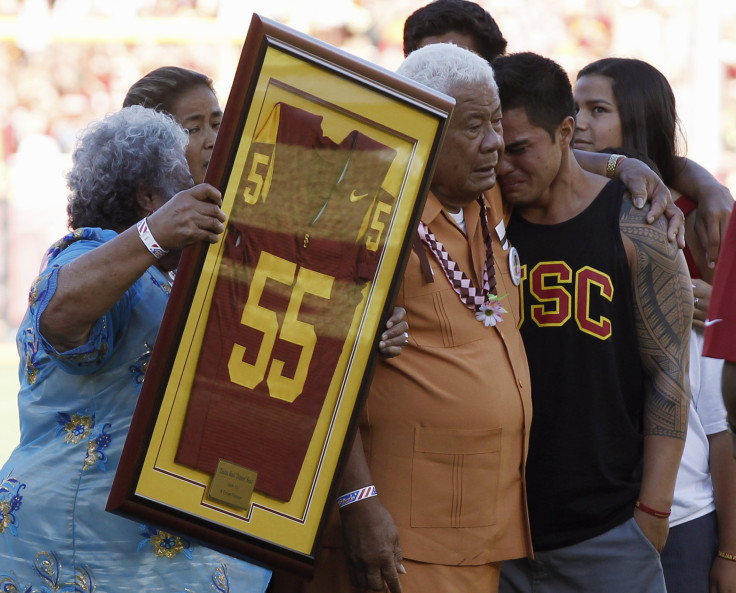 Seau committed suicide in 2012 at the age of 43, less than three years after retiring from a long career in the NFL. A brain autopsy revealed that he was suffering from chronic traumatic encephalopathy (CTE), a degenerative brain disorder linked to repeated head trauma. It is often found in athletes, like Seau, whose heads are hit on a regular basis as a part of their jobs. CTE, which can start even years after the last significant head trauma, has several associated symptoms that include depression and impulse control problems.
The NFL has denied a link between CTE and football for years, though mounting evidence seems to show a connection. In a study of the brains of former football players reported on in September, 76 of 79 former players who had died were diagnosed with the disease. The sampling could have been skewed as the samples were from donations from players who likely already thought they had the disease.
"I think the problem of CTE, although real, is it's being overexaggerated and it's being extrapolated to youth football and to high school football," said NFL-affiliated Dr. Joseph Maroon in March.
In response to growing outrage and criticism over policies, rules and stances on the CTE connection, the NFL has spent millions on research, tweaked rules and spent hundreds of millions of dollars on settlements. The NFL was looking at a $1 billion settlement over 65 years in April.
The Hall of Fame induction ceremony will be on Aug. 8 in Canton, Ohio.
© Copyright IBTimes 2022. All rights reserved.
FOLLOW MORE IBT NEWS ON THE BELOW CHANNELS