NFL Los Angeles Stadiums: Why AEG's Farmers Field Project Failed And What It Means For Inglewood, Carson Plans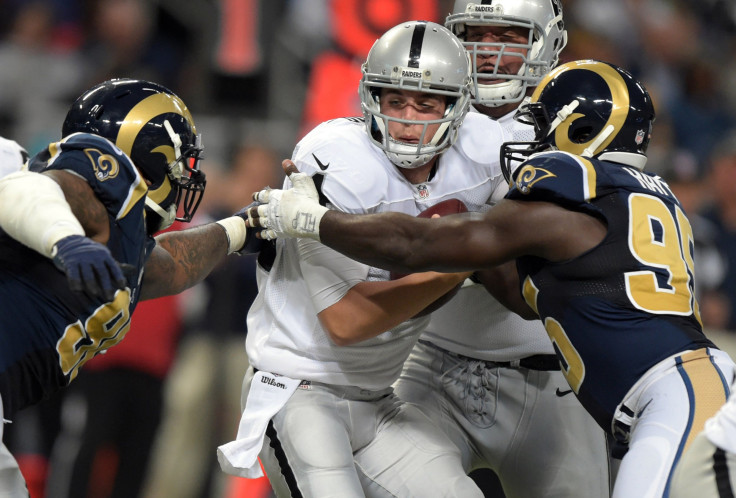 The race to bring an NFL team to Los Angeles for the first time since the mid-1990s grew a bit less crowded Monday, when Anshutz Entertainment Group confirmed it would no longer pursue the construction of its Farmers Field stadium project in downtown L.A. AEG's recent efforts to derail competing NFL stadium proposals in nearby municipalities and its $50 million in expenses over the last five years did not change the fact that the company never secured the one thing it most needed: a firm commitment from an NFL team to actually play at Farmers Field.
AEG's project failed because of untenable needs related to the proposed stadium's ownership and occupation, according to experts. The company required two NFL teams to play in the stadium and would have needed to purchase a majority share in at least one of the teams at a discounted rate to turn a profit, the Los Angeles Times reported. The difficulty of achieving that outcome, coupled with competition from stadium projects in nearby Inglewood and Carson that already received backing from NFL franchises, made AEG's continued pursuit of a stadium unrealistic.
"It goes back to the fact that the way they had envisioned structuring the deal with the NFL and the potential team owner for this market was going to be tricky to pull off. It has more moving parts to it than simply an owner that knows he has control over his team seeking to relocate and maintain their entire ownership stake in the franchise," said David Carter, executive director of the University of Southern California's Marshall Sports Business Institute in Los Angeles. "Ultimately, neither side could live with that."
AEG first proposed plans for Farmers Field in 2010. The construction plan called for a company to complete a top-to-bottom rebuild of the Los Angeles Convention Center's West Hall, located across from the AEG-owned Staples Center arena. It was an ambitious plan – one that would require AEG to fit the $1.5 billion stadium and sufficient parking in a relatively small space, the Los Angeles Times noted.
The project generated immediate buzz. Farmers Insurance secured naming rights to the facility for $700 million in 2011, despite the fact that no ground had been broken and no NFL team had committed to play in the space. Along the way, AEG spent $27 million on an exhaustive study of the proposed stadium's environmental fallout -- a chief complaint among those who argued against the project. The report estimated a completed stadium could create 11,000 new jobs and an economic windfall for the local community, but acknowledged Farmers Field would produce "unavoidable significant impacts," including a massive increase in automobile traffic, according to the Associated Press.
Nevertheless, the L.A. City Council, which desired a renovation of the Convention Center and remains committed to that goal, approved the plan in 2012. Under the terms of the deal, stadium revenue would be used to build a new Convention Center wing worth hundreds of millions of dollars.
With several logistical concerns addressed, one major obstacle remained. The city required AEG to secure a long-term deal with an NFL team. The initial deadline for the company to find a worthy partner passed in October 2014, but the city council granted AEG a six-month extension. That extension is set to expire in April, with no NFL deal in sight. Rather than pursue yet another reprieve, AEG Vice Chairman Ted Fikre confirmed Monday that the company would seek other opportunities. "I think it's fair to say we have turned our attention to proceeding with an alternative development," Fikre told the L.A. Times.
AEG's bid to find an NFL partner was problematic for several reasons. There are a limited number of NFL teams that have considered a move to the Los Angeles market -- the St. Louis Rams, San Diego Chargers and Oakland Raiders are the front-runners. None of those teams' owners has expressed interest in selling part or all of their franchises, particularly not at the discounted rate that AEG sought. Massive television deals and record-setting revenue have pushed NFL franchise values higher, not lower.
Moreover, NFL owners considering relocation to Los Angeles are highly unlikely to agree to play in a stadium they do not own. Rams owner Stan Kroenke and his partners in the Hollywood Park Land development group have backed a $1.86 billion, 80,000-seat stadium project in Inglewood, California. The Inglewood City Council unanimously approved a measure in February that could allow construction on the stadium to begin as soon as later this year.
Similarly, the Raiders and Chargers announced last month their intent to collaborate on a privately funded, $1.7 billion stadium in Carson. The teams would partner with a development group and share the stadium, to be pursued in earnest if both teams fail to secure new stadiums in their current markets, according to ESPN. In both cases, the team's owners would operate -- and thus enjoy the revenues -- of the new L.A.-area stadium.
"In all those cases, you have the teams really wanting to be the ones who are the final claimant, the residual claimant for all the profits, rather than be a renter. … All those teams want all the potential revenues for themselves," said Victor Matheson, a professor of economics and accounting at the College of Holy Cross in Worcester, Massachusetts. "You want to be able to control all those revenue sources."
AEG attempted a pair of last-ditch efforts to derail the competing plans. The company commissioned a study led by former Secretary of Homeland Security Tom Ridge suggesting last month that the proposed Inglewood stadium would be a target for terrorist organizations due to its proximity to Los Angeles International Airport, according to the Los Angeles Times.
Aviation experts and land developers downplayed the report as mere gamesmanship on AEG's part. Similarly, AEG contacted Carson's mayor to express concerns about how the city's proposed NFL stadium would affect the viability of the AEG-owned StubHub Center, home to Major League Soccer's Los Angeles Galaxy.
AEG's efforts did little to slow their competitors' momentum. With the Rams, Chargers and Raiders all entrenched in their own L.A. stadium projects, and no indication that any other NFL team was close to considering a move to the market, AEG's Farmers Field plan essentially lost a complicated, expensive game of musical chairs.
But experts warned that the narrowing of NFL-viable stadium options in the Los Angeles area does not necessarily mean the league is any closer to a return to the City of Angels. Several projects have arisen and failed in the two decades since an NFL team last played in the city. To secure relocation, both the Inglewood and Carson projects would have to sidestep inevitable litigation, ongoing economic concerns, construction and approval by three-fourths of the league's 32 owners.
That, of course, is contingent upon if the Rams, Chargers and Raiders all have legitimate interest in leaving their current cities. The three franchises are locked in negotiations with their respective city officials to secure new publicly funded stadiums in their home markets. NFL franchises have threatened relocation to Los Angeles for years in order to obtain public money. Team owners would rather have taxpayers pay for their stadiums than to shell out a chunk of their own fortunes to move to L.A.
"The audience is not just Los Angeles, it's the governments of Oakland, California, and St. Louis, Missouri," said Michael Leeds, a professor of sports economics at Temple University in Philadelphia. "If you hear the sabers being rattled and hear the moving vans being warmed up, you're going to potentially come through with a better offer. This is all part of a giant game of chicken."
© Copyright IBTimes 2023. All rights reserved.
FOLLOW MORE IBT NEWS ON THE BELOW CHANNELS