NFL Picks 2016: 5 Best Bets Against The Spread For Week 7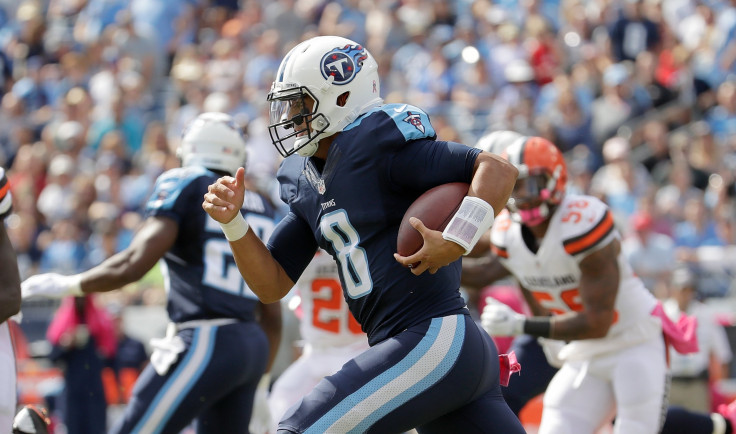 It's still early in the 2016 NFL season, but a few Week 7 matchups could go a long way in deciding this year's division winners. Five such contests are on the upcoming schedule, and three feature point spreads of three points or less, according to the latest Las Vegas betting odds.
The home team is favored in four of the five games between division rivals, with the matchup between the Buffalo Bills and Miami Dolphins being the one exception. The Seattle Seahawks are underdogs against the Arizona Cardinals in a contest between the NFC West's top two teams. The Tennessee Titans could take a major step towards winning the AFC South for the first time in eight years with a victory over the Indianapolis Colts.
There's no such thing as a "sure thing" when it comes to gambling, but here are the five best bets for Week 7 of the 2016 NFL season:
Tennessee Titans (-2.5)
After making the playoffs in each of Andrew Luck's first three years, the Colts are now one of the NFL's worst teams. The betting line indicates that Indianapolis is better than Tennessee on a neutral field, but since the Titans have played like the superior team in 2016, they are an easy pick at home in Week 7.
Tennessee's defense has put them just one game behind the Houston Texans for first place in the AFC South. In their losses, it's been their quarterback that's failed them. Marcus Mariota has a 64.7 passer rating in three defeats, but a 116.7 passer rating in the team's three victories. The Colts rank 27th in opponents' passer rating, and after allowing Brock Osweiler to put up his best numbers of the season, it's hard to imagine that they won't allow Mariota to have a big game. Luck has been sacked more than any quarterback, and he'll be under constant pressure against a defense that ranks fifth in sacks. Only one quarterback has posted a passer rating of better than 82.5 against the Titans, and Luck could be in for a long day in Tennessee.
Seattle Seahawks (+1.5)
Seattle is the best team in the NFC West, and they'll prove it with a road win against the Arizona Cardinals on Sunday night. Arizona should be able to contend for a playoff spot, but they are not the same team that won 13 games a season ago.
Arizona's defense remains one of the NFL's best, but Carson Palmer is no longer playing like an MVP candidate. It started towards the end of last year, and he's thrown 12 touchdowns and 12 interceptions in his last eight games. He's played well against bad defenses during that span, but Seattle has the league's No.1 ranked defense. The Seahawks have a history of shutting down Palmer, holding him to a 70.4 passer rating or worse in three of their last four matchups. Russell Wilson continues to play well, and he might not have to do much for the Seahawks to pull out a win in Arizona.
Buffalo Bills (-3)
The Bills have dominated the Miami Dolphins over their last five meetings, winning four times by at least 16 points. Since Buffalo has their best team in the last few years and Miami might have their worst, Sunday should be more of the same.
As the NFL's No.1 rushing team, Buffalo provides Miami with a very difficult matchup. Only the San Francisco 49ers have allowed more yards on the ground than the Dolphins. LeSean McCoy could be in for a big day in Miami, and the Bills are 4-0 when he totals more than 90 yards from scrimmage. The Dolphins took advantage of an injured Ben Roethlisberger in their Week 6 win against the Pittsburgh Steelers, and Tyrod Taylor has thrown just one interception this season. Miami doesn't have much of a home-field advantage, having lost by 13 points to the Titans and needing overtime to beat the winless Cleveland Browns. Sunday's game could be another easy win for Rex Ryan and the Bills.
New York Giants (-3)
The Giants' offense struggled through the first five weeks of the season, but it showed signs of becoming what it should be in the team's Week 6 victory against Baltimore. The Los Angeles Rams might have the most overrated defense in the NFL, and they could give up a ton of points in Sunday's game in London.
The Rams have given up at least 28 points on four different occasions, and none of L.A.'s opponents rank higher than 15th in total offense. The Giants are 12th in that category, and they are coming off their best offensive performance of the season. Odell Beckham Jr. seems to have resolved any issues that were affecting his play, and the wide receiver went for 148 yards and two scores when he last faced the Rams. Case Keenum hasn't put together consecutive strong performances all year, and he could struggle after completing 84.4 percent of his passes in Week 6.
San Diego Chargers (+6.5)
The Chargers are 2-4, but they've had a chance to win every game in the final few minutes. They haven't lost by more than six points all season, and that trend should continue when they visit the Atlanta Falcons.
Atlanta has the NFL's No.1 offense, but they are playing at an unsustainable pace. Matt Ryan hasn't posted a passer rating of less than 98.4 all season long, and the quarterback that's been inconsistent for the last few years will show up sooner rather than later. Even if the Falcons do have a big day on offense, the Chargers can move the ball with ease, as well, ranking third in points per game. The team that has the ball last might win, and the game shouldn't be decided by more than a touchdown.
Season Record: 16-13-1
© Copyright IBTimes 2023. All rights reserved.