NFL Playoffs 2020: Chances Seattle Seahawks, Arizona Cardinals Make Postseason, Win NFC West
The Seattle Seahawks defeated the Arizona Cardinals Thursday night, seizing first place in a highly competitive NFC West. While the loss dropped the Cardinals to third place, both teams are in the driver's seat to reach the postseason.
Seattle has a 95% chance to make the playoffs, according to FiveThirtyEight's prediction model. Arizona's playoff chances are at 58% after losing in Week 11.
The Cardinals own the No.7 seed in the conference, giving them the final spot in this year's expanded NFL playoff picture. Arizona is a game ahead of the No.8 seed Chicago Bears heading into this weekend's games.
Cardinals quarterback Kyler Murray has been among the league's best players in his second year, totaling 29 touchdowns through the air and on the ground in 10 games. He gives Arizona an edge over Chicago and quarterback Nick Foles, who many believe shouldn't even be the team's starter.
Chicago has lost four straight games.
Russell Wilson has been considered the NFL MVP favorite for much of the season. The quarterback has helped Seattle score more points than any team in the 2020 season. The combination of Wilson and the Seahawks' upcoming schedule makes the team a virtual lock to reach the postseason.
Seattle's next four games will come against the Philadelphia Eagles, New York Giants, New York Jets and the Washington Football Team. None of those teams have more than three victories. The Jets are still winless in Week 11.
The Los Angeles Rams have a chance to take first place back from the Seahawks when they visit the Tampa Bay Buccaneers Monday night. Los Angeles beat Seattle in Week 10 and is a half-game behind the Seahawks in the standings.
FiveThirtyEight gives Seattle a 54% chance to win the division. Los Angeles has a 31% chance. Arizona is given a 14% chance to be crowned the NFC West champions.
Arizona and Los Angeles will face off twice in the final five weeks of the season.
Three NFC West teams are likely to make the playoffs. The defending division champion San Francisco 49ers are in last place with a losing record, dealing with injuries to several key players.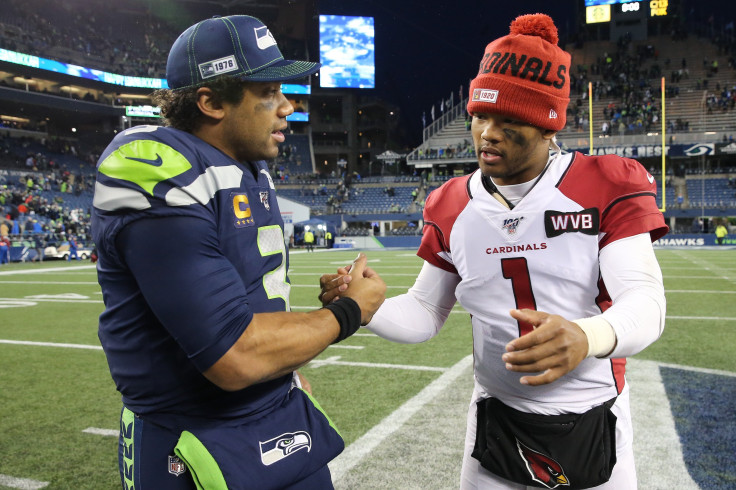 © Copyright IBTimes 2023. All rights reserved.