NFL Predictions 2021: Early Week 1 Picks Against The Spread, Betting Odds
Along with the 2021 NFL schedule release comes odds for every Week 1 game. Even though football is still months away from returning, the public has the chance to bet on the first slate of games.
The Tampa Bay Buccaneers, Los Angeles Rams and Baltimore Ravens are favored in the first primetime matchups of the year. Most sportsbooks don't have an available betting line for the Green Bay Packers because of Aaron Rodgers' trade request.
Here are very early picks against the spread for the Week 1 games in the upcoming season. Betting lines are courtesy of OddsShark.
Dallas Cowboys (+6.5) at Tampa Bay Buccaneers
This should be a fun one to kick off the NFL season. The Cowboys have one of the NFL's most explosive offenses when Dak Prescott is under center, and the Bucs' offense should be even better with Tom Brady in his second season in Tampa Bay.
Prediction ATS: Dallas
Jacksonville Jaguars (-2.5) at Houston Texans
There's a good chance Trevor Lawrence will be the best quarterback on the field in his first NFL start. Don't expect Deshaun Watson to be under center in Week 1 as he faces lawsuits from more than 20 women.
Prediction ATS: Jacksonville
Pittsburgh Steelers (+6) at Buffalo Bills
The Bills had no trouble beating the Steelers late in the 2020 season. Pittsburgh's offensive issues won't be resolved to start the 2021 season.
Prediction ATS: Buffalo
San Francisco 49ers (-7.5) at Detroit Lions
The 49ers have suffered at least 10 losses in three of the last four seasons. San Francisco needs some injury luck in order to bounce back in 2021.
Prediction ATS: San Francisco
New York Jets (+4) at Carolina Panthers
It's impossible to know how Zach Wilson will perform in his first NFL start. The last three seasons suggest that Sam Darnold could struggle, even with an improved supporting cast.
Prediction ATS: New York
Philadelphia Eagles (+3.5) at Atlanta Falcons
Atlanta has more offensive talent than most NFC teams. Philadelphia could be headed for a top pick in the 2022 draft.
Prediction ATS: Atlanta
Seattle Seahawks (+2.5) at Indianapolis Colts
It remains to be seen how Carson Wentz will perform following his nightmare 2020 season. Betting on Russell Wilson as an underdog is not a bad strategy.
Prediction ATS: Seattle
Arizona Cardinals (+2.5) at Tennessee Titans
The Cardinals have to prove that they are as good as the Titans, who are coming off a pair of consecutive playoff appearances. Tennessee is the easy pick, laying less than a field goal at home.
Prediction ATS: Tennessee
Minnesota Vikings (-3) at Cincinnati Bengals
It's not a certainty that Joe Burrow will be ready to return from his serious knee injury and be completely healthy for Week 1. Minnesota's offense went under the radar as one of the NFL's best last season.
Prediction ATS: Minnesota
Los Angeles Chargers (-1) at Washington Football Team
Ryan Fitzpatrick is usually good for a few big games at the start of the season. This is an upset pick to watch as the Chargers continue to draw attention as a sleeper AFC contender.
Prediction: Washington
Denver Broncos (-1) at New York Giants
Will it be Teddy Bridgewater, Drew Lock or even Aaron Rodgers under center for Denver in Week 1? No matter who is taking snaps for the Broncos, the team's talented defense could create problems for the turnover-prone Daniel Jones.
Prediction ATS: Denver
Green Bay Packers (+2.5) at New Orleans Saints
It makes no sense to bet on the Packers right now, considering Rodgers wants no part of the team. New Orleans' starting quarterback situation is also uncertain following Drew Brees' retirement.
Prediction ATS: New Orleans
Cleveland Browns (+6) at Kansas City Chiefs
Despite what happened in the Super Bowl, Patrick Mahomes is still the NFL's best player, leading one of the most unstoppable offenses in league history. Kansas City is usually a good bet when they are favored by less than a touchdown at home.
Prediction ATS: Kansas City
Miami Dolphins (+1.5) at New England Patriots
Miami might be on its way to staying ahead of New England in the AFC East for the foreseeable future. Neither Mac Jones nor Cam Newton gives the Patriots a better chance than the Dolphins or Bills to win the division.
Prediction ATS: Miami
Chicago Bears (+7) at Los Angeles Rams
Now that Sean McVay has a Pro-Bowl caliber quarterback, the Rams have a real chance to become the best team in the NFC. The Bears will have a tough time moving the ball against last year's No.1 ranked defense.
Prediction ATS: Los Angeles
Baltimore Ravens (-5) at Las Vegas Raiders
Derek Carr has gotten better every season under Jon Gruden amid constant rumors that the Raiders could look to make an upgrade at quarterback. Baltimore won't have an easy time winning on the road as Las Vegas opens up its stadium to fans for the first time in a meaningful game.
Prediction ATS: Las Vegas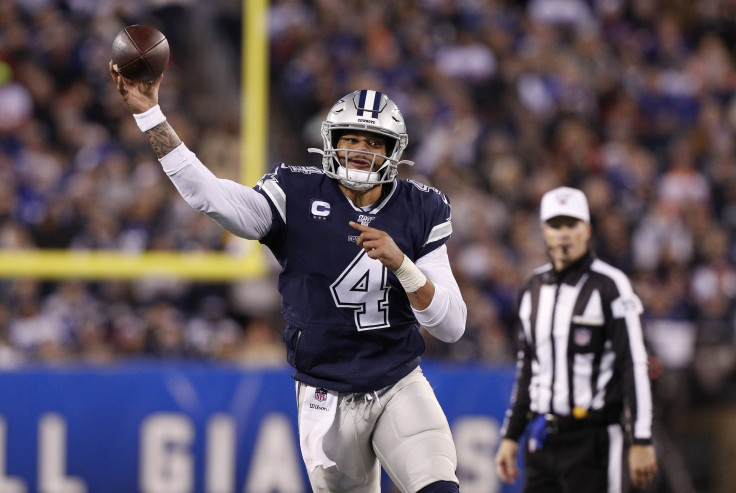 © Copyright IBTimes 2023. All rights reserved.
FOLLOW MORE IBT NEWS ON THE BELOW CHANNELS