NFL Preseason 2018: Baker Mayfield, Saquon Barkley, Josh Allen Impress With Browns, Giants, Bills
Everything that happens in the NFL preseason should be taken with a grain of salt, especially when it comes to Week 1. The starters don't see much action and the results ultimately don't matter.
The play of rookies, most notably ones that were taken near the top of the draft, might be the most intriguing part of exhibition games. It's the first time that they are facing NFL competition, and it can give a glimpse into how they will perform in their first seasons.
A few top rookies made their debuts Thursday night with varying levels of success. Here's how some of them performed:
Baker Mayfield
The Cleveland Browns have to feel pretty good about taking Mayfield with the No.1 overall pick after one game. The quarterback looked like a true playmaker against the New York Giants, escaping pressure and extending plays. He ended the night with a 125.4 passer rating, completing 11 of 20 passes for 212 yards and two touchdowns.
Mayfield is competing for the starting job, though Thursday's game might not have put him much closer to being named the No.1 quarterback. Tyrod Taylor was perfect against New York's first-string defense, going 5-5 for 99 yards and a score.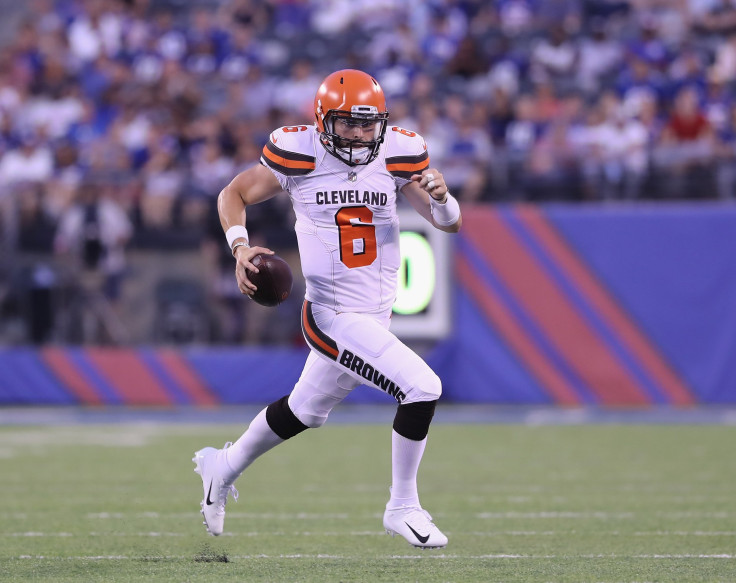 Saquon Barkley
It didn't take longer than the first play for Barkley to show why the Giants were so eager to take a running back with the No.2 overall pick. The rookie took his first handoff and ran it 39 yards down the right sideline, showing elite quickness and Le'Veon Bell-like patience. Barkley ran the ball three more times for just four total yards, but New York will take 10.8 yards per carry any way they can get it.
On average, the Giants have ranked 25th in rushing over the last five seasons. In the upcoming season, they might have one of the NFL's top rushers.
Josh Allen
Allen didn't exactly have eye-popping numbers in his NFL debut, though the signs that he could one day be a great quarterback were there. The No.7 overall pick completed nine of 21 passes for 116 yards and a touchdown, posting a passer rating of 84.5. He showed off his trademark arm strength that prompted the Buffalo Bills to trade up for him, earning applause from the crowd as he effortlessly threw a 60-yard pass that was caught out of bounds. The pass was incomplete and Allen still has plenty to work on before becoming a solid starter.
The other Bills' quarterbacks were outstanding in their competition to be named the Week 1 starter. Nathan Peterman went 9-10 for 119 yards and a score, while A.J. McCarron had a nearly identical passer rating.
© Copyright IBTimes 2023. All rights reserved.